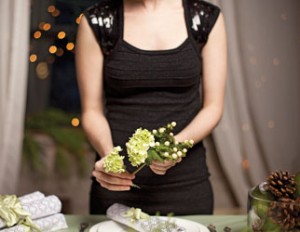 The days are getting shorter, nights growing cooler, and mailboxes everywhere are starting to fill with holiday greeting cards and, yes, invitations to any number of swank and stylish soirées.
That's right, it's party season once again. Only this year—perhaps after drawing a deep breath, or during a moment of unbridled optimism or overwhelming guilt—you've decided to take the plunge and play host to your friends, family, neighbours and co-workers.
For many, the leap from partygoer to party thrower is fraught with anxiety and questions: Who should I invite? How can I make sure everyone gets fed and has a great time? And perhaps most important, how can I pull this off without destroying my holiday budget and starting the new year on a diet of debt and regret?
Fortunately, there are ways to throw a truly memorable holiday party—the decor dazzling, the food mouth-wateringly delicious—without spending a fortune. Provided, of course, you're willing to put in a little time and legwork, and follow these expert tips.
Summon with savings
Invitations, it turns out, do matter. The invitation doesn't just set the tone as the first point of contact that your guests will have about your upcoming do. It also provides information they'll need and solicits information you'll want going forward.
Here's the good news: even etiquette mavens like Margaret Dickenson don't expect invitations to be hand delivered or mailed anymore. "Email's fine in this age of environmental awareness," says the award-winning cookbook author, TV host and entertaining guru.
So you don't have to spend money on stamps and envelopes, let alone fancy cards. Just be sure your e-vite includes these eight elements: who's hosting and who's invited, date, time, address, what kind of party it is, dress code and RSVP.
"Send your invitations three weeks ahead, with an RSVP deadline 10 days ahead," says Dickenson. That way, if you haven't heard from some people by then, you still have plenty of time to invite someone else you may have left off the original list for space or budgetary reasons.
Buzz on a budget
If your party is going to stand out, it will need a unifying colour scheme. During the holiday season that typically means red and green. But who wants their party to be typical? "If you want to create a bit of buzz, how about going with burgundy or pistachio? Or blue and silver?" says Dickenson.
Whichever colour combination you choose, introduce it first outside the house—say by decorating the front door with wreaths or ribbons—then continue the theme inside in every room. "I make dozens and dozens of bows in two or three hours, and I use them to decorate the Christmas tree, dining room table, doorways, serving trays, everything," says Dickenson. "You can also pick up indoor and outdoor wreaths, baskets, sleighs full of pine cones, anything that fits your colour scheme."
Finding all this stuff doesn't have to be difficult or expensive, either. Think ahead and buy bits and pieces throughout the year. But if you find yourself doing last-minute shopping for holiday-themed decor, or even general party supplies, get thee to the dollar store. "It's such an incredible place to pick up everything you need for your party while keeping costs down," gushes Julie Albert, one half of the sister team behind the wildly popular Bite Me More cooking and entertaining website (www.bitememore.com). "We purchased acrylic reindeer there for a dollar each. You could buy a whole table of them and it would cost all of $20, and your decor would be phenomenal. We've bought glassware from there, we've bought plates from there. For $1 a plate you're better off using that than paper."
To save even more money for future parties, don't throw out these items: wash and store them in clear plastic bags.
Money-saving motifs
Christmas parties take care of themselves when it comes to a theme: North Pole, Candyland, that sort of thing. But the rest of the holiday season—from November through New Year's—offers opportunities to hold parties with any number of unique and fun motifs. "For us, everything starts with a theme," says Albert. "It can speak to everything you're doing in terms of decor, music, food, drink and mood setting."
"Theme parties really work," agrees Dickenson. "They're great fun, and it's often easier to build a party around a theme." But, she cautions, to do one successfully don't get too dramatic or esoteric, to the point where guests might be intimidated. "You want to find a theme where your guests can participate easily, especially if you want the clothing to be themed."
One option is a "staycation" party for the poor souls who can't fly to the Caribbean to escape the snow. "It can be done really inexpensively," says Albert. "Go to Home Depot and buy a bag of sand. With the right playlist and the right food you can create a whole beach scene."
Orchestrating fun
All great parties, especially theme parties, have killer playlists. Fortunately, says Ottawa hostess extraordinaire Kim Salvatore, even if you've never downloaded a song in your life, you don't need to start racking up a huge iTunes bill. Everyone has at least one friend who's an obsessive audiophile. "Far from feeling it's an imposition, they'll usually leap at the chance to build your playlist, because they get to indulge their passion."
As to what that playlist should sound like, fill it with obligatory holiday hits but have fun with ironic or pertinent song titles: the Bee Gee's "Staying Alive," Queen's "Another One Bites the Dust," David Bowie's "Changes," and so on. "Laughs are cheap, they cost nothing, and getting people in the right mood is the first step in a great party."
Flower power
Floral arrangements can really brighten up a room, but can also dramatically inflate your party budget. "Costco is a great place for big bunches of cut flowers in an amazing range of colours," says Salvatore. "Other than that, get to know your local florist. Florists do a lot of big events, and as long as they like you, they will often sell you leftover flowers or arrangements at discounted prices."
Catering versus cooking
OK, you've sent the invitations and the music and decorations are in hand. Now comes the truly important stuff: the appetizers and hors d'oeuvres you'll be serving your guests. For time-constrained hosts, catering is always an option—though hardly the least expensive route—and it's important to source a caterer that's right for your party, theme and budget.
"Check out food bloggers in your city," advises Salvatore. "They're usually well connected within the catering community, and are often caterers themselves." Once you narrow it down to a few choices, get them on the phone and chat. "You'll pick up a vibe right away as to whether the caterer feels the same way about food as you do. Then you can work out a menu that suits your budget."
If full-service catering is too expensive, another option is to buy some hors d'oeuvres from a caterer and serve them on your own platters. "That way you can cheat because no one will know you didn't make everything yourself," says Salvatore.
For good food at reasonable prices, however, there's really no substitute for preparing your own menu in your own kitchen. Fear not, it doesn't have to be fancy, finicky or fussy to be fantastic. "Any sort of comfort food delights people," says Albert. "Bite-sized appetizers, things on skewers, dips, soup shooters. Even something as simple as mini grilled cheese sandwiches or mac-and-cheese in a cup are really easy and inexpensive to do, and people love them because it reminds them of their childhood."
Some of Dickenson's favourite party foods include zucchini cups (which she makes by cutting a zucchini into 3/4-in. slices and scooping out the centre with a melon baller) filled with aioli mayonnaise, canned sockeye salmon and sweet-and-sour sauce; coconut encrusted shrimp on skewers; figs halved and stuffed with mint leaves, mustard herb vinaigrette and feta cheese; and soup in sake cups.
"You can put together really delicious one-bite appetizers that don't cost a lot," she says. "Shrimp you can buy frozen in bags when they're on sale, figs are not expensive, especially if you halve them, and you can make soup by the litre, freeze it and then bring it out just before the party."
Whatever you decide to make, keep it simple. "If people feel comfortable in your home they're going to have a better time," notes Albert. "So don't make anything that's going to require a lot of last-minute preparation, because if you're chained to the kitchen guests are going to sense that and won't relax."
Drinking on a dime
There's no getting around it: booze is expensive. But it doesn't have to be that expensive. "Don't offer a range of liquors: you're better off doing a signature drink for the night, something like candy cane martinis or gingerbread martinis," says Albert. "That way, because people aren't drinking something straight, you don't have to go top-shelf."
Complement the signature drink with red and white wine—you don't have to spend more than $12 per bottle, says Dickenson—and a selection of beers, and you're done.
Closing time
Of course, the last thing you want is friends driving home after having consumed one too many gingerbread martinis. For that reason, offering your guests taxi chits is a great idea. Better yet, pre-order four or five cabs to arrive at a set time. "If you know your guests well enough, you're going to know who might have a little too much fun and need a ride home," says Albert. "It's also a great way of ensuring that if the party's scheduled to end at 2 a.m., it ends at 2 a.m. When the cabs arrive, it's time to go."
That's it. Get cracking. The holiday season's right around the corner, and there's no time like the present to start burnishing your reputation as the best party thrower on the block.