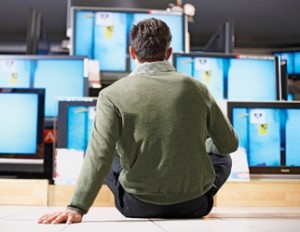 Your career's fast-tracking, your debt is under control, and it's time—finally—to treat yourself to that long-coveted, long-delayed media room. There will be a massive, eye-popping flat-screen, for sure. And five-speaker surround sound underpinned by a rumbling, bowel-loosening subwoofer. There will be Blu-ray players, internet browsers and MP3 streamers. There will be HDs and 3Ds, cables the size of pythons and wires of exotic alloys. Your friends will be amazed. Your Super Bowl parties will be legendary. Awesome will barely describe the full extent of the awesomeness.
That, at any rate, is the plan. But there's an awful lot of audio-visual gear out there, and a lot of AV gear is awful. Where do you start? What do you buy? How much do you spend? The following tips will help you navigate the shifting shoals of the consumer electronics market, and make sure your dream AV system doesn't turn into a nightmare of overpriced, mismatched components.
Laying the foundation
The first thing computer consultant and lifelong audio-videophile Michel Gaudreault did when building a media room in his home in Chelsea, Que., was to figure out how much space he wanted for his AV setup. He then prewired an unfinished area of his basement with all the necessary cords and cables to connect his various media components together in different parts of the space before installing drywall. This "saves you a lot of time and money," Gaudreault says, because you won't have to hire an electrician to fish wires through the wall after the fact. Finally, he thoroughly soundproofed the walls and ceiling by installing double-thick drywall over sound-dampening insulation. "I can run the stereo or home theatre as loud as I want at 2 a.m. and it's completely silent in the rest of the house," says Gaudreault.
Most people, of course, will simply install their AV system in the best available space, whether that's the living room, family room or den. Even so, a little pre-planning is in order before heading out to the closest electronics store and breaking out the credit card.
Before you shop
Ask yourself what you want from your AV system. Will you be watching primarily movies and television, or will it serve double duty as a stereo? Will you be using it to download movies and music from the Internet? Answering these questions in advance will help focus your budget and avoid wasting money on things you don't need.
"A great AV system is based on quality components rather than a bunch of features you'll never use," says Shane Bellenie, manager of Toronto-based audio shop Planet of Sound. Most AV systems don't need more than three or four amplifier inputs, he notes, so why buy an amp equipped with 16 jacks? Likewise, it's pointless to install massive speakers in a tiny room.
The big three
All media systems consist of three main components, in the following order of importance: a television or video screen, a set of speakers and a receiver/amplifier. In practice, that means you should be allocating the bulk of your AV budget—for most, $3,000 to $6,000 is plenty—on a quality screen and speakers.
"People make the mistake of buying a top-of-the-line amp, then defeat the purpose by tacking on a home-theatre-in-a-box speaker system that's going to sound really tinny," says Bellenie. Jack Frys, sales manager at Ottawa-based Bleeker Stereo & TV, feels the same way: "Most amps are so good these days you can get everything you'll ever need for $600 or less."
Bright versus right
When it comes to TVs, the age-old debate—plasma versus LED—continues. If you go by objective, measurable criteria, the answer is clear: plasma outperforms LED in everything from speed (i.e. how fast the picture "refreshes"), to contrast, colour, off-angle viewing and even price. But if you go by what people actually purchase, the answer is equally clear: "Eighty percent of our customers walk out with LED televisions, for the simple reason that they're brighter," says Frys.
Indeed, even though plasma TVs deliver the truest, most realistic colours and picture quality, they're going to appear dingy when viewed next to the exaggerated brightness and colours of LED screens in a showroom. And if your media room has a lot of windows and ambient light, you'll want the brightness of LED to compensate.
When it comes to brands, Frys says Panasonic is consistently the top-rated manufacturer for plasma sets, while Samsung and Sharp have the best LED screens. If you want the best of both worlds, the brightness of LED and the rich, deep colour palate of plasma, he suggests consumers look at the Sharp Quattron, which adds an extra layer of yellow pixels to the traditional red, green and blue pixel structure of LED screens, giving the Quattron a much more realistic, plasma-like picture.
The boob tube gets smart
The same trend that turned cellphones into smartphones is at work in the television industry, where a wide range of products are now being sold as so-called "smart TVs"—another way of saying they have some built-in Internet connectivity. Most smart TVs use wi-fi to connect to select channels provided by the manufacturer, allowing you to stream music and video from the web. Higher-end smart TVs have dual-core processors and built-in web browsers that allow you to use your TV just like a computer—which for all intents and purposes, it is. Expect to pay more for the full smart TV treatment: $1,200 for a 46-inch Samsung, says Frys.
Bellenie, however, says that since smart TV technology is evolving quickly and will be obsolete just as quickly, consumers may be better off simply purchasing a kit that lets you connect your television to your computer, effectively transforming your flat-screen into a giant monitor.
Size matters
Is there such a thing as too big when it comes to home theatre screens? Not really, says Frys. "Bigger is better. It's extremely rare for someone to come in and say their screen is too big."
Of course, that wasn't always the case: before high definition, if you sat too close to a big-screen television the image became pixilated. "Now with HD, the distance has been reduced to 1.5 to 2.2 times the screen diagonal," says Frys. "So there's no real limitation on the size of your TV, even in small rooms."
If there is a limitation, it's price: an 80-inch LED screen will run as much as $6,000. There is, however, a way to super-size your screen without super-sizing your budget. That's to go with a projector television— it is still the most economical way to get a really big screen, confirms Frys. "You can get a projector for $2,000, after which you can have any size screen you want, up to 10 feet or bigger. For sports or movies the impact can't be beat and 3D in particular works much better on a big screen."
Of course, you will need a very dark room. Michel Gaudreault's projector-equipped man cave has no windows at all. And if you're using your projector as an everyday TV you'll have to replace the bulb every few years at a cost of about $600.
The sound and the fury
It's now time to focus on speakers. Surround sound is a critical part of the home theatre experience. It's generated by the strategic placement of at least five speakers and a subwoofer, otherwise known as a 5.1 system. This consists of a centre channel speaker directly in front of the viewer, a speaker to the left and another to the right, and two more speakers behind the viewer (also left and right). The subwoofer can be placed anywhere, since bass is non-directional.
But unless you have a large, dedicated AV room like Gaudreault's, there may not be room for rear speakers if your couch is already pressed to the back wall. "If you don't have room for rear speakers, there's no point in installing a 5.1 system because you won't get that 3D effect," says Bellenie. If that's the case, concentrate your budget on two really good speaker towers. "You'll get better sound, and you won't have a bunch of speakers and wires all over cluttering up the room," Bellenie says.
Frys, however, offers a couple of alternative solutions. "You can mount speakers in the wall behind the couch or in the ceiling overhead. Both will help deliver that surround-sound 3D effect." Alternatively, he says, you could install a sound bar comprising 12 to 40 tiny speakers all angled in a slightly different direction. "The sound bar gets mounted under or over the TV, and bounces sound off the walls, resulting in a 3D surround-sound effect."
Regardless of the system you choose, both Frys and Bellenie say your budget for speakers should be in the range of $1,000 to $3,000.
The best of the rest
What else do you need to round out your dream media room? A Blu-ray player is de rigueur. "For video, Blu-ray is still the best resolution you can get—way better than DVD," says Frys. Moreover, high-end Blu-ray players have smart TV functionality built in, allowing you to stream movies from sites like Netflix, download videos from YouTube, and browse social networks like Facebook and Twitter.
Of course, all your components must be wired together. You can invest a great deal of money in the HDMI cables that make your various components speak to one another, but the difference in performance between a $20 cable and a $100 cable is virtually undetectable even in high-end systems.
Speaker wires, however, are another matter. "Buy the thickest you can afford, especially in long runs of 50 feet or more," says Frys. "It'll sound much better and it's definitely worth the money." That said, some speaker cabling runs to $5 per foot or even $8 per foot for copper-silver alloys. "That's absolutely out of the question for a system like mine, where I might be running a couple hundred feet or more of speaker cable," says Gaudreault. "You shouldn't have to spend more than $1 to $1.50 a foot to get the performance you want."
Oh, and don't forget a universal remote to manage all this stuff. "At the end of the day you're going to have to control the amp, display, Blu-ray player and CD player, so make it easy for yourself," says Frys.
OK, that's it. Get cracking. Your awesome home theatre awaits.
For more sound home theatre advice, check out our photo gallery.