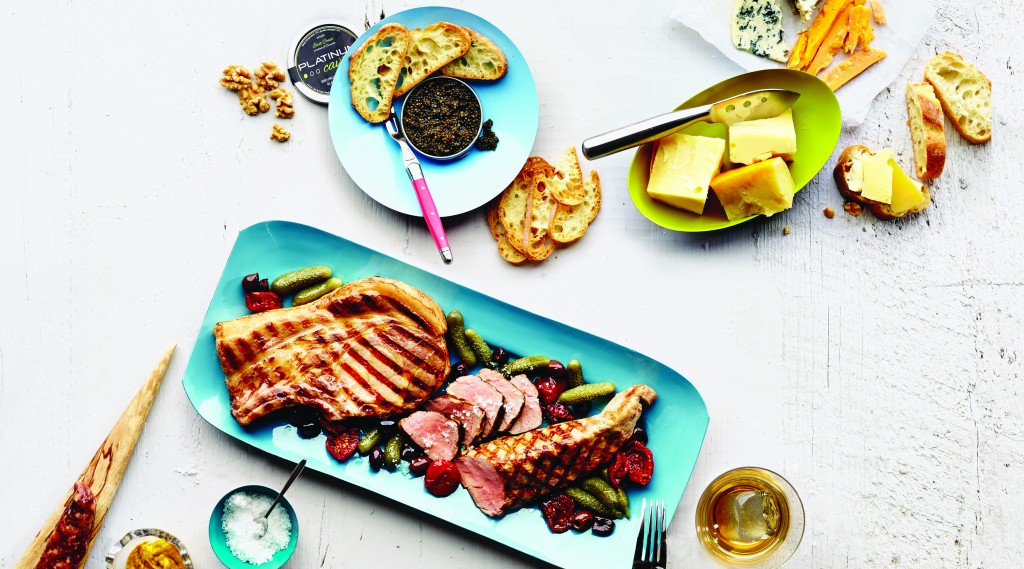 A food-loving shopper with a nose for a bargain would usually sniff elsewhere than the red-bricked row of gourmet food shops that line a stretch of Yonge Street in Toronto's upscale Rosedale neighbourhood. Locals call them the Five Thieves. They are not known for filling a grocery basket at a discount. But let's imagine you heard the Italian white truffle harvest was a bonanza this year, and that you might be able to root out some of the bonanza for yourself at a butcher here. The co-owner of Olliffe Butcher Shop doesn't even mind the Thieves sobriquet ("I've embraced it. It's kind of funny") but he can't offer good news about the prized fungi. "We sell them for $8 a gram. Last year they were the same. Supply and demand hasn't really kicked in on this," says Sam Gundy. That's the bad news. The worse news: The sought-after Piedmontese white truffle proves elusive in Canada anyway; it's the less-revered truffle varieties we tend to get. "You never get alba truffles outside of Italy—whoever says they've got alba…" the thought trails off. He shakes his head. "It's impossible."
These are tough times for the budget-conscious gourmand, with food prices rising fast. So laying out a luxurious smorgasbord for party guests could be more expensive than ever before. Despite occasional breaks for the picky glutton, traditional luxury foods reach for ever-higher prices. That's tough to swallow if your idea of a slap-on spread is heavy on European delicacies.
But what if buying Canadian-made luxuries is the answer to rising food prices? Restaurateur Jamie Kennedy is among the many who advise looking locally for gourmet delights. Speaking of caviar, champagne and the like, he says, "They have their place but most are artificially inflated in cost." As Canada's self-confidence as a culinary nation grows, "these kinds of things become offensive."
It's only Canadian self-deprecation that prevents us from experiencing culinary ecstasy over our own foods. But Canada produces a cornucopia of under-appreciated—and under-priced— nibbles just as sensuous as the imports. Take salmon. David Hawksworth, chef and owner of the blue-chip Vancouver restaurant that bears his last name, notes the ease of finding wild fish in our country relative to elsewhere. "In Europe it's hard to get wild salmon. Everything's farmed there." Thanks to a record run in B.C. this year, "Salmon is a total bargain," says Vikram Vij, a Vancouver restaurateur well-known to local food lovers.
Shunning imports is central to the locavore ethos that currently reigns among in-the-know food lovers. A carrot grown within a few dozen kilometres is light-years hipper than a delicacy freshly flown in. This helps explain why Vij shuns, say, Italian truffles. For Vij, the scent just calls airplane fuel to mind. "Flying them on a plane makes them so expensive. That's ostentatious, that's showing off."
In contrast, local foods give gourmands the warm fuzzies. Gundy brightens as he shows off the contents of his refrigerator. It brims with local products and humble luxuries. He grabs a stick of Dolce Lucano Salumeria cacciatore sausage, cured in the nearby suburbs but the equal, he insists, of Italian imports. Eggs borne by chickens that are free to eat bugs and scratch in the dirt come out hard, yellow and delicious. And Gundy melts over a foil-wrapped brick of gold from Ontario's Stirling Creamery: a high-fat, European-style butter churned in batches using two coal-burning, steam-powered pasteurizers. "They sell the Normandy butter next door. Same as this," Gundy says. "This is better, and this is half the price."
Canada is a leader in fruits of the sea as well. Lobster is affordable this year thanks to a record harvest. As for oysters, the bivalves of Nova Scotia and Prince Edward Island are well-established at home and abroad. Canada has caviar covered, too, thanks to Acadian Sturgeon and Caviar and Breviro Caviar out of New Brunswick, and Northern Divine from British Columbia. Hawksworth, the Vancouver restaurateur, has qualified praise for the caviar from his home province. "It's got a great mouthfeel but doesn't have the same pop that the Russian caviar has, but it's almost there." Of course, neither does it have the discomfort that some guests may feel about a product from Russia, or the despoiling of the sturgeon population of the Caspian Sea.
For the gourmand, cheese concludes the meal and small-run Canadian cheeses are among the few domestic delicacies to have broken out abroad. Last year, for instance, Glengarry Fine Cheese took top honours at the Global Cheese Making Competition in England for its gouda-like Lankaaster. But if you wanted to buy it recently, you'd have been out of luck. "Sold out," the cheesemonger declares. But if the customer would care to try, he has spectacular specimens from B.C. and Ontario that might suit, and you can get away with a couple hundred grams for under $9 either way.