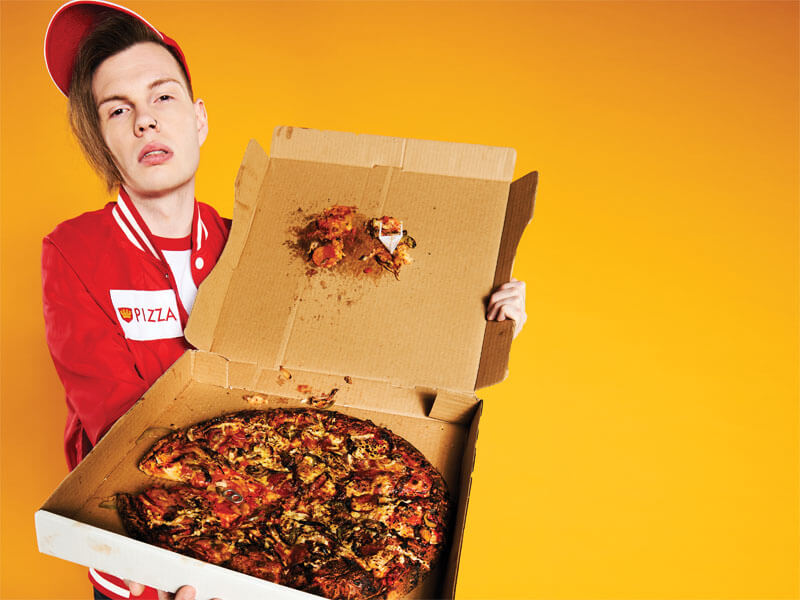 The pizza is late. Again. "Let it go," says my husband, who's survived many years of my relentless consumer habits, "please let it go." But 20 minutes later, growing more hangry by the minute, I make no promises. When the delivery guy finally knocks, unapologetic and apathetic, holding a sad burnt meat lover's pizza, I cannot. I refuse. I'm a tough customer, and I'm not ashamed to admit it. You can bet your bottom dollar someone's going to hear about it.
For many people, the aggravation and effort of complaining isn't worth the embarrassment. To send back a badly mixed drink at the bar is rude, difficult or even cheap. To others, like my never-complaining dad, who once refused to let me even tell a waitress that our soup never arrived, it's a sign of how ungrateful and entitled we've become. (Do I even know how lucky I am? Some people lived through the Cold War!) We are, it seems, a nation of quiet grumblers, inclined to spend our hard-earned money on people and products we trust will meet or exceed our expectations and then silently stew, unsatisfied and soup-less, when they do not.
In fact, it is a widely-held truth in retail that for every consumer who lodges a complaint, there are dozens more who do nothing. "They'll post it on social media, they'll vow never to shop there again, they'll tell anywhere from 10 to 15 people—but they won't ever call customer service to get the issue fixed," says Guy Winch, author of The Squeaky Wheel: Complaining the Right Way to Get Results, Improve Your Relationships and Enhance Self-Esteem. According to consulting firm Lee Resources, these people do not make happy customers: 91% of them say they won't willingly do business with a company that has failed them, and it'll take more than 12 positive customer experiences to counterbalance that bad one.
Not long ago, we lived in a golden age of complaining. Following the invention of the 1-800 number, by AT&T, in the late 1960s, toll-free lines multiplied to accommodate a booming customer service field. In the 1970s, if your Atari broke, you could write, address and physically mail a strongly-worded letter to the Federal Government's Box 99. (If they received two more letters like yours, they'd investigate.) Cube-mate ate your lunch? Slip a written complaint into a feedback box, mounted conveniently onto a wall. If you needed to voice a frustration, you knew exactly how.
Today, Twitter and Facebook are the go-to outlets for our protests, offering a convenient and faceless black hole of Insta-rage. It's where you find pissed-off people tagging instances of #badcustomerservice, the charming SCREW-YOU-HOME-DEPOT crowd; and all those people who will never, ever, fly @AirCanada again. But these are not places for action. They're just venues to let off steam. "Sometimes all you need and the best you can do is vent," Winch says. Transforming a wrong into a right is a learned skill that requires more than a quick tweet.
My education began in my university years, when a broken bottle of liquid foundation ruined my entire makeup bag. Feeling equal parts angry and poor, I called up CoverGirl to politely suggest that fabric-ruining fluids didn't belong in glass bottles. A week later, a few hundred dollars worth of coupons arrived in my mailbox. CoverGirl had earned a loyal customer and some damn good word-of-mouth praise (in a national magazine, no less), and I had replaced the contents of my make-up bag. From that moment, a shameless habit was born. Between then and now, I've complained often and with increasing gusto about long distance charges, bank fees and expired warranties. I've sent back disappointing desserts and salads whose dressing was not served on the side. I've learned not to be rude or obnoxious, but to value myself as a consumer and believe my experience counts. Moreover, I've learned that I'm good at it, and that complaining is easy when you know how. Recognizing there's always room for improvement, I reached out to some master fussers to find out what they know that others don't. Follow the formula they set out and not only will you get results, your bottom line will thank you big-time.
5 things your car salesperson isn't telling you »
Work the system
For many years, Judy Zaichkowsky, professor of marketing at Simon Fraser University, has been searching for what exactly makes complainers special. She's interviewed hundreds of folks who have written to the Better Business Bureau, and cross-referenced them against personality traits like reasoning, social boldness and perfectionism. "I found no difference whatsoever in personality," Zaichkowsky says.