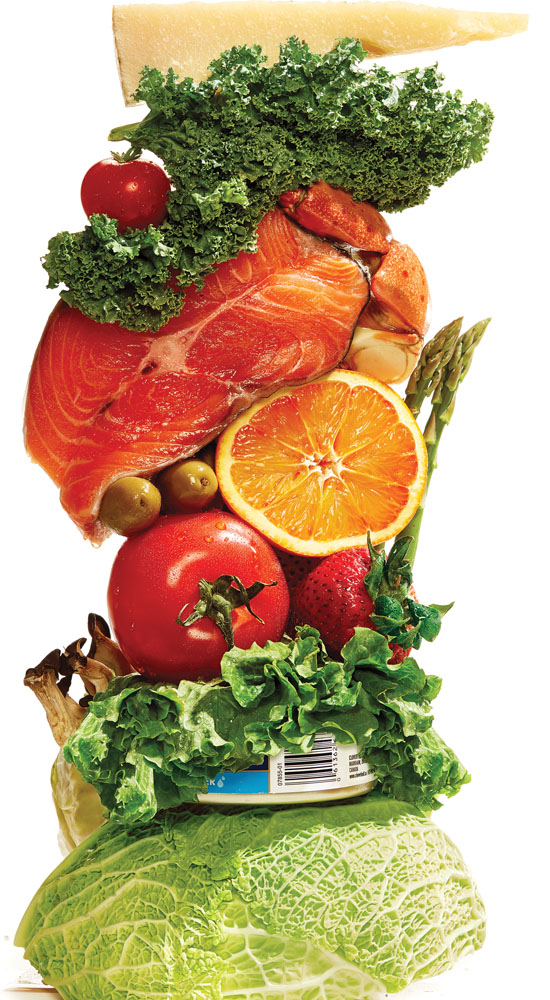 The complex where we lived until recently had only a single chute for waste. Several times a week, I would step into a pair of chewed up sneakers and make the 20-metre stroll to toss our garbage. As a family, we were diligent recyclers—cutting down boxes and bundling newspapers, which we still read—but we paid little attention to our kitchen waste. Bags filled with wrappers and plastic but also eggshells, old peppers and leftovers, were routinely pushed past the trap door and quickly forgotten.
When we moved to a new home earlier this year, our waste became harder to ignore. It now sits right outside our back door, laid bare to see. Thinking about it makes my stomach churn. Not so much the moist slop of decaying food scraps, but the value and volume of the food we carelessly throw away.
During one particularly bad stretch, my family threw out most of a carton of blueberries, a half rack of ribs, rice, baked potatoes and an unopened Costco-sized tray of chicken that had developed a pungent odour in our fridge when life interrupted our meal plans. That didn't account for leftover scraps from our plates or the untouched dinner snubbed by an occasionally picky toddler who demanded cereal instead of roast chicken. I tallied it up: We tossed an estimated $40 worth of food in a week or so. Reading the wilting leaves in our green bin, I saw an opportunity to reduce our waste and lower our grocery bill.
I'm the resident shopper and chef in the family, so it's mostly down to me. During weekly runs to the grocery store, I rarely bother with a list. We mostly pick up the same items each week: chicken, a couple tins of diced tomatoes, broccoli, asparagus, green beans. Our basket is consistent to the point where I can often guess the total before it gets rung through—typically $115 a week. That adds up to about $6,000 a year, for our family of four.
Apart from the sameness of our meals, this isn't something we viewed a problem, until we tracked our waste and realized it was. In retrospect there have been too many occasions when the depths of our fridge decayed into a wasteland of half-used onions, liquefied cucumbers, petrified lemons and colourful penicillin colonies hiding half-eaten cheeses—all orphan ingredients from slapdash meals dreamed up on the fly.
We are not alone. At the University of Guelph, assistant professor Kate Parizeau was part of a research team that conducted an audit of residential food waste in the summer of 2014. They cracked open green bins to uncover the rotten truth about how much food is being tossed: The average family generated 4.5 kg of food waste every week. Of that, roughly 2.3 kg were avoidable, while another 0.5 kg were considered to be possibly avoidable. "We were picking up green bins that had been outside for between one and seven days and some of the food still looked pretty edible," she says.
What's equally shocking is the cost. According to research by Ralph Martin, the Loblaw Chair in Sustainable Food Production at the University of Guelph, that 4.5 kg of food is equal to about $28 every week or $1,465 a year. Given the average Canadian family of four spends roughly $140 a week on food that means about 20% of our grocery bills end up in the bin. It's as much as many families spend annually on gas. "People are buying too much and not portioning well," says Parizeau. "It adds up."
Of course, inflation and the weakening loonie have also conspired to drive up supermarket bills, as have unusual price fluctuations, such as the one we saw earlier this year when the price of a single head of cauliflower jetted to $8 a head. By the end of 2016, food price increases are projected to outstrip the general inflation rate, which is alarming given how much of monthly spending is earmarked for food. The University of Guelph's Food Institute expects the average household will spend $8,631 yearly on food, including $2,416 on restaurants. That's up $345 from 2015, which was up $325 from 2014. That means the average family is spending $700 more on food than they were two years ago. Meats and vegetables are leading the way, up 4% and 9% respectively, and are projected to rise another 2.5% to 4.5% this year. So even if you avoid exorbitant cauliflowers (as I do), it won't make you less immune to bill creep.