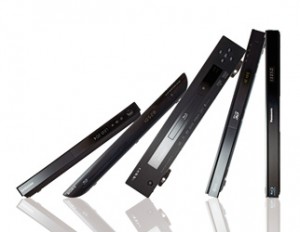 Back around 2006, a Blu-ray player cost nearly $1,000. That was the price of entry for the highest-quality video technology on the market. Today, Blu-ray is still considered the de facto standard. But while prices for players have fallen, the number of features has risen.
You can spend as little as $130 for a Blu-ray player with Wi-Fi connectivity, which lets you stream content to your HDTV from both the web and your home computer. Most modern Blu-rays also support 3D and surround sound, and sport USB ports so you can connect other devices directly. Manufacturers now offer apps that let you control the player with your smartphone, too.
Considering cost and quality, five models made our short list: LG's BP620, Oppo's BDP-103, the Panasonic DMP-BDT220, Samsung's BD-E5900 and Sony's BDPS590. They all have similar features (Wi-Fi, 3D, surround sound and optional smartphone remote) and they each cost well below $1,000. But the equality ends there. Read on to see which player best balances price with performance and why you might want to pause before buying any of the others.
Fifth place…
Samsung BD-E5900 | $150
Although the BD-E5900 matches the other contenders when it comes to basic functionality (Wi-Fi connectivity, 3D playback and decent image quality) it seems to lack good web access. Some users complain of trouble viewing online content. Other people say the web browser is difficult to use. Yes, the device is relatively easy to set up. But if you really want your player to link to the web, that ease-of-configuration may not make up for the connectivity challenge.
Fourth place…
Sony BDPS590 | $140
If you're highly attuned to aesthetics, you'll love the BDPS590. It's clear that Sony spent some effort in making this box look different from competitors. If the innards are more your thing, however, you'll find nothing special here. Sony's nicely priced player provides excellent image quality and an intuitive remote. But the user interface is so-so, and some people find it difficult to set up. Perhaps this is why Sony plans to discontinue this model.
Third place…
LG BP620 | $130
Whereas many Blu-ray players offer 3D, Wi-Fi and smartphone controllers, the BP620 stands out with an additional function: a Music ID button on the remote. Punch that and the player goes looking for details about the song that's playing in the video you're watching—pretty cool for movie-music lovers. In nearly every other respect, LG's offering matches its competitors. But the smartphone app isn't as easy to use and the player lacks the video processing power of costlier devices.
Second place…
Oppo BDP-103 | $500
Oppo isn't a well known brand, but people familiar with it say it's among the best. The BDP-103 exemplifies Oppo's approach: offer plenty of features (1GB hard drive, 4K upscaling for optimal image quality, two HDMI ports, support for a long list of audio and video file formats)…and charge accordingly. The BDP-103 is more than twice as expensive as the next-priciest player we looked at. But despite its high quality, in truth most people won't use many of the advanced functions.
First place…
Panasonic DMP-BDT220 | $150
Don't let the bargain price fool you: the DMP-BDT220 is loaded with features. It lets up to four people save their own setup preferences, supports Skype so you can use your HDTV for video calls, and delivers excellent image quality. But the player isn't perfect: no internal memory, slow loading speed, and some say it's tough to connect to other devices on a home network. Up and running, though, the DMP-BDT220 is a top performer.
BEST DEAL!
Panasonic's DMP-BDT220 Blu-ray player lacks the internal memory you'll find in higher-end devices and some people find the unit difficult to set up. But with excellent video processing, unique features and a low price, it presents the best cost/performance balance.