PC Optimum is officially here. Your PC Plus and Shoppers Optimum can be united into one, handy account. The biggest question many have as this transition takes place is: what do you actually do to merge all your points? We walked through the process for you. (And if you're reading this because you can't get your Shoppers Optimum account to link, read on; there might be a way to avoid the hassle.)  Here are instructions on how to make the switch:
Step 1: Create your PC Optimum account
You have to register and create a brand new PC id. Fill in your personal details and create a new password.
You'll be asked if you've picked up a new PC Optimum card yet (which you can do the next time you're checking out from a Shoppers Drug Mart or a Loblaws-owned grocery store) and if you've ever had a PC Plus, Optimum or PC Financial card.
Step 2: Link your accounts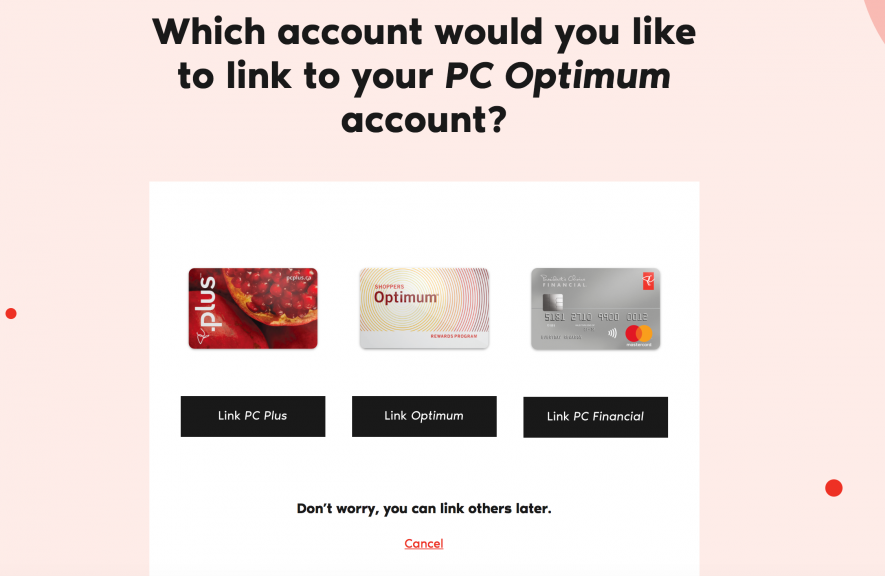 Then you can actually choose which account you'd like to link to your PC Optimum account. If you don't want to do that now, you have the option to do it later.
For PC Plus, you can link accounts by filling in the last 13 digits of your PC Plus card, or by logging in to your account. For Shoppers Optimum, you have to input the last nine digits of your card. PC Financial customers will have to input your credit card details.
Step 3: Verify
After clicking through with any of these options and inputting card details, you'll receive an email verification to authenticate your request. After that, your PC Optimum account will reflect a new points balance. Your Optimum and/or Plus points move to the new program at equal value. That means if you had $10 worth of Shoppers Optimum points (8,000), you'll have $10 worth of PC Optimum points (10,000) after the switch. If you had PC Plus points, the conversion is 1:1, meaning you'll have the same number of points you did before.
If you used your Shoppers Optimum card between January 30 and 31, your PC Optimum balance won't reflect the points you earned in that time. According to PC Optimum, this will be adjusted no later than February 28.
The merging process is pretty simple, but if you're a Shoppers Optimum member, things might not be so easy. In fact, many are reporting being unable to link their accounts to PC Optimum at all and getting this error instead:

PC Optimum says that it's due to a high volume of registrations:
Hi Maz! While we anticipated excitement about the new program, we are currently experiencing a high volume of app downloads and are working to get this resolved as soon as possible. Feel free to reach out if you need more assistance, we would be glad to help.

— PC Optimum (@pc_optimum) February 1, 2018
But think twice before hopping on the phone with PC's customer service. Other customers are reporting that linking their accounts at checkout at Shoppers Drug Mart took just a few seconds with no problems. This might be the hassle-free choice:
After trying all the site suggestions, I went to my local Shoppers, ta da done in seconds. The clerk said "Youre not supposed to do it online. Go to the stores, hand in your card, they'll be linked". And they are!!!!! Why why why why couldn't PC Optimum just say that?

— Jill (@Cullzer) February 1, 2018