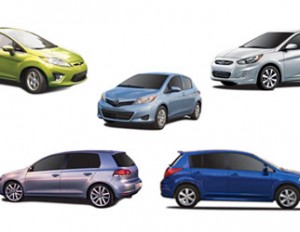 Some people view their cars as an intrinsic part of their self-worth, perhaps even as an extension of their identity. Some, however, just see their car as means of getting from point A to point B.
For the latter group, fuel economy is a big part of the decision-making when it comes to buying a new car. A few decades ago, that would have meant settling for a tin can on wheels, but today's gas misers combine cutting-edge technology with style to spare.
Our expert automotive panel set its sights on the top fuel sippers on the market. Their five favourite vehicles offer the best combination of economy, looks, value and safety.
VW Golf TDI
$25,425–$32,895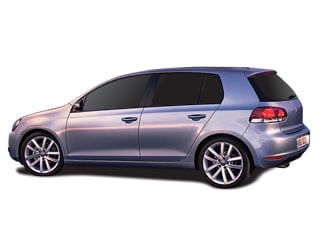 Coming in at No. 2 is the priciest of our picks, but also one of the most fuel-efficient non-hybrid cars available. "Volkswagen produces some of the greatest cars and their diesel technology is incredible," says Nika Rolczewski. "Anyone I know that has owned a Golf TDI has loved the car and called it indestructible." Edmonston calls it "a solid second choice" that offers "sporty highway performance, high-quality interior materials and a slow rate of depreciation." But Mohamed Bouchama notes that Volkswagens have a history of higher repair costs once the warranty period ends.
Toyota Yaris
$13,990–$18,990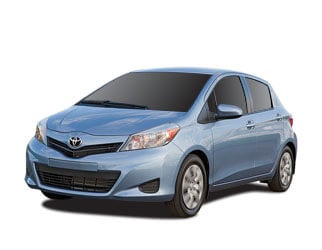 Despite its freshened exterior, the 2012 Yaris retains most of the same mechanical bits under its skin. Our experts say that's a good thing for Toyota's legendary reliability, although its four-speed automatic transmission "leaves it a step or two behind its competitors," says Malloy. The highly affordable Yaris also delivers outstanding fuel economy, making it perfect "for those who realize that they can live a environmentally-friendly life without buying a Prius," says Rolczewski. Nadine Filion praises the Yaris for its high resale value, but says it has sexier and more powerful rivals at similar prices.
Hyundai Accent
$13,599–$18,399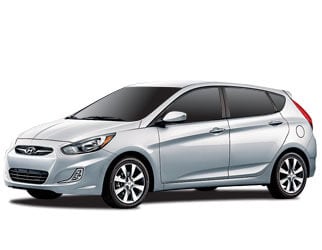 Showered with accolades this year, the redesigned Accent boasts best-in-class fuel economy, one of the strongest warranties around, and trademark swooping design touches. "The fact that Hyundai's quality is now among the best in the business reinforces the value inherent in this car," says Malloy. The Automobile Journalists Association of Canada recently declared the Accent the best new small car under $21,000. Still, Edmonston says some owners report premature brake wear and Filion notes the base model does not offer a folding rear seat.
Nissan Versa
$14,678–$17,678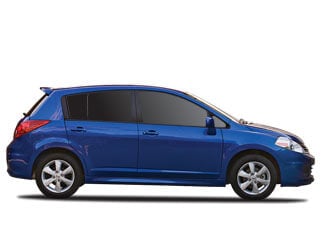 Often underrated, the Versa is "an inexpensive 'jumbo' small car that gives good mileage and provides lots of interior room and trunk space," says Edmonston. Its high seating position also provides a commanding view of the road and the backseat won't punish passengers. It's not the most exciting car to drive, says Filion, but there's a good array of equipment for the price and the peppy engine's continuously variable transmission ensures that it will deliver good fuel economy. Bouchama calls the hatchback's design a bit stale, but a full makeover is slated for the 2013 model.
Ford Fiesta
$12,499–$18,499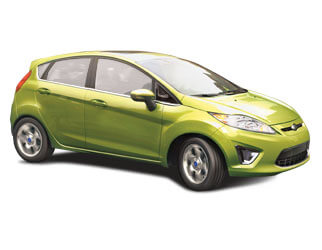 The celebrations continue at Ford with yet another win for its colourful and budget-friendly Fiesta. Our panel says this German import proves gas misers don't need to drive like an econobox. To Phil Edmonston, "the Fiesta offers excellent, no-surprise European-style handling and performance where most Detroit-sponsored small cars in this class turn in mediocre results." Ford's smallest car also delivers big when it comes to safety equipment and novel features, such as an integrated blind-spot sideview mirror, says Gerry Malloy. Traditionally, drivers who wanted to squeeze every last penny out of their gas tank had to opt for a manual gearbox, but the Fiesta's dual-clutch, six-speed transmission easily matches the efficiency of a stick shift. "The latest generation of the Fiesta is well-appointed," says Malloy.
THE VERDICT
The fun and frugal Fiesta noses ahead of the competition with outstanding fuel efficiency, European road manners and an impressive level of standard features and high-tech goodies. (In fact, our experts say one of the fiercest competitors for the Fiesta is its own big brother, the Ford Focus, which exhibits many of the same traits with a competitive sticker price.) For those with extra cash flow, the Volkswagen Golf TDI gets full marks for its design and rock-solid performance. The reliable but somewhat dated Yaris is still a good bargain as well.
How we came up with the numbers
Price reflects the manufacturer's suggested retail price without options or destination charge. For cost of ownership, we used data from Edmunds.com and converted it to Canadian dollars per kilometre. The safety score is based on ranking by IIHS and NHSTA, the leading authorities in the U.S. Reliability is based on Consumer Reports data gathered from vehicle owner questionnaires. Driving experience is the average score for each model provided by our expert panel. To obtain our overall value score, we assign a weight of 20% each to cost of ownership and reliability, 10% to safety and 50% to driving experience. The higher the score out of 10, the better the value offered by the vehicle.
Expert Panel
Phil Edmonston: Bestselling author of the annual Lemon-Aid new and used vehicle guides
Nika Rolczewski: Automotive Columnist for the Toronto Star
Mohamed Bouchama: Executive Director of Car Help Canada
Nadine Filion: Award-winning automotive journalist based in Montreal
Gerry Malloy: Editor-in-chief of Autofile.ca