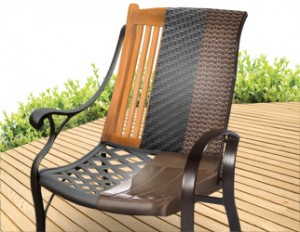 When shopping for patio furniture, the material really will make all the difference—on cost, maintenance and durability. Beyond that you're just paying for the name brand, says Rita Durman, marketing coordinator at D.O.T. Furniture.
Cast aluminum | $99 to $400
This is the best bang for your buck. It's rustproof, requires low maintenance, and while lightweight, it won't blow away in severe weather. Take care of these chairs and they should last for 10 years.
Resin wicker | $50 to $700
While beautiful, resin wicker can't compete with aluminum, iron or steel for durability. The estimated durability is roughly five years.
Tubular aluminum | $30 to $250
The aluminum components will last up to 10 years, as long as steel isn't part of the structure. But the fabric seat—known as the 'sling'—has half the lifespan.
Teak | $200 to $500
Teak chairs are high-maintenance. Every year one reader spends an entire afternoon oiling her set. But this ensures that Christina Ceolin will get about five years of life out of the chairs.
Plastic | $10 to $50
Waterproof and relatively inexpensive, plastic patio chairs are easy to stack and use. But unless you opt for a thicker plastic, these chairs will last only a season or two before staining or cracking.
-Vanessa Santilli