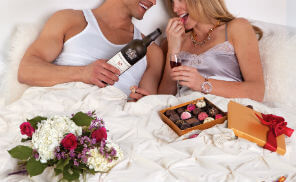 The pressure's on—Valentine's Day is coming up fast, and it's time to buy a gift for that special someone. Not only is the holiday rife with clichéd gifts, but merchants often gouge you with ridiculous prices. Instead of the usual, check out these original gifts that are sure to please without costing a fortune.
Cheers to us
Skip the expensive vintages and head instead to the fortified wine section for a sweet and spicy port like Taylor Fladgate ($34.95). This complex, fruity gem costs about as much as a mediumpriced vintage but as a sipping drink you'll have enough to enjoy throughout the winter.
A gift to remember
Surprise her with a one-of-a-kind piece of jewellery from Green Bijou. For $25 and up, designer Tricia McMaster incorporates antique Parisian jewellery as well as her clients' family heirlooms into modern masterpieces.
A fresh idea
The price of roses spikes dramatically before Valentine's Day and most women find them a cliché anyway. Instead, choose affordable alternatives like freesia, chrysanthemums, hydrangeas or carnations. Bouquets start at $20 at independent floral shops like Sweetpea's in Toronto.
Special sweets
Gourmet Belgian chocolatier Godiva's signature gold ballotin chocolate boxes ($30 for 19 pieces) are topped with rose ribbons. They come prepackaged with an assortment of delicious chocolates, or you can fill them with costlier truffles without increasing the price.
Put it in writing
Instead of buying a new item, bring in a beloved watch, cherished iPad, or prized golf club and enhance it with a personalized message. You'll typically pay $3 per letter for standard engraving at a shop like Toronto's Made You Look.