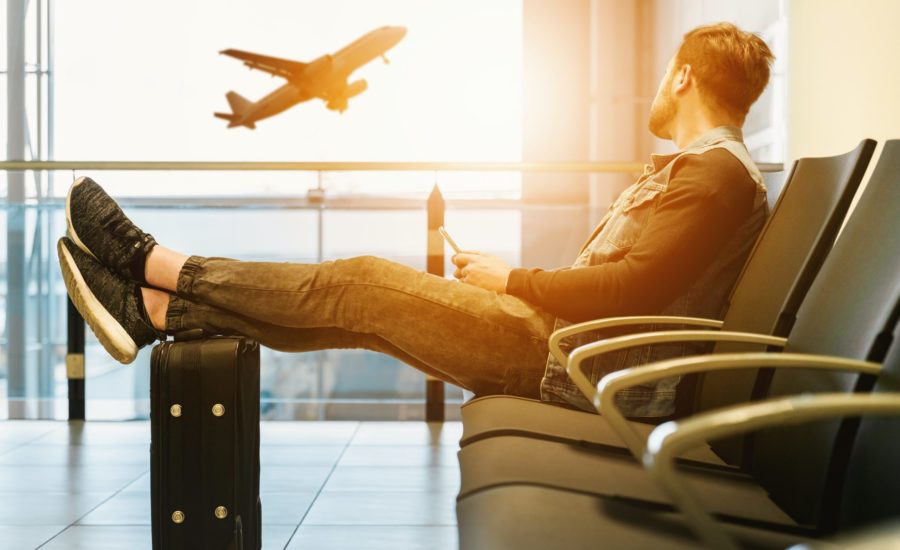 As social bubbles, provinces and countries slowly open up again, many people are looking to salvage their travel plans for the year while others think about 2022. Admittedly, there's still a lot of uncertainty in the world, but that isn't preventing some providers from tempting lockdown-weary Canadians with discount deals on travel and accommodations.
Locking in savings is usually a win for travellers, but with COVID still rampant in many countries, some people are wondering if it's worth travelling at all for the foreseeable future. Ultimately, the decision is up to you, but there's no denying that savings are in the air. Here's what you need to know about travel right now:
Air travel may or may not be more expensive
The demand for air travel has already increased, and we're starting to see bigger crowds at the airports and on planes. Airlines will adjust their fleet as needed, but you shouldn't expect the price of flights to swing one way or another. Similar to before the pandemic, airfare will be based on supply and demand.
That said, there are definitely deals to be had. For example, Swoop, Canada's first ultra-low cost carrier, recently advertised one-way flights from Abbotsford (Vancouver) to Toronto one-way for $70 total. You could also fly from Hamilton to Winnipeg one-way for $100 all-in. Even Air Canada and WestJet have attractive one-way fares, but taxes are extra and departure dates are limited.
Spending less on flights can make travel more affordable as you'll have extra funds to spend once you reach your destination.
Hotels have some of the best deals
Even if you don't have set dates in mind yet, you should be paying attention to hotel deals, as some of the offers are incredible.
Fairmont hotels has been offering multiple promotions throughout the year. Currently, the Fairmont Pacific Rim and Fairmont Waterfront Vancouver have a Stay Local offer where you can save up to 25% on stays until September 30, 2021. Keep an eye out for more deals when that one ends.
Not to be outdone, Marriott Bonvoy Escapes is a five-day sale that launches every Wednesday and is good until Sunday. Marriott Bonvoy members get 25% off, while non-members get a 20% discount. This is an excellent opportunity if you're thinking about travelling within Canada or beyond.
Anyone considering a trip to the Big Easy should check out this New Orleans Hotel Deals & Offers page. It's frequently updated with the latest savings. Some deals include up to 20% off stays and free gift cards.
Although some of these deals have dates that may be outside of your comfort zone, it doesn't hurt to make reservations now. Many of the offers I'm seeing have a short booking window, so if you think you might want to take advantage of a deal, do it, since you can cancel later without any fees.
Take advantage of local deals
Pretty much every province and territory is now open to Canadians, but you should still double check if any local rules are in place.
If you choose to staying local, you'll have many deals to choose from.
The #LoveVancouver campaign has attracted both locals and visitors since you can get attraction tickets, gift cards, and experience tickets for free when you stay at a select hotel. Additionally, some of the city's top attractions are still offering big discounts. 
If you're looking to travel by October 31, 2021, Whistler has deals on select hotels where you can save up to 30% (The Westin Resort & Spa is my personal favourite). If you're staying four or seven nights, you'll also get a $50 or $100 adventure voucher.
Visitors to Toronto should check out the My Toronto Pass. It's a new app that has offers on attractions, tours, experiences and more. Alternatively, you could get the CityPASS, which gives you 40% off at five top Toronto attractions.
If you live in Calgary, Edmonton, Vancouver, Montreal or Toronto, there's a huge opportunity for an adventure. CanaDream just extended their summer saving special on RV rentals until the end of August. The drop-off date is actually October 31, 2021, so there's still flexibility with the timeframe.
Refund policies should be at the top of your list
No matter what type of travel you're considering in the future, you need to read the refund policy before purchasing anything. 
Air Canada is a good example. They recently announced that any future travel credits no longer have an expiry date, and you're allowed to transfer your credit to another person. If the new fare is lower when rebooking, you will retain the difference in the form of credit. For those booking a holiday through Air Canada Vacations, there's the optional CareFlexPlus plan that costs $59, which allows you to get a full refund if you cancel your trip at least 25 days before the scheduled departure.
Bargain hunters will usually book with the cheapest third-party travel website or travel agencies, but their refund policies may not be as good as going direct. It may cost you a little more but having the flexibility of a fully refundable trip can give you peace of mind in these especially uncertain times.
Look for deals with long windows
Many deals I'm seeing apply to travel in 2021 and even 2022, so you needn't feel rushed to take advantage of the savings. Just about every cruise line is offering free upgrades for departures this year and next. I'm talking about room upgrades, free drinks, free WiFi, enhanced dining, free day trips and no gratuities. These perks could easily save you $2,000 on a trip for two. Here are some options to browse:
G Adventures, which focuses on small-group travel with like-minded people often runs sales where you can save 10% to 20% on departures later this year and 2022. 
Those looking ahead to ski and snowboard season may want to consider picking up an Epic Pass now. It's currently 20% off, but the price goes up on September 6th. The Epic Pass gives you access to all Vail Resorts-owned and operated resorts including, Whistler Blackcomb, Vail, Park City and others.
Although I can't say for sure, if COVID-19 is still a global pandemic next year, odds are many companies will extend their windows or allow you to rebook.
Check for any rules that may be in place
As countries start to welcome visitors, it's essential to read about any rules that they may have in place.
In the Caribbean, countries such as Jamaica, Aruba, Barbados, Belize and the Bahamas are already open to Canadians. That said, you still need to check the rules are for entry. For example, if you're not fully vaccinated, you may need to quarantine. You may also need a negative PCR test with 72 hours of your flight. 
Over in Europe, the travel ban has been slowly lifted, but the rules are all over the place. Pay particular attention to which vaccines are accepted without having to quarantine; some countries are allowing certain mixes, but not all of them. Asia appears to be more cautious as not many countries in the region have indicated when they'll start allowing international visitors.
Keep in mind, too, that when returning to Canada, you need to have a negative PCR test before your flight. If you're fully vaccinated, you don't need to stay at a quarantine hotel or quarantine at home.
As things are constantly changing, it's best to check directly with the airlines, provinces and countries on your proposed itinerary to see the current rules before you make plans to travel.
Ensure that you're protected with travel insurance
Travellers who had their flights cancelled due to COVID-19 quickly found out that their travel insurance didn't automatically qualify them for a full refund. Moving forward, you'll need to do some extra due diligence to find out what exactly you're covered for before you book anything.
Some travel insurance providers have already stated that they will not cover any medical expenses related to the novel Coronavirus, as it's now considered a known issue. Not every insurer has taken this stand, so you need to check with your provider to see if you'll be covered. 
There are some great travel opportunities available now, but you need to ensure that you have a plan B—and even a plan C—in case things don't go as you envision.
MORE ON TRAVEL: