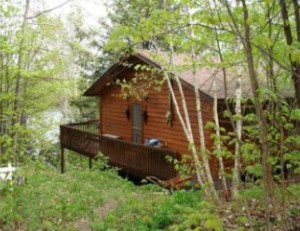 Location: An hour-and-a-half south of Sudbury. A three-hour drive north of Toronto | Price for a waterfront cottage: $220,000 to $400,000
If Parry Sound seems familiar, it may be because the area was a popular subject for the many scenic art works of Tom Thomson and members of the Group of Seven. The region is heavily forested, with lakes and rolling hills, and includes hundreds of kilometers of snowmobile trails, as well as good kayaking, canoeing and birding.
The town of Parry Sound is located on the eastern shore of Georgian Bay, and the properties along the bay proper are the most expensive (in the $500,000 and up range). However if you concentrate your search on the inland lakes—Manitouwabing, Whitestone and Harris Lake, for instance—you can find some handsome cottages on the water in the $300,000 to $350,000 range. Cot­tages on smaller lakes, such as Doe Lake and Ahmic Lake, are more affordable still, with properties fetching $220,000 to $300,000.
"We have quite a few cottages for sale on the waterfront this year," says real estate broker Michael Gerhardt in Parry Sound. For those looking to build, Gerhardt says there are several 120-by-400-ft vacant lots available for construction right on Georgian Bay, selling for just $175,000 each.