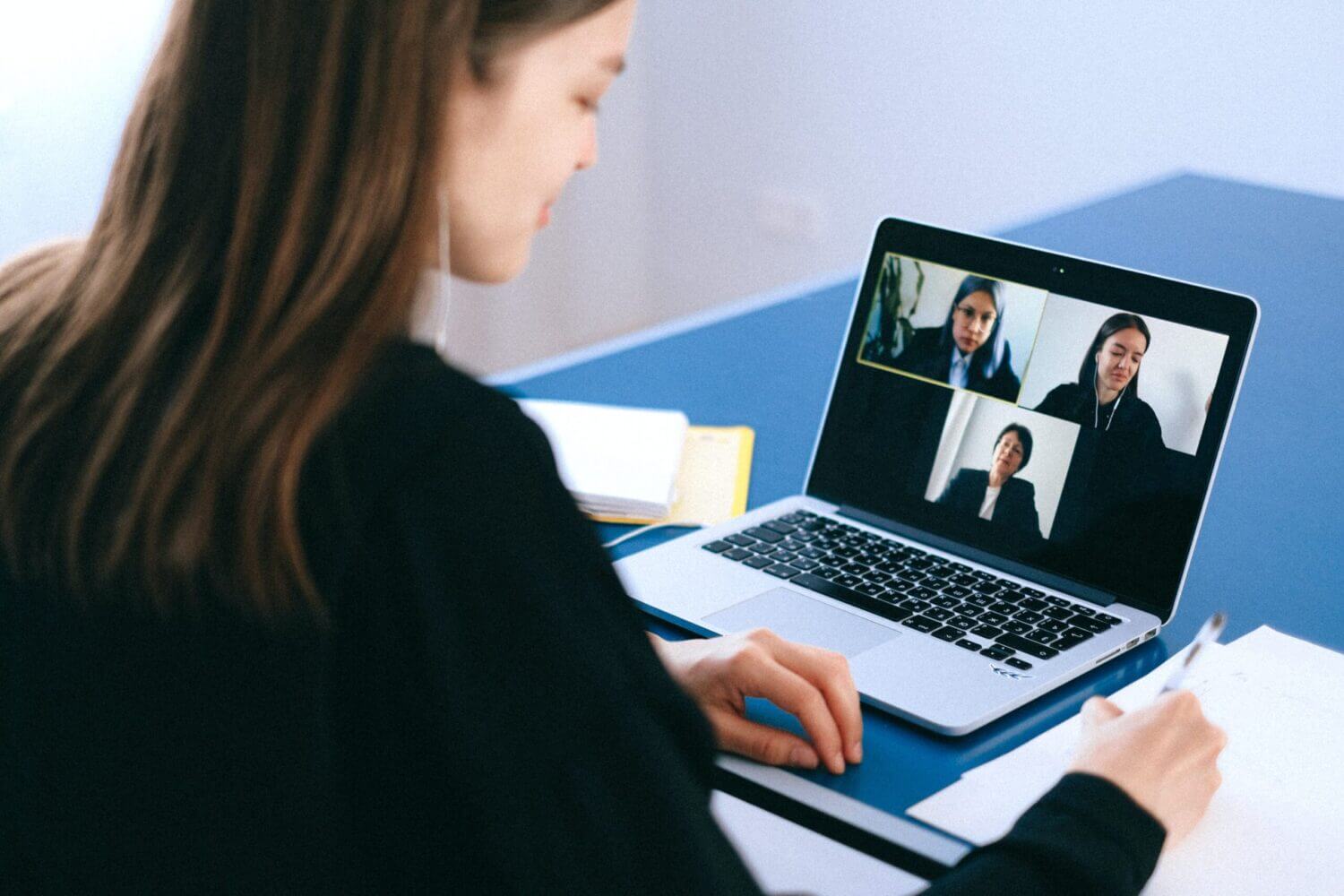 At the University of Fredericton in New Brunswick, 1,200 students are currently enrolled in fully online Master of Business Administration (MBA) or Executive MBA programs—and their experience is showing that business schools can still offer valuable learning experiences online without operating in-person. In fact, there are some benefits to going online—for students and faculty alike. 
"We've been able to entice faculty from around the world without needing them to move to Fredericton," says Dr. Sheri McKillop, vice-president of Academics at the University of Fredericton. "Our faculty have a minimum 10 years' real-world experience in addition to experience in academia," she says. "A lot of universities are ensconced in a research agenda; online learning has allowed us to gravitate toward faculty from all over the world who have a passion for teaching." 
The pandemic has forced even business programs originally designed around in-person learning to realize the benefits of virtual instruction. 
"My cohort started in March 2020, but on the fourth day of classes we had to go virtual," says Kathryn Donville, an MBA student at Western University's Ivey Business School. "In September, when restrictions eased in London, [Ont.,] Ivey introduced a virtual and a hybrid model. Students like me, who wanted to learn in-person, had a building specifically outfitted for us—masks mandatory—but with everyone using microphones."
"What we're seeing with the new hybrid delivery model isn't necessarily just a response to providing health conscious and safe learning—students are seeing it more as a matter of convenience," says Ivey professor and MBA Program Director, Dr. Larry Menor. "What we found through the pandemic is we can still deliver synchronous [real-time] learning. We don't all have to be co-located to achieve the Ivey experience." 
More than 90% of Ivey's classes are now delivered simultaneously through physically-distanced in-person learning and virtual learning—a transition no one imagined any business school could achieve so quickly, at least not before the pandemic struck and lockdown orders went into effect. 
Applications at Canadian MBA programs were up 13% in 2020 over 2019, according to a recent study by the Graduate Management Admission Council (GMAC).
One reason is that demand for business school, like demand for higher education in general, is countercyclical: When the economy is weak, prospective students tend to flee discouraging job markets for the promise of new knowledge and skills, enhanced professional networks and better career prospects after graduation. 
But an ongoing global pandemic, which has forced many schools to deliver the quintessential networking degree online, has some students wondering if they will now enjoy the same return on investment that they would have in previous years. To answer that question, prospective students will need to understand how MBA programs are meeting the needs of today's virtual learners and, no less importantly, how to measure the costs and benefits of pursuing a business degree in the middle of a pandemic. 
The virtual experience
Canadian MBA programs have been delivered virtually for years—since 1994, in fact, when Athabasca University launched the world's first fully online program. From the program's inception, technology was used to replicate some of the traditional MBA's core features—namely, group work among diverse peers, mentorship from professors and access to relevant job opportunities—all while allowing for greater flexibility. 
"Online learning is a powerful option for people who cannot put their careers or lives on hold, or physically uproot themselves or their families to pursue post-secondary education," says Dr. Angela Workman-Stark, associate dean of Operations and Innovation at Athabasca's Faculty of Business.
At Athabasca, "in-residence courses," for example, enable students from around the world to gather virtually for academic coaching and collaboration with peers. In the weeks between these sessions, students access the school's Learning Management System (LMS) to engage at their own pace with course content that's continuously being updated by professors with help from instructional designers, multimedia experts, editors, web developers and other specialists. Chat and videoconferencing technology are used by faculty to complement the self-paced learning format and keep students on track.  
The upshot: Faculty spend less time delivering lectures and more time helping learners with the material, facilitating discussions and coaching students. 
"Faculty facilitate asynchronous learning and support students as they explore new ideas and discuss the application of ideas to their work," says Workman-Stark, whose students are typically employed full-time in mid- to senior-management positions before applying to do the MBA. "Students access discussions from different locations and times while they continue to work and live their lives." 
Faculty at the fully online University of Fredericton meet students once per week for live online courses using Webex web conferencing software, and regularly connect with students and alumni over dedicated LinkedIn groups. Access to the university library's full collection, meanwhile, is available online. 
But Dr. Sheri McKillop suggests it's the deeper focus on learning through peer-to-peer interaction that makes UFred's online experience so successful. "We really rely heavily on group work and assignments to bring students together, whether that's on a [business] case or intricate capstone project. This helps build their networks and skills working in teams."
Aviva Rottenberg, a graduate of UFred's EMBA program, who is also a lawyer and the national director of strategic initiatives at the Canadian Bar Association, agrees. "Above all, get yourself a defined study group," she insists. Rottenberg worked virtually with the same four-person team throughout her program. They are still in contact, sharing referrals and valuable connections many years later, she says.
"Online is a different kind of relationship building," she added. "But, in retrospect, what an important and transferable skill to have learned in the current climate." 
Back at the Ivey School of Business, classrooms are being outfitted for an online world, with new prototypes for virtual delivery being created that will likely live on long after the pandemic. 
"All classes have 'co-pilots' with an iPad-controlled camera, but we're experimenting with microphone array tiles to see what effect three or more tiles has," says Dr. Menor of Ivey's Business School. "We're looking at different ways to incorporate different camera angles and how to automate cameras to point at the area of the room where a person is speaking." 
Inevitably, lines will be blurred between the virtual and in-class experience. Ryerson University, for example, made it possible this fall for biology and chemistry students to project images of lab materials into their homes using augmented reality. As schools experiment with new formats and technologies, students will be given more flexibility to combine in-class and virtual learning in ways that work for them. 
But few people in higher education predicted the pandemic would change the curriculum itself. 
"How, for example, do you teach students to engender trust and transparency in a face-to-face negotiation when negotiations aren't being held in person because of the pandemic?" Dr. Menor asks. "We're reframing our case writing to capture current-day disruptions. The cases themselves are changing." 
This is a welcome and needed development in a cloud-based, digital-first world where critical decisions are increasingly made over Slack and Zoom. Work itself is changing and, all other things being equal, programs that mirror the new realities of the digital economy are more likely to give graduates a solid return on their time, money and effort. 
Return on investment
One of the most surprising things about modern MBA applicants is how many of them already have a business degree—or that any of them have one at all. 
"MBA degrees were originally designed for people without business degrees—doctors, engineers, architects—people in key leadership positions without any business preparation," says Dr. Michel Delorme, dean of the Faculty of Management at Laurentian University. "Over time, MBAs became so popular that even people with a first degree in business wanted them." These commonly include the four-year Bachelor of Business Administration (BBA) and Bachelor of Commerce (BComm). 
Business schools are working overtime this year to deliver the functional value of the MBA, including instruction in core disciplines like management, operations, marketing, human resources, accounting and finance. 
But why else are business degree-holders shelling out fees from $23,000 at University Canada West to $115,000 at Ivey Business School—and more than US$200,000 for an MBA from a top American school? 
For starters, the MBA continues to be a prerequisite for executives at major firms, especially consultancies and investment banks. Even Silicon Valley, once skeptical of the value of an MBA degree, has ramped up hiring as its startups and scaleups mature into corporate juggernauts with complex operational and management needs. A pre-pandemic survey by GMAC, the Graduate Management Admission Council, found that 80% of technology firms planned to hire an MBA graduate in 2019, compared to 82% of consulting firms and 77% of financial services firms. 
Then there's the "MBA experience." But this is one area in which the pandemic has had its greatest impact. While significant investments in technology and program design have helped preserve, if not enhance, in some cases, student collaboration and access to faculty, the ties that bind business schools to industry and international learning opportunities have been strained. 
"In-person info sessions are now online, and it's harder to network on a Zoom call than at a cocktail party," says Donville. She says she misses the "accidental interactions," insisting students must be more focused and deliberate about how they build their networks.   
The pandemic has also left international study programs hamstrung. Donville's greatest disappointment this year was that her study abroad trip was cancelled. The experience is often so enriching for students that, in Europe, for example, leading business schools have made it compulsory for students to study in a different country and even learn a new language.  
Of course, prestige is another reason students pursue the MBA. This is what Donville refers to, in her case, as the "Ivey stamp": proof of a high base-level of business knowledge and competency. And the degree seems to be retaining much of this symbolic value as it goes online. 
"Employers in Canada are agnostic about delivery," says the University of Fredericton's Dr. McKillop, who did her PhD dissertation on employers' perceptions of online education. "Unlike the U.S., Canada has strict regulations and rigorous reviews at the provincial level. That's an important difference."    
This brings us to the degree's economic value. Leading business schools meticulously track employment data on their graduates, with reported salaries after graduation at top schools above $100,000 in 2019. Those ring in at $115,146 at Western's Ivey Business School; $115,926 at the University of Toronto's Rotman School of Management; and $128,681 at Queen's Smith School of Business. 
Students using the MBA to switch careers will be happy to know job placement rates within six months of graduating from these schools range from 90% to 95%. Although these are pre-pandemic figures, universities have been redoubling their recruitment efforts to ensure graduates still find meaningful employment opportunities in 2021. 
So far, Dr. Menor says job placements are "running on par with last year" at Ivey Business School.  
"There's always been a strong emphasis on finance and consulting jobs at Ivey," says Donville. "But career management has been doing more outreach and we're seeing an increase in representation from the tech industry actively recruiting MBAs." 
Lifetime value
The key to developing a worthwhile education plan is to get clear about your long-term objectives. Part-time or full-time, online or in-person, a graduate business degree will exact the price of tuition and an opportunity cost. What it ultimately offers in return depends on the student. 
"The MBA positions me well for a senior finance role," Donville says. "But it will also give me the skills, resources and, frankly, the credibility to pivot effectively into a new career if that's what I choose to do." 
"I was always interested in the intersection between business and law, and I wanted to make marketing and management decisions based on theory and knowledge, not gut instinct," Rottenberg says. "I have two little kids at home and I work full-time. What I gained through my program far outweighed what I might have lost by learning online."
The full impact of this year's pandemic on higher education will take time to measure, but many Canadian business schools are proving they're up to the challenge and able to adapt to whatever economic circumstances come their way. That, after all, is what they should be preparing their students to do: Lead in a fast-changing economy, in which ambiguity itself is an unavoidable reality.  
"Personally, I feel like the program has already been worthwhile," Donville says. "Are there things I wish could change about this year? Absolutely. But I also wish there wasn't a pandemic." 
Robert Furtado is the CEO of CourseCompare, Canada's marketplace for education. 
RELATED ARTICLES: