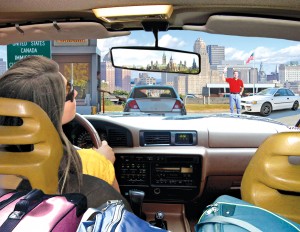 Erica Mueller turns 50 this month and she's ready to change her life. After working for the federal government as an administrative assistant for the past eight years, she wants to quit her $65,000-a-year job and run her own small freelance translation business—something she's done on evenings and weekends for the last four years. "I've come to a crossroads," says Erica, who lives in Ottawa with her 16-year-old son, Phillip. (Names have been changed to protect privacy.) "My full-time job is boring and gets in the way of my taking on more freelance work. But concentrating on my translation business will mean giving up a very comfortable government job. It's a tough decision."
Erica has to tell her employer this month if she will take the $90,000 buyout offer that all workers under age 50 were offered. That would mean giving up job security and health benefits, and reducing the future payout from her gold-plated pension plan. "I admit the benefits have saved me from big dental bills over the years, but I don't really want to stay in a job I dislike for 10 more years simply because the pay and benefits are good," says Erica. "Even though the compensation from my freelance work isn't as great, I love the challenges of translation and the fact that it continually allows me to learn and improve. That brings me great satisfaction. Still, I want to be realistic about my finances."
Erica would like to take the buyout, put $40,000 in her RRSP and deposit the remainder—$35,000 or so after tax—in a chequing account. She can draw on that money to augment the $40,000 annually she figures she'll earn if she concentrates on her freelance business—without working evenings and weekends as she does now.
Erica also has a second reason for wanting to leave her job. For the past two years she has been involved in a long-distance romance with her fiancé, Jim Wheeler, who lives in Buffalo, N.Y. He's 54 years old and works as an engineer, making $160,000 a year. Erica met Jim, who divorced his wife a decade ago, through an online dating service. Right now, he's putting his two sons, ages 18 and 19, through college in the United States. "Jim is good with money," says Erica, "but the next three years will be expensive for him because he has to pay huge college bills for his sons, as well as alimony to his ex-wife." She says Jim has amassed more than $550,000 in retirement savings and other investments in addition to paying off his $180,000 house.
Erica and Jim dream of getting married in five years and living under one roof. By then their children will all be on their own. The couple wants to sell their homes and settle down someplace in Canada or the U.S., "somewhere where there are lakes and mountains and health-care services that would suit us best," says Erica.
Right now Erica's primary asset is her $200,000 home in Ottawa, which carries a $50,000 mortgage at 5.6%. Her other investments include $200,000 in an RRSP, $95,000 in a non-registered investment account and $30,000 in an RESP for Phillip. Taking the buyout would mean she would get a reduced pension of $300 a month at age 55. But if she works until age 55 and then retires, her pension will grow to $1,200 a month for life.
Money will be tight if Erica ditches her job to go freelance. "I won't be able to save much, even though I live very frugally," she says. And while she enjoys running her translation business, Erica wants to wrap it up in a few years so she can retire at age 55 at the latest.
Many questions remain. Do Erica and Jim have enough to last them through 35 years of retirement? Would they be better off financially to settle in Canada or the U.S.? They have run the numbers and figure they'll need $60,000 in annual after-tax income at retirement, and they aren't sure if their assets will last them a lifetime. "Can we collect our Canada Pension Plan and Social Security benefits, regardless of where we live?" asks Erica. "Would health care be too expensive in the U.S. when we retire? We really need the answers to these questions before we can make a final decision about my job. The next 40 years of our lives may be riding on it."
Before Jim came into the picture, Erica was very much on her own. She concentrated on raising her son Phillip and didn't date much, preferring to spend any free time with family and good friends.
Erica originally met Juan, Phillip's father, when she was 33. "I was attracted to the fact that he was bright, he spoke Spanish and he was a very good dancer," says Erica, an Ottawa native who spent her 20s and 30s working at odd jobs and earning a master's degree in translation. She never married Juan, a travelling salesman originally from Spain. He left the country when Phillip was two, and Erica never claimed child support. She and Phillip haven't seen or heard from him since. "I realized right away that chasing a man across the globe with a bunch of expensive lawyers is not a fruitful proposition," says Erica. "I raised Phillip on my own and it's the best thing I ever did."
At 41, Erica started working for the federal government. Two years ago, she met Jim, who works as an engineer at a Buffalo-based telecommunications company. "I love Jim's big brain and his big heart," says Erica, who spends two weekends with him every month. "It was love at first sight. You don't wait this long to find a good partner and not know what you want." The couple often spend their vacations together so they can take advantage of their shared passion for snowboarding, skiing and skating.
Between the two of them, they have $1.3 million in assets. That's a good thing, because over the next five years, the couple doesn't expect to add much to their nest egg. Jim will be paying $30,000 a year in college fees for his two sons and $18,000 in alimony for his ex-wife Sandra, an obligation that will end in three years. "I can probably make $40,000 a year if I freelance full-time and that will be enough for me to live on, but not enough to add anything to savings," says Erica.
Ever since Erica got the buyout offer, that's all she and Jim have been able to think about. "I can take a $90,000 lump-sum payment and walk out the door," says Erica. "But I'm not sure if that's enough to have the comfortable retirement we want."
In the meantime, they plan to spend time researching Erica's Canada Pension Plan income and Jim's Social Security benefits. They also want to do some research on tax laws in the U.S. and Canada. "If our assets are enough, we will need to decide where we want to live," says Erica. "It will be interesting to see which country will be more financially beneficial for us in retirement. But there's so much to consider. It's overwhelming."
WHAT THE EXPERTS SAY
Our financial planners agree that Erica is facing a difficult decision. "At first, a $90,000 lump sum seems like a lot of money," says Al Feth, a fee-only adviser in Waterloo, Ont. "But Erica is only 50 and could well live to 100. That's a long time and a lot can happen."
The key for Erica, says Barb Garbens, a fee-only financial planner in Toronto, is to base her decision on her own financial picture—for now. "She doesn't plan to marry Jim for another five years, and if a brick falls on Jim's head tomorrow and he dies, she has to be comfortable that her own money and reduced future earnings will be enough to finance her 50s, as well as 30 or more years of retirement living," says Garbens. "I don't think that's the case at this point."
Still, the two experts believe that by making some sacrifices, Jim and Erica can enjoy a comfortable retirement together. Here's what they should do.
Keep the government job for now. Erica should hang on to her current job for five more years and retire at 55. For now, she should make looking after herself and her son Phillip a priority. "She is the only one she can really count on," says Garbens. "Securing a good government pension, health benefits and higher Canada Pension Plan payments has to be her first priority over the next five years." By staying an extra five years on the job, Erica will quadruple her monthly pension income from $300 to $1,200 a month starting at age 55.
The good news is that government buyouts happen often and Erica may have the chance to take another one closer to age 55. "Working five more years will also give Erica and Jim a chance to save about $200,000 more between them," says Feth. "With family-related financial obligations gone, their combined net worth at that time would be enough for a very comfortable retirement for Erica at 55 and Jim at 60."
Do their homework on where to live. "Because Jim is a U.S. resident, there are many financial and tax advantages to retiring in the U.S.," says Bob Keats, an expert on cross-border financial planning and author of The Border Guide. Once the couple is married, they should remain in the U.S. until Erica has legal documentation to remain there, and to leave and re-enter the country. "If one spouse is a resident of Canada and the other a resident of the United States, you will have endless confusion about which tax, estate and immigration requirements apply," says Keats.
He adds that New York, where Jim lives now, is one of the worst states to retire in tax-wise. "Much lower taxes can be found in Florida or Arizona, and the cost of living there is reasonable." For instance, income taxes in Florida are about 11 percentage points lower than taxes in Ontario. That alone can make a substantial difference to Jim and Erica's annual income in retirement. "In the end, where to live is a lifestyle choice, not a tax-driven choice, but with a little planning and a bit of research, they can have the best of both worlds," says Keats.
Maximize Social Security. To get the most money from Social Security, Jim and Erica must be married legally, not common-law. Being married to a spouse who qualifies for a Social Security pension would make Erica eligible for both U.S. Medicare and a Social Security pension herself at age 65. She's entitled to exactly half of what Jim gets if they live in the U.S. "So if Jim qualifies for about $28,000 in annual Social Security benefits at age 65, Erica would be entitled to $14,000 annually for the rest of her life," says Keats. "She'd also be able to collect her CPP and OAS on top of that." In fact, she'd probably get more from Social Security than from CPP, despite having worked almost an entire lifetime in Canada.
Make sure they have health-care coverage. Canadians over 65 who have lived in the U.S. legally for at least five years (as Erica will have done if she marries Jim before age 60) are eligible for complete U.S. Medicare regardless of any pre-existing conditions. The cost is approximately $100 per month in Jim and Erica's case, because Jim will have contributed at least the minimum amount to the program over the years. Before age 65, the couple can consult a health insurance broker to get a policy—a 60-year-old in good health can get coverage for around $350 a month.
Get a financial plan. Jim and Erica should get new wills when they marry, and should decide what to do with Erica's Canadian investments. A financial plan developed with a cross-border planner will help them manage their tax returns and government benefits. But the key to Erica's retirement will be the financial benefits she will get from sticking with her full-time job. "I know the government job is boring but Erica really has to push through it for another five years so she can add to her RRSP, pension and CPP," says Garbens. "All of that is worth its weight in gold when it comes time to collect at retirement. Believe me, the sacrifice will be well worth it."
How Erica spends her money
Yearly disposable income
Salary from full-time job $65,000
Freelance income $31,000
Minus: taxes and other deductions –$29,270
Net Disposable Income $66,730
Yearly Expenses
Shelter
Mortgage on home (at 5.6%) $8,400
Property taxes $2,500
Home insurance $550
Hydro/gas/water $2,200
Phone/internet/TV $1,680
Home maintenance $2,000
Total shelter $17,330
Transportation
Car insurance $500
Gas $1,500
Maintenance $1,000
Total transportation $3,000
Personal
Groceries $6,000
Clothes, haircuts $3,000
Furniture $1,000
Vacations $5,000
Sports $1,000
Charitable donations $600
Gifts $2,500
Restaurants $2,000
Gardening supplies $200
RRSP contribution $10,000
Miscellaneous $5,000
Total personal $36,300
Total Expenses $56,630
Annual income $10,100
Available for investment (total income minus total expenses)
Where Erica Stands
Assets
Home $200,000
RRSP $200,000
Non-registered savings $95,000
Phillip's RESP $30,000
Car $15,000
Total Assets $540,000
LIABILITIES
Mortgage $50,000
Total Liabilities $50,000
NET WORTH $490,000
(total assets minus total liabilities)
JIM'S FINANCIAL HIGHLIGHTS
Assets
House $180,000
401(k) (retirement savings) $263,000
Other investments $290,000
TOTAL NET WORTH $733,000
Yearly disposable income
Salary $160,000
Minus: taxes and other deductions –$48,400
Net Disposable Income $111,600
Yearly Expenses
Alimony $18,000
401(k) contribution $15,000
College contributions for sons $30,000
Other personal expenses
(groceries, travel, clothing, charity, etc.) $44,340
TOTAL EXPENSES $107,340
Annual income after expenses $4,260
Available for investment (total income minus total expenses)
Julie Cazzin is an award-winning business journalist and personal finance writer based in Toronto.