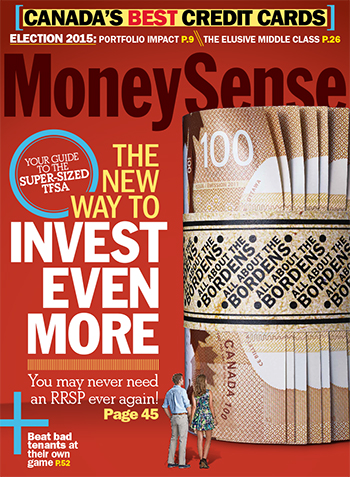 At MoneySense, we don't always agree.
Whether it's buying versus leasing, real estate versus the stock market, Harper versus Mulcair or Beatles versus Stones, consensus doesn't come easily around here. Nor should it. When it comes to money, or anything else, few things are etched in stone. Take David Aston's feature from the last issue ("A defence of active investing," Summer 2015). In it, he argued that the popular Couch Potato method of passive investing isn't for everybody. He'd rather set his own risk profile in picking investments, aiming to select funds that don't merely bob along with the ups and downs of the market's benchmark indexes­­—but outperform them. "All that makes me an active investor, and by extension, a heretic here at MoneySense," he wrote, perhaps sensing the backlash that would ensue. Of course there were those who disagreed with Aston's method, none more than our own contributing editor and columnist Dan Bortolotti. So we invited the two of them to go toe-to-toe on the subject of passive versus active investing here in the MoneySense office. We knew you'd like to see these personal finance heavyweights duke it out, so we've included it below.
But for all our differences of opinion, we do see eye-to-eye on some things. While putting together this issue, we all agreed that the new contribution limits for Tax-Free Savings Accounts will revolutionize investing for Canadians. When the federal Conservatives revealed in March that we can now sock away $10,000 a year, up from the previous limit of $5,500, it didn't take long for many investors to realize that this changes everything. For some investors, particularly young savers, it could even eliminate the need for RRSPs entirely. Whether you're saving for home down payment, your child's education or your golden years, the TFSA should now factor into your strategy.
In fact, about the only thing left to debate is how to best use your TFSA. Do you load it up with safe liquid investments, like cash and short-term GICs, for medium-term goals like renovating your basement? Or pack it with high-growth stocks and roll the dice on potentially huge tax-free capital gains? It was questions like these that led us to build our guide to the expanded $10,000 TFSA ("The new way to invest even more," page 45). Dan Bortolotti and senior editor Julie Cazzin tracked down families and individuals making smart moves with their money, weaving in expert advice and tips for harnessing the power of your TFSA—whether you're just starting out, entering your high-income years or readying to retire. It's a fantastic read. More importantly, it is, without a doubt, the best resource available for understanding this newly powerful investment tool.
If you aren't taking full advantage of it, we'll show you how.
—The Editors
[brightcove video_id="6023929385001″ account_id="6015698167001″ player_id="lYro6suIR"]
[poll id="42″]