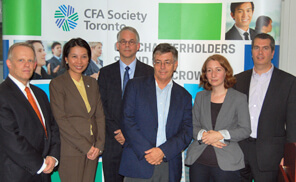 MoneySense picked up two awards at the CFA Society Toronto's Inaugural Press Awards. Editor-at-Large Dan Bortolotti was named financial Journalist of the Year at the award ceremony on Thursday evening. MoneySense, meanwhile, won the Publication of the Year honours.
The awards, in their inaugural year, were designed to recognize "publications and journalists whose work helps consumers and those serving consumers gain a better understanding of the investment profession," the CFA Society Toronto said.
MoneySense contributor David Aston and Suzanne Sharma of Advisor's Edge were also shortlisted for this year's individual award. Finalists for the publication of the year included Advisor's Edge, Investment Executive and of course MoneySense magazine.
To read the latest issue of MoneySense, click here. To read the latest stories by Dan Bortolotti, click here. You can also check out his blog, the Canadian Couch Potato here.