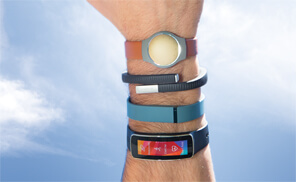 Luxury fashion is making inroads in wearable tech as more designers try their hands at developing smart, stylish accessories and clothing aimed at tracking performance and health, or simply making connected lives easier to manage.
---
READ: Best workout partner »
---
"We actually think the fashion industry should be in the driver's seat," Ayse Ildeniz, vice-president of business development and strategy for Intel's new devices group, said at a January event in Las Vegas.
Designers are listening.
Luxury brand Ralph Lauren plans to unveil its high-performance smart compression shirt, the Polo Tech, on Monday at the start of the U.S. Open. The company took in feedback from players and ball boys during practice sessions and plans to begin selling the shirt this spring, said David Lauren, an executive vice-president of his father's namesake company.
Hewlett-Packard Co. called on designer Michael Bastian and online retailer Gilt to develop a high-design smart watch that is Android and iOS compatible, allowing a user to take in notifications for email, text and calls, and to manage music and apps. It reportedly, could hit the market this fall.
And Tory Burch partnered with Fitbit for accessories she designed exclusively for use with the fitness brand's Flex, including a brass pendant and bracelet, and patterned silicone wristbands.
Does the geek side of the equation need the luxury fashion side?