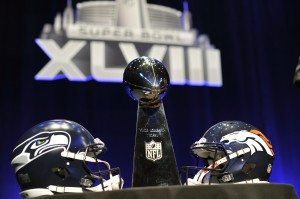 US$92,000: That's how much players on the winning side of Sunday's Super Bowl XLVIII match-up between the Denver Broncos and Seattle Seahawks will receive in bonus money (unless their contract stipulates otherwise). In case you're wondering, that's 6% more than in 2013. Players on the losing side will get US$49,000, according to the International Business Times.
A $92,000-windfall isn't much for most professional athletes and it's not a life-changing amount for most Canadians either. Let's face it, if you or I won that money, chances are we'd still have to go work come Monday. But that doesn't mean $92,000 can't score you big points toward winning your financial independence—but you've got to choose the right play.
There are three things the average person could do with a sudden windfall, Bob Stammers, director of investor education at CFA Institute, told me.
Spend it

Save/invest it
Use it to reduce debt
The quickest way to your personal financial end zone depends on your situation, Stammers said.
If you have consumer debt…
"Anyone who has significant consumer debt should probably pay down debt because you're getting a risk-less return on your money," he said. The return is equal to whatever the interest rate on your debt is, usually in the 9% to 19% range for lines of credit and credit cards for example. "It doesn't make a lot of sense to be investing when you have a large balance on your consumer debt. You're working against purposes."
If you have a mortgage…
Mortgage debt is different than consumer debt because it comes with a lowering carrying cost and buys you an appreciating asset. "Depending on your circumstances, a mortgage might have a role in your portfolio as an inflation hedge," Stammers said. So, you could use the extra money to accelerate your mortgage depending on how long you plan to stay in your home, how comfortable you are with your debt load etc.
If you don't have an emergency fund…
Most people don't have the recommended three to six months of emergency cash on hand to prevent them from dipping into their retirement savings or cashing out a investment at a loss should the unexpected happen. "Invest (the windfall) in some less-risky money market account or maybe a bond fund where there is not going to be a lot of change in the value of the account so when the money is needed it's available," Stammers suggested to anyone with their consumer debt paid off.
If you want to spend it…
"I don't think it makes sense to say that people shouldn't spend some it," Stammers said. "I think that if people don't spend a little bit of it, they're less likely to save any of it." The people that don't save a penny are the ones that don't have any plan at all. "They just don't know what to do with and they end up spending it all." So go ahead, pick one treat to enjoy some of the money and put the rest of in that emergency fund or invest it for the future (if you don't have consumer debt that is).
Keep in mind…
Workplace compensation bonuses, workplace severances and  retiring allowances are treated as taxable lump-sum payments. Income tax will be deducted from your lump-sum payment unless it is paid directly into a registered retirement savings plan (RRSP) or a registered pension plan (RPP). Inheritances on the other hand are tax-free by the time they get to you, the beneficiary.
I asked the staff here at MoneySense what they'd do with a $92,000 windfall. Here's what they told me:
"Oh that's easy, in Canada at least: Max out TFSAs for husband, wife and eligible child! 31K (accumulated TFSA contribution room for anyone 18 years of age or older in 2008) x 3 = 93K!"
—Jonathan Chevreau, Editor

"I'd use most of the $92,000 to kill off a big chunk of my mortgage, and then I'd take my wife on a nice vacation with the remainder. So mainly debt elimination and something for the memory books."
—David Hodges, Senior Editor
"A huge round the world trip with my family. My kids are both in university and there's no better adjunct to their education then seeing the world firsthand. Australia, Sicily, the Philippines, London, Amsterdam, Thailand, Bora Bora and Morocco would all be on that list. A two-month adventure would be nice. It builds memories and would give me a chance to see the whole family enjoy the money." 
—Julie Cazzin, Senior Editor