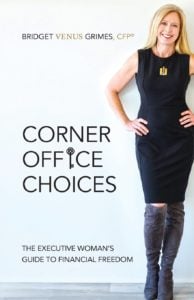 Book: Corner Office Choices: the Executive Woman's Guide to Financial Freedom
Author: Bridget Venus Grimes, CFP
Publisher: Lioncrest Publishing
Price: Paperback: $15.99
Who is it for?: Busy women looking for a new life plan.
What's a "life plan"?: A roadmap to help you set short and long-term goals—with a to-do list of how to achieve them.
What's the key message?: That average women executives leave up to $1 million on the table over the course of their working lives by not knowing how much they are worth and by not asking for what they deserve. Add in that women are less confident than men when it comes to financial literacy, regardless of their level of education or socioeconomic levels—and it's no wonder women have distinct financial risks that aren't currently addressed in traditional financial planning.
What are the major things that derail a good lifestyle for women?: There are four things and they include: lack of goal clarity, failure to manage Cash Flow, failure to manage their career actively and strategically as well as not having an action plan.
Is the book fun?: Yes, very much so. The book is chock full of anecdotes about individual career women's struggles with financial freedom as well as a better life and career management.
Does it include practical info?: Yes, on cash flow management, a savings plan for short and long-term goals as well as tax strategies and investment management advice. Also look for extras in the appendixes with worksheets for net worth as well as financial literacy resources and checklists.
Key takeaway: When you know what you want, change is possible.