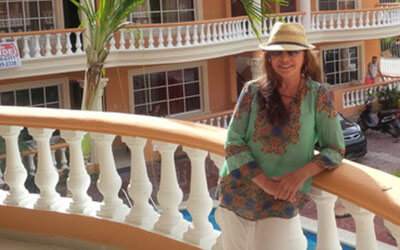 Diane Mackenzie 
AGE: 66
PLACE: Prince George, B.C.
TFSA TOTAL: $50,000
STRATEGY: Aggressive stock picking and looking for the "next big thing"
---
Diane's TFSA holdings
| Equity | Ticker | Amount |
| --- | --- | --- |
| Fidelity Small Cap America Fund Sr. F. | FID661 | $8,712 |
| Maxar Technolgoies ltd. | TSE: MAXR | $9,338 |
| Painted Pony Energy Ltd. | TSE: PONY | $5,057 |
| Paladin Energy Ltd. | ASX: PDN | $0.94 |
| Celgene Corp. | NASDAQ:CELG | $4,989 |
| Walt Disney Co. | NYSE: DIS | $5,500 |
| Square Inc. Class A | SQ:N | 3,804 |
| 3M Company | NYSE: MMM | $5,114 |
| Cash (CAD) | | $869 |
| Cash (USD) | | $113 |
| TOTAL: | | $50,000 |
 Diane MacKenzie is 66 years old, and enjoys gardening and working part-time in St. George, B.C. "I've just applied for Old Age Security but will wait to take my CPP until a little later," says Diane. "Waiting a few extra years to start collecting my CPP is like getting a guaranteed 8% return annually until age 70. Where else can you get that kind of growth guarantee?"
And if there's one thing Diane likes, it's growth. She has been working with a couple of advisors over the years and has seen her other stock accounts grow steadily but with her TFSA, she wants something more. "I have about $50,000 of stocks in a TFSA that I want to liquidate and start over," says Diane, who has been educating herself on investing for several years now and feels ready to DIY. In fact, she's looking at setting up an account at either NestWealth or Wealthsimple and manage her own TFSA going forward.
Diane's requirements are a bit unorthodox. "I want to take some risks here and want great growth for 30 years," says Diane. "I'd love to recreate the growth that cannabis stocks have had over the past three or four years so I'm looking for a couple of tips from the pros on what sectors may have huge potential over the next few years."
And if she loses her money? "I know I may lose it all by investing this way," says Diane. "But I don't plan to spend this money. I just want this account for the exhilaration of watching it grow like crazy."
Some of the areas Diane is considering include Artificial Intelligence—something she's read about on the Motley Fool website. "Given whatever info I can get I'll do the best I can for maximum growth," says Diane. "If I lose it all over time, that's okay. I just don't want to look back and think I could have taken more risk and invested on the cutting edge of some sector but never did. That would be a shame for me."
For now, Diane loves boating, renovating, jet skiing, travel, and gardening, and has even won awards for her landscaping skills. "I thank MoneySense for getting me interested in investing, to begin with, and hope to keep on learning," says Diane. "It adds a lot of spice to life."
What the pro says
"My impression is that Diane is a bit optimistic (read: likely unrealistic) on a few fronts," says John DeGoey, a Portfolio Manager with Industrial Alliance Securities Inc. and the author of The Professional Financial Advisor IV.  "The first clue was that I have never before met a 66-year-old with a 30-year time horizon. The second was that she thanked MoneySense for helping her to learn more, yet, judging by her comments, she seems to have not learned much about risk and reward." Here are DeGoey's tips.
As with Arie de Jonge a week or two ago, the same advice holds: concentrate to get rich (or poor); diversify to stay rich. Diane has been clear that she's prepared to lose it all. Since I'm not the sort of person that encourages making big, audacious bets on companies, sectors or currencies, I'm uncomfortable saying anything too specific. Nonetheless, my general comments are as follows:
1. Pick a currency and stick with it. Some of the TFSA holdings are in CAD and some are in greenbacks… and two currencies is one too many. In fact, it's cumbersome, expensive and difficult to keep track of performance.
2. Pick only those things that you believe are seriously positioned to grow going forward. Whether it's emerging technologies, Artificial Intelligence, FAANG stocks, Cannabis stocks or Emerging Markets stocks, there are growth opportunities that are available for those who can stomach the ride. Given the money involved, perhaps putting the money into three or four equally‐sized tranches representing a few of those plays might be a strategy to consider.
3. If Diane really wants to get into the "next big thing," it might be best to "keep her powder dry" and hold cash for the time being. If there is any correction to speak of (the current bull market is now well over nine years old), there will be far more opportunities once the correction (read: sale) is underway.
John De Goey is a Portfolio Manager with Industrial Alliance Securities Inc. and the author of The Professional Financial Advisor IV. Industrial Alliance Securities Inc. is a member of the Canadian Investor Protection Fund. The opinions expressed herein are those of Mr. De Goey alone and may not be aligned with the opinions and values of Industrial Alliance Securities Inc. or any of its affiliated companies. This does not constitute a trade recommendation.