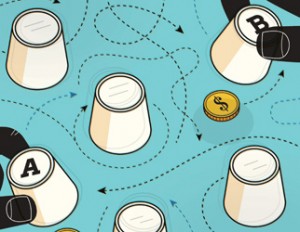 Mutual fund investors seeking a simple solution for conservative, long-term growth need look no further than a single low-cost global balanced fund. But problematically many retail investors or their advisers are unnecessarily, and sometimes erroneously, messing about with these elegant all-in-one funds.
Dan Hallett, director of asset management for HighView Financial Group, brought up this concern during a recent conversation we had on the topic of smart investing. While the appeal of balanced funds is well known to many investors, Hallett says most people are using them in ways that completely defy their intended use. "Typically, the way I've seen balanced funds used is that they're one of six to eight funds in a portfolio, and not the one fund," he says. "It doesn't matter if you have $25,000 or $250,000. One good, reasonably priced balanced fund can take you far dollar-wise. You could do it well into a six-figure portfolio."
One-stop shopping
Hallett's observations are spot-on. Balanced funds are great because they don't require investors to figure out a host of complicated considerations, such as how much of your portfolio should be weighted in small cap versus international equity funds. For instance, if you have moderate risk tolerance, a single global balanced fund efficiently takes care of all the decision making: about 60% of the holdings are a diversified mix of Canadian, U.S. and international equities, with the remaining 40% in bonds and cash. It's not just smart investing, it's also smart time management.
Don't forget too that in today's economic environment, fees are particularly important (not that you shouldn't always be seeking out low-cost funds). If you're working with a commission-based adviser it's going to be considerably more difficult to keep your annual MER fees low. But retail investors can keep costs in check by buying low-fee global balanced funds directly from fund companies such as Mawer, Steadyhand, or Phillips, Hager & North; however, minimum balances will apply. (For more in-depth information on picking inexpensive balanced funds, please be sure to check out the article "Mutual Funds Rediscovered" in the current Summer issue of MoneySense.)
Press play below to hear more from David Hodges and 680 News' Mike Eppel on how to use mutual funds:

wknd-biz-1-eppel-june-29301.mp3
Tinkering means over-weighting certain sectors
But getting back to the larger, looming question: Why are retail investors tinkering with global balanced funds and adding extra components to their portfolios? In a word, says Hallett, psychology. "There isn't really a logical reason. It boils down to behaviour. Ironically, it takes a lot more discipline not to buy those precious metal funds, or the emerging market funds, or the small cap funds," he says. "People just want to tinker and choose something. For some people it's a fun thing but for the most part people think what they're buying is going to enhance their returns." Instead, what they're actually doing is over-weighting small portions of that balanced fund.
However, what about advisers? Surely, they should know that carrying a balanced fund as a mere component of a portfolio is highly counter-intuitive. The reasoning behind that kind of behaviour is a bit different, Hallett says. "I do see advisers (using a single balanced fund) for smaller accounts, but with larger accounts they tend to break things up. They're under a bit of pressure in a sense that if they have things structured too simply it could raise the question: What do I need an adviser for?"
That shouldn't necessarily be a concern, Hallett says, if you're getting more from your adviser than just tips on asset allocation or choosing funds. While those considerations are of course very important, advisers should also be providing their clients with a host of other services including retirement planning, tax planning, insurance planning or making sure your will is up to date.
Just remember, balanced funds aren't for everybody, but they work extremely well for investors looking for safety, income and modest capital appreciation. Above all else, they're simple. So why bother messing with such a good thing?