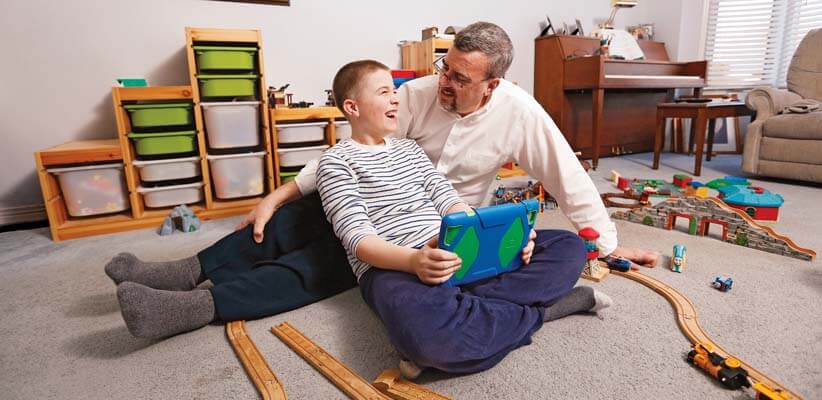 As the single mother of a disabled daughter, 52-year-old Mississauga resident Rita Kerkmann worries about what will happen after she's gone. Her teenage daughter Jodi is developmentally delayed and has autism, and Kerkmann wants her to have the financial resources for a good quality of life. "Unfortunately, a lot of kids aren't getting quality support these days," she says. "A lot of them are just watching TV, and that's not what I want for her."
Jodi will need around-the-clock care for the rest of her life, and it won't be cheap. "There aren't a lot of day programs out there for the disabled. Even if you find one, you may be paying privately for it and the going rate is around $80 per day." Kerkmann also wants to make sure Jodi can enjoy activities in the evening. "My daughter's a big football fan. Like any other person, she enjoys live games every once in a while, which cost money. She deserves to be out in the community and enjoying activities."
That's why the moment Canada's Registered Disability Savings Plan (RDSP) became available in 2008, Kerkmann didn't waste a minute going to her bank to set up an account. She knew the lucrative federal program would go a long way to ensuring Jodi would thrive long after she was gone. "It's sad that more people aren't using RDSPs," she says.
Kerkmann is right. Despite this tool's ability to improve the lives of people with disabilities, only 78,000 of 500,000 eligible Canadians have opened an RDSP since the program's inception. This is a disconcerting fact given that the disabled often face difficulty seeking employment and often earn lower wages when they are working.
Like the Registered Education Savings Plan (RESP), money placed in an RDSP grows tax-free and also benefits from grants chipped in by the government. But whereas RESPs can provide a sizeable 20% return on contributions of up to $2,500 per year, RDSP contributions can net a staggering 300% return, depending on your income level. In some cases, the government will give you money even if you can't afford to make any contributions.
Those already benefitting from RDSPs know the shortfalls of the current system. Chief among complaints are issues involving complicated paperwork and limited investment options and assistance from the banks who provide RDSP accounts. "I know the benefits of the program so I muddle through, but find the process significantly frustrating," says Scott Wignall, a 41-year-old deaf disability worker in Winnipeg who manages his own RDSP. More frustrating for him is watching his fellow disabled peers not take advantage of RDSPs. The bottom line is that despite the program's challenges, for many disabled Canadians these plans represent an incredible opportunity to secure a prosperous future.
What are the benefits?
The RDSP is a savings plan designed to help disabled adults or the parents of disabled children build up significant amounts of money for expenses later in life. "Think of it as a pension plan for those with disabilities so they'll have money for retirement," says Joel Crocker, director of the Planned Lifetime Advocacy Network (PLAN), the Vancouver-based organization instrumental in the development of RDSPs.
A key benefit of using RDSPs is they allow money to grow tax-sheltered, meaning the individual for whom the account is set up (the beneficiary) never pays tax on earnings until funds are withdrawn. While there's no limit to how much you can put into an RDSP each year, there is a $200,000 lifetime contribution limit. Because the plans are meant to be withdrawn after 60, no more contributions can be made at the end of the year the beneficiary turns 59.