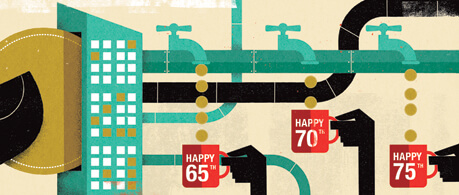 Annuities may be the best retirement product that hardly anyone buys. Like defined benefit pensions, they provide guaranteed income for as long as you live. But while employer pensions are considered the gold standard of retirement income plans, few Canadians ever think about annuities. Economists have coined a term to describe their baffling unpopularity: "the annuity puzzle."
Just about every expert who has studied annuities believes they are the most effective safeguard against "longevity risk," or the possibility of outliving your wealth, says Moshe Milevsky. His recent book, Life Annuities: An Optimal Product for Retirement Income, includes a survey of studies on the topic. "That's remarkable because you can't get economists to agree on anything nowadays," says Milevsky, professor of mathematics and finance at York University.
People with annuities also tend to be more content, Milevsky says. "As a rational economist, sometimes it's hard to use terms like peace of mind and satisfaction, because they are not easy to quantify. But there's growing behavioural evidence that this is something people value."
So there are good reasons for retirees to give annuities more consideration. Unfortunately, while the concept is simple—you hand an insurance company a lump sum in return for a predictable cash flow—the details are complicated. There are several types, but we'll focus on the most common: the "fixed annuity" with a prescribed payout for life. (See "Variable annuities revisited" on the facing page for more about the variable kind.) When weighing your decision you first need to determine whether annuities fit your circumstances and the role they should play in your portfolio. Then you can move on to when and how to buy them.
Are annuities right for you?
While annuities have many attractive features, they're not for everyone. If there's no chance you'll run out of money, annuities are probably the wrong choice. They make little sense if you have an ample employer pension, since you already have the assurance of an income for life. Nor are they attractive if you're in poor health: the best payoff from an annuity comes from living much longer than average. And if you're very wealthy, outlasting your money isn't a concern either. As Milevsky says, Warren Buffett and Bill Gates don't need an annuity.
The other reason people avoid annuities is their finality: once you give your cash to the insurance company, you're locked in for life. Conventional stock and bond investments, by contrast, provide growth potential and the flexibility to tap your nest egg for a lump sum if needed. And if leaving money to your heirs is a top priority, annuities preclude that option because the payouts end after your death (although you can purchase guarantee periods).
But annuities are not an all-or-nothing proposition. It's best to think of them as one part of a larger retirement income plan: they can work uncommonly well in a portfolio alongside stocks and bonds (or GICs). The goal is to figure out the right allocation to each of these assets, based on the trade-off between guaranteed income, access to a lump sum, and growth potential.
How much do you need?
If you rely solely on a portfolio of stocks and bonds for retirement income, you have to set a conservative withdrawal rate in case markets perform unusually poorly or you live exceptionally long (or both). A common rule of thumb if you retire at 65 is to plan on withdrawing 4% of your initial portfolio every year, plus inflation adjustments. But you should have a backup plan in case this withdrawal rate turns out to be unsustainable. Building annuities into your retirement strategy is one of the best backup plans, because they assure a relatively high level of withdrawals with no risk of depletion.