[bc_video video_id="6023927942001″ account_id="6015698167001″ player_id="lYro6suIR"]
Can statistics really tell you the best place to raise kids? The more you'll learn about Saint-Bruno-de-Montarville, Que. the more you'll agree they can. As proud as we are of our approach, even we were amazed by just how perfect our winner is.
Photo gallery: Top 10 Best Places to Raise Kids
Every community in Canada has a green space; Saint Bruno has a national park right in its back yard. Every city will tell you they make decisions with kids in mind; Saint Bruno has been accredited by the province for being kid friendly—and they even have an action plan to prove it. Most communities run some sort of summer program for kids, but typically you have to enrol and pay a fee. In Saint Bruno these programs are called Parcs récréatifs – Service d'animation gratuite (which roughly translates to Recreation parks – Free animation service). There is no need to sign up and they're free.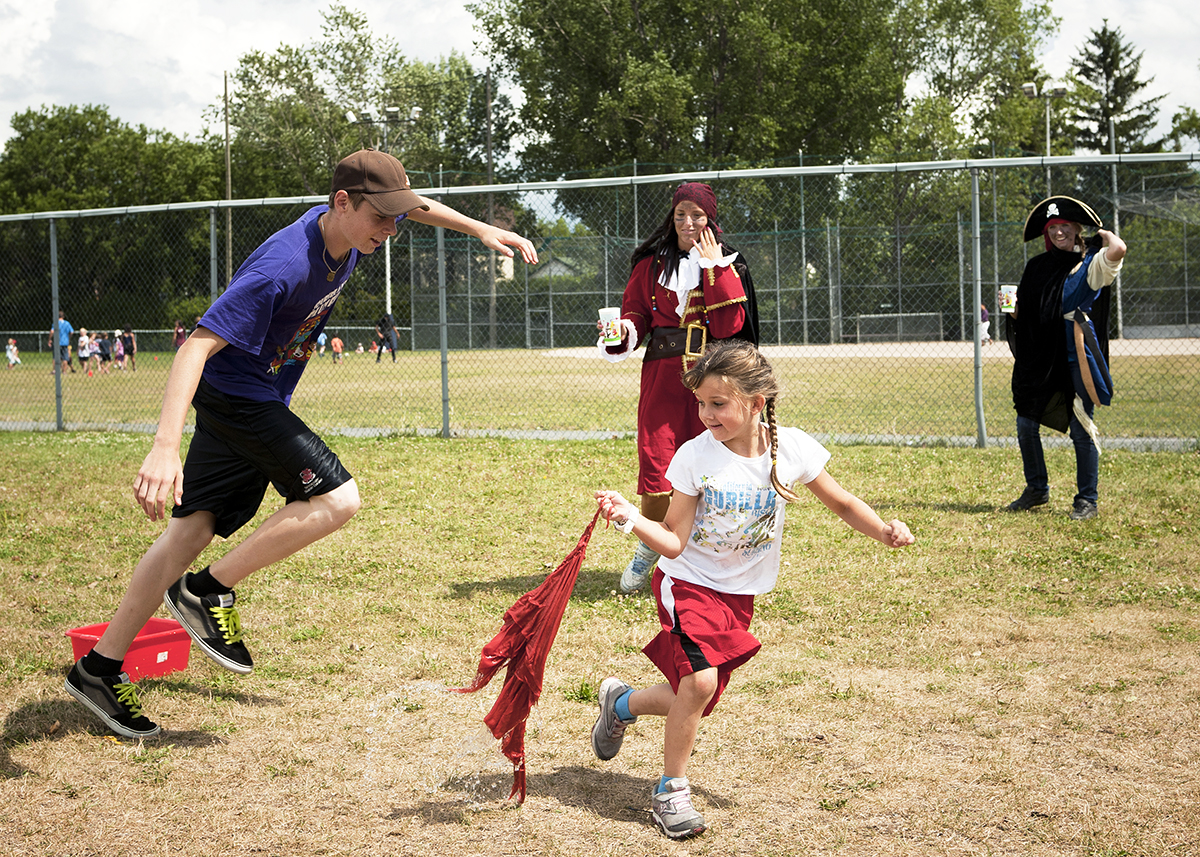 The city staffs eight day camps in local parks. Parents can simply drop kids off as young as age 6 off and city hired staff will entertain them for the rest of the day. And there are also cabins available should it ever rain. "It's very unique to Saint-Bruno, I don't know any other city that offers that," says Marilou Alarie, a local councillor for Saint-Bruno who helps oversee the city's programs geared towards kids. "It's good because it creates jobs and parents can just tell their kids to go see their friends in the park and know they can trust the people there."
Alarie has such fond memories of these camps she can't help but giggle when she shares stories from her time there as a little girl. "It makes people come together," she says. "I've spoken with other city councillors and they are really jealous." Her own experience growing up in Saint-Bruno compelled her to move back to the community ensure her three girls had the chance to share in some of the experience she cherishes. "It felt the same way it felt when I was a little kid."
Fun summer camps aren't the only reason its our top pick. Almost a fifth of its population are under 15, roughly half of the households still have children living at home, and infant daycare costs as little as $8 a day, because the wide availability of subsidized day care in the province.
Families looking to move here will also want to take note of the low unemployment rates and high household incomes. Unemployment in Saint-Bruno is below 3% and while the median income is just a hair under $100,000. Best of all, homes are affordable. The average home is worth $433,000, which leaves plenty left over to help safe for your child's education or take that dream family vacation.
Best Places to Raise Kids – by region
Atlantic Canada: 
Quispamsis, N.B. (No. 54)
Quebec:
Saint-Bruno-de-Montarville (No. 1)
Ontario:
Oakville (No. 7)
Prairies:
Weyburn, Sask. (No. 36)
Alberta:
St. Albert (No. 53)
British Columbia & the Territories:
Colwood, B.C.  (No. 86)
---
The Top 100
| Family Rank | Name | Province | % of pop under age 15 | With Children at Home % | Infant Daycare costs | Median toddler daycare costs | Employed In Arts And Rec | Community | Travel To Work By Walking | Travel To Work By Bicycle | Travel To Work By Public Transit | Total Annual Rainfall (Mm) | Days With Precipitation Greater Than Or Equal To 0.2 Mm | Days With Rainfall Greater Than Or Equal To 0.2 Mm | Days With Daily Min Temperature Greater Than 0°C | Days With Daily Max Temperature Greater Than 20°C | Population | Population Change (2012 to 2017) | Estimated Unemployment Rate | Regional Unemployment rate | Median Household Income | Average Household Discretionary Income | Average Household Net Worth | Average Value Of Primary Real Estate | Home to income ratio | Average Rent | Rent to income ratio |
| --- | --- | --- | --- | --- | --- | --- | --- | --- | --- | --- | --- | --- | --- | --- | --- | --- | --- | --- | --- | --- | --- | --- | --- | --- | --- | --- | --- |
| 1 | Saint-Bruno-de-Montarville | Que. | 19.2% | 48.4% | $179 | $164 | 2.8% | 54.8 | 2.5% | 0.8% | 9.2% | 799 | 165 | 120 | 206 | 118 | 27,979 | 5.4% | 4.0% | 6.2% | $95,559 | $59,619 | $798,409 | $433,020 | 3.7 | $809 | 8.3% |
| 2 | Lévis V | Que. | 18.6% | 43.3% | $179 | $179 | 2.7% | 64.1 | 2.8% | 0.5% | 4.3% | 899 | 175 | 118 | 195 | 94 | 146,830 | 3.8% | 2.4% | 6.4% | $77,911 | $46,485 | $346,183 | $287,403 | 3.28 | $744 | 10.2% |
| 3 | Blainville V | Que. | 19.6% | 53.7% | $179 | $164 | 1.7% | 53.6 | 1.5% | 0.5% | 4.8% | 836 | 167 | 120 | 199 | 112 | 58,099 | 6.4% | 4.2% | 5.8% | $93,677 | $52,538 | $575,467 | $373,781 | 3.46 | $779 | 8.6% |
| 4 | Saint-Constant | Que. | 19.1% | 50.7% | $179 | $179 | 1.2% | 63.4 | 1.0% | 0.5% | 6.3% | 785 | 163 | 119 | 218 | 117 | 27,909 | 5.8% | 3.8% | 6.2% | $88,212 | $47,349 | $307,826 | $300,366 | 3.23 | $736 | 9.5% |
| 5 | Saint-Augustin-de-Desmaures | Que. | 22.2% | 53.4% | $179 | $179 | 1.4% | 63.5 | 1.9% | 0.5% | 5.7% | 899 | 175 | 118 | 195 | 94 | 19,468 | 5.2% | 2.3% | 5.2% | $114,567 | $71,039 | $737,626 | $353,725 | 2.68 | $1,374 | 12.5% |
| 6 | Mont-Royal | Que. | 21.1% | 55.7% | $164 | $164 | 1.9% | 113.8 | 2.5% | 1.3% | 12.3% | 785 | 163 | 119 | 218 | 117 | 20,950 | 5.5% | 5.8% | 5.8% | $113,442 | $89,117 | $2,225,960 | $1,105,556 | 5.91 | $1,093 | 7.0% |
| 7 | Oakville T | Ont. | 19.1% | 55.7% | $1,384 | $1,164 | 2.3% | 98.1 | 1.7% | 0.3% | 8.0% | 726 | 118 | 102 | 222 | 107 | 211,025 | 10.0% | 5.8% | 6.8% | $111,468 | $72,845 | $1,303,745 | $879,261 | 5.77 | $1,423 | 11.2% |
| 8 | Ottawa CV | Ont. | 17.7% | 45.4% | $1,600 | $1,250 | 1.9% | 101.8 | 4.3% | 1.4% | 13.8% | 755 | 161 | 118 | 216 | 117 | 974,701 | 5.5% | 5.0% | 6.5% | $91,122 | $57,260 | $631,905 | $481,223 | 4.21 | $1,204 | 12.6% |
| 9 | Cantley | Que. | 22.6% | 54.8% | $179 | $179 | 2.9% | 48.3 | 1.1% | 0.2% | 4.1% | 794 | 160 | 116 | 203 | 108 | 11,254 | 9.9% | 3.5% | 6.2% | $103,950 | $55,528 | $480,989 | $354,288 | 3.06 | $763 | 7.9% |
| 10 | Mont-Saint-Hilaire | Que. | 20.1% | 45.5% | $179 | $179 | 3.5% | 60.3 | 2.2% | 0.6% | 7.0% | 857 | 155 | 123 | 288 | 117 | 19,924 | 7.0% | 4.1% | 6.2% | $86,191 | $58,924 | $752,928 | $391,124 | 3.43 | $790 | 8.3% |
| 11 | Chambly | Que. | 21.7% | 48.1% | $179 | $179 | 1.8% | 55.1 | 2.0% | 0.8% | 7.2% | 794 | 160 | 116 | 203 | 108 | 28,289 | 7.5% | 4.1% | 6.2% | $87,968 | $46,983 | $333,101 | $318,444 | 3.41 | $734 | 9.4% |
| 12 | Saint-Basile-le-Grand | Que. | 21.5% | 51.9% | $179 | $164 | 2.7% | 59.9 | 2.5% | 0.6% | 9.6% | 794 | 160 | 116 | 203 | 108 | 17,913 | 4.9% | 3.4% | 6.2% | $96,648 | $50,577 | $375,437 | $305,242 | 3.01 | $889 | 10.5% |
| 13 | Boucherville V | Que. | 18.0% | 43.7% | $179 | $164 | 2.0% | 58.6 | 1.6% | 0.8% | 9.1% | 844 | 168 | 125 | 228 | 112 | 43,663 | 5.3% | 2.6% | 6.2% | $97,437 | $63,944 | $750,956 | $421,257 | 3.42 | $676 | 6.6% |
| 14 | Saint-Lambert | Que. | 19.3% | 41.8% | $179 | $164 | 3.9% | 66.9 | 2.7% | 1.6% | 13.8% | 799 | 165 | 120 | 206 | 118 | 22,739 | 4.1% | 4.6% | 6.2% | $78,686 | $54,584 | $819,100 | $536,269 | 4.78 | $890 | 9.5% |
| 15 | Vaudreuil-Dorion | Que. | 22.0% | 48.0% | $179 | $179 | 1.4% | 69.3 | 2.0% | 0.7% | 4.7% | 871 | 159 | 120 | 199 | 111 | 38,568 | 11.2% | 4.0% | 6.2% | $79,375 | $39,893 | $359,104 | $322,365 | 3.94 | $753 | 11.1% |
| 16 | Russell TP | Ont. | 19.4% | 51.9% | $933 | $856 | 1.6% | 100.6 | 2.0% | 0.3% | 3.2% | 758 | 164 | 118 | 210 | 78 | 16,581 | 4.7% | 2.9% | 6.5% | $116,682 | $66,604 | $499,348 | $421,612 | 3.23 | $1,039 | 9.6% |
| 17 | Terrebonne V | Que. | 19.6% | 48.6% | $179 | $179 | 2.1% | 58 | 1.5% | 0.3% | 4.0% | 915 | 166 | 129 | 202 | 111 | 115,632 | 6.0% | 3.9% | 6.7% | $81,512 | $44,159 | $323,545 | $305,038 | 3.49 | $727 | 10.0% |
| 18 | LaSalle | Ont. | 18.3% | 54.2% | $977 | $977 | 1.8% | 112.2 | 0.9% | 0.3% | 1.6% | 822 | 150 | 120 | 249 | 139 | 30,713 | 3.8% | 4.2% | 7.6% | $103,728 | $57,360 | $625,728 | $324,125 | 3.02 | $840 | 9.4% |
| 19 | Halton Hills T | Ont. | 19.4% | 54.5% | $1,389 | $1,100 | 1.8% | 107.5 | 2.3% | 0.3% | 2.3% | 741 | 139 | 112 | 196 | 120 | 67,094 | 8.7% | 5.2% | 6.8% | $110,086 | $60,390 | $816,020 | $659,079 | 5.33 | $1,140 | 11.1% |
| 20 | Burlington CY | Ont. | 16.7% | 46.0% | $1,384 | $1,164 | 2.1% | 103.3 | 2.1% | 0.4% | 5.5% | 763 | 136 | 114 | 239 | 125 | 199,858 | 8.6% | 5.5% | 6.9% | $93,893 | $57,730 | $862,227 | $710,453 | 6.17 | $1,294 | 13.5% |
| 21 | Candiac | Que. | 21.2% | 52.4% | $179 | $179 | 1.5% | 46.9 | 1.1% | 0.5% | 8.9% | 799 | 165 | 120 | 206 | 118 | 23,449 | 10.4% | 4.7% | 6.2% | $98,891 | $62,134 | $721,255 | $467,242 | 3.67 | $754 | 7.1% |
| 22 | Sainte-Marie | Que. | 18.4% | 44.1% | $179 | $179 | 2.5% | 75.4 | 3.8% | 0.6% | 0.8% | 893 | 156 | 112 | 184 | 95 | 13,914 | 5.2% | 2.8% | 6.4% | $59,379 | $41,003 | $331,748 | $203,370 | 2.69 | $569 | 9.0% |
| 23 | La Prairie | Que. | 21.4% | 50.4% | $179 | $179 | 2.0% | 51.5 | 1.4% | 0.5% | 9.9% | 799 | 165 | 120 | 206 | 118 | 26,162 | 6.2% | 3.6% | 6.2% | $81,108 | $50,067 | $402,546 | $353,927 | 3.62 | $780 | 9.6% |
| 24 | Sainte-Julie | Que. | 20.6% | 50.8% | $179 | $179 | 1.3% | 59.5 | 2.4% | 0.6% | 5.8% | 799 | 165 | 120 | 206 | 118 | 31,030 | 1.9% | 2.5% | 6.2% | $96,500 | $53,587 | $452,168 | $351,974 | 3.32 | $799 | 9.0% |
| 25 | L'Assomption | Que. | 20.8% | 46.0% | $179 | $179 | 1.9% | 61.9 | 3.9% | 0.4% | 2.6% | 798 | 137 | 104 | 211 | 113 | 22,052 | 6.6% | 4.3% | 6.7% | $72,046 | $39,532 | $260,826 | $222,513 | 2.85 | $776 | 12.0% |
| 26 | Repentigny V | Que. | 16.5% | 43.0% | $179 | $179 | 2.4% | 64.1 | 1.8% | 0.7% | 4.5% | 801 | 160 | 121 | 201 | 108 | 85,626 | 2.8% | 4.7% | 6.7% | $77,896 | $45,298 | $365,299 | $293,317 | 3.35 | $717 | 9.8% |
| 27 | Rosemère | Que. | 16.4% | 48.7% | $179 | $179 | 2.8% | 59.1 | 2.4% | 0.3% | 7.1% | 915 | 166 | 129 | 202 | 81 | 14,721 | 2.0% | 3.1% | 8.5% | $110,746 | $63,466 | $933,780 | $450,467 | 3.56 | $677 | 6.4% |
| 28 | Sainte-Catherine | Que. | 17.5% | 45.0% | $164 | $164 | 1.5% | 63.4 | 1.5% | 0.3% | 6.3% | 785 | 163 | 119 | 218 | 117 | 18,532 | 4.9% | 3.7% | 6.2% | $77,900 | $43,660 | $247,960 | $288,554 | 3.4 | $694 | 9.8% |
| 29 | Westmount | Que. | 18.2% | 43.8% | $164 | $164 | 3.5% | 122.1 | 7.6% | 1.3% | 10.6% | 785 | 163 | 119 | 218 | 117 | 20,208 | 0.6% | 5.9% | 11.0% | $104,655 | $115,149 | $3,304,648 | $1,640,992 | 6.98 | $791 | 4.0% |
| 30 | Vaughan CY | Ont. | 19.3% | 61.8% | $1,454 | $1,137 | 1.8% | 93 | 1.3% | 0.2% | 6.7% | 697 | 137 | 108 | 212 | 117 | 330,306 | 9.1% | 5.1% | 6.8% | $101,325 | $61,637 | $1,265,691 | $959,514 | 7.6 | $1,327 | 12.6% |
| 31 | Deux-Montagnes | Que. | 17.9% | 45.5% | $179 | $179 | 2.7% | 64.2 | 2.1% | 0.5% | 12.7% | 843 | 169 | 126 | 219 | 107 | 18,146 | 1.5% | 5.2% | 5.8% | $71,860 | $41,570 | $254,861 | $279,401 | 3.4 | $776 | 11.3% |
| 32 | Saint-Lazare | Que. | 21.8% | 56.3% | $179 | $179 | 1.7% | 89.4 | 1.0% | 0.3% | 3.1% | 871 | 159 | 120 | 199 | 111 | 20,800 | 5.7% | 3.6% | 6.2% | $102,276 | $56,117 | $651,204 | $459,825 | 4.02 | $927 | 9.7% |
| 33 | Beloeil | Que. | 18.7% | 41.1% | $179 | $179 | 2.6% | 64 | 2.7% | 0.5% | 5.3% | 857 | 155 | 123 | 206 | 117 | 22,431 | 5.4% | 4.3% | 6.2% | $80,923 | $46,474 | $373,583 | $288,117 | 3.23 | $716 | 9.6% |
| 34 | Milton T | Ont. | 27.3% | 59.5% | $1,389 | $1,100 | 1.7% | 81.6 | 1.3% | 0.3% | 4.2% | 741 | 139 | 112 | 196 | 120 | 107,247 | 17.6% | 4.0% | 6.8% | $114,128 | $55,565 | $721,124 | $634,980 | 5.35 | $1,248 | 12.6% |
| 35 | Aurora T | Ont. | 18.0% | 58.5% | $994 | $994 | 2.8% | 91.7 | 1.8% | 0.4% | 5.3% | 745 | 165 | 120 | 221 | 119 | 60,096 | 7.7% | 5.9% | 6.8% | $99,328 | $67,090 | $1,179,111 | $814,390 | 5.84 | $1,270 | 10.9% |
| 36 | Weyburn | Sask. | 21.0% | 41.1% | $700 | $650 | 1.2% | 109.9 | 4.4% | 1.0% | 0.4% | 318 | 136 | 86 | 169 | 110 | 11,495 | 5.3% | 3.9% | 4.5% | $79,076 | $71,248 | $790,701 | $285,807 | 2.28 | $806 | 7.7% |
| 37 | Central Elgin | Ont. | 17.5% | 43.6% | $933 | $933 | 0.8% | 123.6 | 1.6% | 0.3% | 0.7% | 874 | 159 | 133 | 230 | 128 | 13,086 | 0.2% | 4.7% | 5.6% | $94,110 | $55,946 | $581,941 | $356,552 | 3.46 | $871 | 10.1% |
| 38 | Notre-Dame-de-l'Île-Perrot | Que. | 19.4% | 54.3% | $164 | $164 | 1.6% | 78.7 | 0.9% | 0.4% | 4.1% | 795 | 151 | 117 | 212 | 113 | 11,244 | 4.1% | 2.9% | 11.0% | $100,000 | $51,566 | $609,411 | $381,963 | 3.69 | $902 | 10.5% |
| 39 | Thames Centre | Ont. | 17.8% | 48.3% | $1,150 | $1,085 | 1.0% | 119.2 | 2.3% | 0.3% | 0.8% | 846 | 168 | 122 | 223 | 123 | 13,441 | 0.6% | 3.0% | 5.6% | $101,885 | $60,164 | $719,221 | $440,080 | 4 | $758 | 8.3% |
| 40 | Brossard V | Que. | 16.8% | 45.8% | $179 | $164 | 1.6% | 100.4 | 1.8% | 0.4% | 16.3% | 799 | 165 | 120 | 206 | 118 | 87,842 | 7.4% | 7.0% | 6.2% | $73,711 | $48,765 | $552,418 | $395,627 | 4.14 | $793 | 10.0% |
| 41 | L'Ancienne-Lorette | Que. | 16.5% | 43.7% | $179 | $179 | 1.0% | 68.7 | 2.3% | 0.7% | 6.1% | 899 | 175 | 118 | 195 | 94 | 17,554 | 3.3% | 2.3% | 5.2% | $80,299 | $49,604 | $371,098 | $287,147 | 3.13 | $762 | 10.0% |
| 42 | Québec V | Que. | 16.0% | 36.9% | $179 | $179 | 1.7% | 64 | 4.9% | 1.1% | 9.9% | 899 | 175 | 118 | 195 | 94 | 552,528 | 4.6% | 3.3% | 5.2% | $59,904 | $40,307 | $304,661 | $300,648 | 3.97 | $816 | 12.9% |
| 43 | Clarence-Rockland | Ont. | 18.6% | 46.5% | $977 | $977 | 0.8% | 95.1 | 2.7% | 0.2% | 5.3% | 862 | 155 | 122 | 200 | 113 | 25,342 | 5.0% | 3.4% | 6.5% | $106,396 | $57,116 | $399,128 | $368,983 | 3.51 | $869 | 9.9% |
| 44 | Brant | Ont. | 18.5% | 46.6% | $994 | $994 | 2.0% | 121.9 | 2.0% | 0.2% | 1.3% | 770 | 136 | 114 | 218 | 125 | 38,211 | 3.6% | 4.5% | 6.9% | $88,678 | $52,466 | $716,556 | $428,556 | 4.39 | $850 | 10.4% |
| 45 | Springfield | MB | 19.3% | 53.0% | $651 | $451 | 1.1% | 119.8 | 1.4% | 0.5% | 1.2% | 504 | 121 | 71 | 165 | 102 | 15,349 | 5.9% | 5.4% | 5.9% | $114,102 | $74,169 | $641,442 | $460,739 | 3.34 | $1,068 | 9.3% |
| 46 | Sainte-Marthe-sur-le-Lac | Que. | 21.4% | 47.1% | $179 | $179 | 2.9% | 33.1 | 0.9% | 0.2% | 8.8% | 843 | 169 | 126 | 219 | 107 | 18,174 | 10.3% | 5.5% | 5.8% | $76,980 | $40,043 | $288,852 | $268,727 | 3.28 | $736 | 10.8% |
| 47 | Kincardine | Ont. | 17.3% | 39.0% | $911 | $911 | 1.3% | 108.2 | 4.6% | 0.6% | 1.1% | 820 | 175 | 129 | 196 | 113 | 11,550 | 0.6% | 5.8% | 5.6% | $98,880 | $60,520 | $552,047 | $359,008 | 3.14 | $920 | 9.7% |
| 48 | Beaconsfield | Que. | 18.2% | 54.4% | $164 | $164 | 1.7% | 110.3 | 1.6% | 0.5% | 9.0% | 843 | 169 | 126 | 219 | 107 | 20,699 | 4.8% | 5.0% | 11.0% | $128,963 | $78,943 | $1,564,981 | $734,219 | 4.39 | $1,115 | 8.0% |
| 49 | Kirkland | Que. | 16.9% | 59.8% | $179 | $179 | 1.5% | 110 | 1.5% | 0.1% | 7.2% | 843 | 169 | 126 | 219 | 107 | 22,699 | 5.0% | 6.4% | 11.0% | $109,301 | $73,922 | $1,103,720 | $614,164 | 4.13 | $1,027 | 8.3% |
| 50 | Pincourt | Que. | 19.4% | 50.4% | $164 | $164 | 1.6% | 93.2 | 1.3% | 0.6% | 6.3% | 795 | 151 | 117 | 212 | 113 | 15,908 | 7.9% | 4.5% | 11.0% | $74,410 | $40,178 | $321,994 | $294,009 | 3.57 | $711 | 10.4% |
| 51 | Amos | Que. | 19.1% | 39.7% | $179 | $179 | 1.4% | 66.4 | 9.0% | 0.2% | 1.8% | 676 | 151 | 105 | 162 | 74 | 12,950 | 1.1% | 7.2% | 6.7% | $63,098 | $46,739 | $271,265 | $255,669 | 3 | $617 | 8.7% |
| 52 | Gatineau V | Que. | 18.7% | 42.6% | $179 | $179 | 2.5% | 66.9 | 3.0% | 1.2% | 10.6% | 755 | 161 | 118 | 216 | 117 | 283,706 | 4.4% | 4.7% | 7.0% | $71,300 | $42,665 | $287,600 | $300,848 | 3.49 | $763 | 10.6% |
| 53 | St. Albert CY | Alta. | 18.8% | 47.9% | $985 | $865 | 2.1% | 102.4 | 2.4% | 0.5% | 4.4% | 352 | 113 | 73 | 177 | 84 | 72,372 | 11.3% | 8.3% | 6.8% | $133,871 | $82,998 | $787,660 | $466,879 | 3.07 | $1,322 | 10.4% |
| 54 | Quispamsis | N.B. | 19.8% | 53.6% | $846 | $687 | 1.4% | 109.2 | 1.0% | 0.0% | 1.2% | 848 | 166 | 131 | 197 | 102 | 19,278 | 5.6% | 5.8% | 9.0% | $102,081 | $57,099 | $435,208 | $309,874 | 2.79 | $720 | 7.8% |
| 55 | Ajax T | Ont. | 19.2% | 55.3% | $1,454 | $1,137 | 1.8% | 96.1 | 1.7% | 0.3% | 10.8% | 766 | 146 | 123 | 239 | 100 | 124,489 | 8.5% | 7.0% | 6.8% | $103,983 | $55,464 | $585,154 | $573,539 | 5.09 | $1,212 | 12.9% |
| 56 | Bracebridge | Ont. | 15.7% | 38.7% | $738 | $738 | 1.1% | 106.7 | 5.2% | 0.3% | 0.7% | 751 | 154 | 107 | 182 | 107 | 16,191 | 3.6% | 6.0% | 4.9% | $81,901 | $48,068 | $659,906 | $351,649 | 3.76 | $948 | 12.2% |
| 57 | Newmarket T | Ont. | 16.9% | 53.8% | $1,367 | $1,135 | 2.1% | 99.3 | 3.0% | 0.3% | 5.3% | 735 | 130 | 102 | 211 | 107 | 89,595 | 6.9% | 5.9% | 6.8% | $96,053 | $54,925 | $750,212 | $700,481 | 6.26 | $1,178 | 12.6% |
| 58 | Whitby T | Ont. | 20.7% | 54.9% | $1,454 | $1,137 | 2.1% | 101 | 1.6% | 0.3% | 7.2% | 766 | 146 | 123 | 239 | 100 | 136,296 | 6.9% | 6.8% | 6.8% | $103,442 | $56,169 | $650,311 | $577,398 | 4.94 | $1,103 | 11.3% |
| 59 | The Nation | Ont. | 18.9% | 45.9% | $933 | $856 | 1.2% | 99.5 | 2.0% | 0.2% | 2.4% | 862 | 155 | 122 | 200 | 113 | 12,777 | 4.9% | 3.6% | 6.5% | $92,790 | $52,317 | $467,901 | $411,001 | 4.18 | $645 | 7.9% |
| 60 | Varennes | Que. | 17.4% | 48.0% | $179 | $164 | 1.6% | 64.4 | 3.0% | 0.8% | 5.7% | 829 | 169 | 139 | 207 | 117 | 21,667 | 1.8% | 3.4% | 6.2% | $89,857 | $51,834 | $394,324 | $319,908 | 3.16 | $728 | 8.6% |
| 61 | Saint-Amable | Que. | 22.2% | 52.3% | $179 | $179 | 1.2% | 51.7 | 2.2% | 0.4% | 3.0% | 857 | 155 | 123 | 206 | 117 | 12,572 | 11.2% | 3.9% | 6.2% | $87,407 | $37,643 | $247,649 | $261,248 | 3.45 | $626 | 9.9% |
| 62 | Waterloo CY | Ont. | 17.3% | 50.1% | $1,365 | $1,215 | 2.5% | 105.4 | 3.2% | 1.2% | 4.1% | 777 | 166 | 119 | 208 | 116 | 109,532 | 5.4% | 5.4% | 5.6% | $90,726 | $54,852 | $710,206 | $467,659 | 4.25 | $1,098 | 12.0% |
| 63 | Caledon T | Ont. | 18.1% | 55.8% | $1,389 | $1,100 | 2.2% | 102.1 | 1.1% | 0.2% | 2.2% | 750 | 151 | 112 | 195 | 105 | 67,697 | 8.5% | 5.1% | 6.8% | $100,214 | $66,257 | $1,108,884 | $769,024 | 5.76 | $1,327 | 11.9% |
| 64 | Clarington MU | Ont. | 17.3% | 49.1% | $911 | $911 | 1.7% | 100.5 | 1.9% | 0.3% | 3.7% | 773 | 146 | 123 | 219 | 111 | 95,594 | 7.9% | 6.2% | 6.8% | $97,472 | $50,970 | $530,597 | $480,444 | 4.56 | $979 | 11.2% |
| 65 | Strathroy-Caradoc | Ont. | 19.8% | 44.5% | $933 | $933 | 0.5% | 118.5 | 2.4% | 0.4% | 1.2% | 794 | 152 | 117 | 227 | 123 | 22,708 | 4.5% | 4.9% | 5.6% | $75,064 | $44,950 | $398,426 | $314,052 | 3.71 | $939 | 13.3% |
| 66 | Mercier | Que. | 18.7% | 48.2% | $179 | $179 | 1.2% | 59.8 | 2.0% | 0.1% | 5.1% | 816 | 139 | 112 | 213 | 117 | 13,467 | 9.2% | 5.3% | 6.2% | $78,634 | $44,249 | $348,243 | $286,980 | 3.31 | $775 | 10.7% |
| 67 | Stratford | Ont. | 17.5% | 38.1% | $933 | $933 | 3.0% | 116.6 | 6.4% | 2.2% | 2.0% | 851 | 165 | 118 | 216 | 112 | 32,574 | 2.3% | 3.9% | 5.6% | $71,092 | $43,416 | $451,569 | $330,237 | 4 | $873 | 12.7% |
| 68 | Rimouski | Que. | 17.5% | 37.5% | $179 | $179 | 1.0% | 72.3 | 4.8% | 0.7% | 1.5% | 687 | 167 | 116 | 197 | 72 | 49,573 | 3.9% | 7.5% | 9.4% | $55,483 | $39,746 | $272,766 | $235,628 | 3.31 | $667 | 11.3% |
| 69 | King | Ont. | 16.2% | 53.0% | $1,389 | $1,100 | 2.6% | 109.1 | 1.3% | 0.1% | 2.7% | 691 | 135 | 106 | 206 | 114 | 22,472 | 7.8% | 6.1% | 6.8% | $114,494 | $93,224 | $2,223,214 | $1,060,126 | 5.71 | $1,284 | 8.3% |
| 70 | Laval V | Que. | 19.0% | 47.7% | $179 | $179 | 2.2% | 72.1 | 1.6% | 0.3% | 8.9% | 790 | 152 | 118 | 213 | 110 | 434,017 | 5.6% | 5.4% | 8.5% | $66,449 | $40,614 | $412,399 | $365,417 | 4.49 | $740 | 10.9% |
| 71 | Middlesex Centre | Ont. | 20.2% | 51.0% | $1,150 | $1,085 | 1.0% | 123.2 | 1.1% | 0.2% | 1.1% | 854 | 157 | 125 | 226 | 125 | 17,949 | 5.1% | 2.9% | 5.6% | $105,486 | $66,077 | $948,117 | $499,094 | 3.93 | $1,002 | 9.5% |
| 72 | Sturgeon County | Alta. | 21.6% | 54.0% | $790 | $790 | 1.3% | 106.9 | 1.2% | 0.2% | 1.4% | 348 | 123 | 77 | 185 | 88 | 22,728 | 10.0% | 5.8% | 6.8% | $120,655 | $80,957 | $1,073,268 | $513,989 | 3.53 | $1,229 | 10.1% |
| 73 | Hanover | MB | 28.3% | 64.6% | $482 | $395 | 0.7% | 137.2 | 1.9% | 0.6% | 1.2% | 473 | 111 | 76 | 166 | 107 | 17,207 | 15.8% | 3.8% | 5.9% | $90,810 | $48,104 | $354,748 | $321,800 | 3.63 | $760 | 10.3% |
| 74 | Dieppe | N.B. | 20.5% | 45.3% | $846 | $687 | 2.6% | 62.4 | 1.8% | 0.3% | 1.4% | 876 | 176 | 134 | 193 | 95 | 26,545 | 9.8% | 5.6% | 8.1% | $88,629 | $48,947 | $305,041 | $258,917 | 2.74 | $798 | 10.1% |
| 75 | Mascouche V | Que. | 21.4% | 48.8% | $179 | $164 | 1.9% | 56.1 | 1.4% | 0.3% | 3.5% | 827 | 158 | 123 | 205 | 118 | 48,988 | 10.6% | 4.8% | 6.7% | $83,529 | $44,197 | $300,755 | $304,207 | 3.52 | $793 | 11.0% |
| 76 | Lakeshore | Ont. | 19.2% | 54.1% | $868 | $868 | 1.2% | 105.5 | 1.2% | 0.3% | 1.5% | 822 | 150 | 120 | 249 | 139 | 37,721 | 5.2% | 5.7% | 7.6% | $91,794 | $54,597 | $596,132 | $349,896 | 3.49 | $660 | 7.9% |
| 77 | Regina | Sask. | 19.6% | 41.6% | $800 | $615 | 1.6% | 109.8 | 3.3% | 0.8% | 3.5% | 321 | 114 | 75 | 153 | 107 | 226,682 | 10.9% | 5.7% | 4.5% | $83,178 | $56,360 | $428,940 | $378,617 | 3.65 | $1,109 | 12.8% |
| 78 | Tecumseh | Ont. | 15.2% | 45.8% | $868 | $868 | 1.4% | 114.3 | 1.8% | 0.5% | 1.2% | 822 | 150 | 120 | 249 | 139 | 24,605 | 1.4% | 4.8% | 7.6% | $104,618 | $59,989 | $651,248 | $338,752 | 3.09 | $660 | 7.2% |
| 79 | Mirabel V | Que. | 20.8% | 48.6% | $179 | $179 | 1.5% | 52.8 | 2.1% | 0.3% | 2.5% | 836 | 167 | 120 | 199 | 112 | 52,054 | 17.8% | 3.8% | 5.8% | $80,564 | $40,913 | $306,461 | $331,100 | 3.97 | $740 | 10.7% |
| 80 | Ingersoll | Ont. | 18.9% | 43.3% | $911 | $911 | 0.6% | 114.1 | 2.8% | 1.2% | 1.1% | 835 | 165 | 124 | 223 | 119 | 13,099 | 4.1% | 4.2% | 5.6% | $81,477 | $44,968 | $320,142 | $274,377 | 3.23 | $797 | 11.3% |
| 81 | Saugeen Shores | Ont. | 14.9% | 36.2% | $933 | $856 | 1.4% | 121.1 | 4.2% | 1.1% | 1.8% | 847 | 163 | 117 | 209 | 110 | 13,741 | 4.7% | 9.5% | 5.6% | $95,614 | $66,665 | $656,926 | $379,665 | 2.97 | $828 | 7.8% |
| 82 | Val-des-Monts | Que. | 17.2% | 45.2% | $179 | $164 | 1.4% | 62 | 1.4% | 0.1% | 2.3% | 817 | 157 | 112 | 186 | 107 | 11,549 | 7.4% | 4.8% | 5.8% | $85,554 | $46,861 | $357,690 | $294,526 | 3.16 | $762 | 9.8% |
| 83 | North Grenville | Ont. | 16.2% | 44.1% | $933 | $856 | 1.1% | 96 | 2.2% | 0.3% | 1.9% | 757 | 162 | 119 | 202 | 111 | 15,997 | 2.8% | 4.0% | 6.5% | $98,251 | $52,905 | $567,081 | $438,009 | 4.29 | $971 | 11.4% |
| 84 | Grimsby | Ont. | 18.0% | 46.9% | $911 | $911 | 2.3% | 110.4 | 1.8% | 0.4% | 2.6% | 779 | 163 | 135 | 244 | 121 | 27,135 | 3.7% | 6.0% | 6.9% | $100,701 | $56,582 | $649,181 | $471,892 | 4.35 | $829 | 9.2% |
| 85 | Woolwich | Ont. | 23.4% | 53.0% | $933 | $856 | 1.7% | 113.5 | 3.1% | 1.5% | 2.0% | 789 | 169 | 133 | 209 | 118 | 25,572 | 6.1% | 3.8% | 5.6% | $93,095 | $71,305 | $1,042,307 | $547,841 | 4.08 | $842 | 7.5% |
| 86 | Colwood | B.C. | 18.1% | 43.9% | $814 | $800 | 0.9% | 109.6 | 1.7% | 1.7% | 5.1% | 996 | 149 | 145 | 347 | 57 | 17,673 | 6.0% | 3.4% | 7.5% | $98,570 | $50,755 | $568,795 | $564,208 | 5.55 | $1,104 | 13.0% |
| 87 | Markham T | Ont. | 16.6% | 58.4% | $1,454 | $1,137 | 1.9% | 102.2 | 1.3% | 0.2% | 8.2% | 745 | 165 | 120 | 221 | 119 | 344,557 | 8.5% | 7.6% | 6.8% | $92,329 | $58,341 | $1,202,922 | $946,996 | 8.09 | $1,271 | 13.0% |
| 88 | Estevan | Sask. | 19.4% | 44.3% | $700 | $650 | 1.1% | 108.3 | 3.1% | 0.1% | 2.5% | 332 | 116 | 74 | 169 | 113 | 12,146 | 5.2% | 2.7% | 4.5% | $100,622 | $72,890 | $598,092 | $414,168 | 3.16 | $1,001 | 9.2% |
| 89 | Oak Bay | B.C. | 15.9% | 37.9% | $1,235 | $1,294 | 2.6% | 119.6 | 5.5% | 5.2% | 4.9% | 1112 | 176 | 171 | 293 | 86 | 18,373 | 1.0% | 2.7% | 7.5% | $94,610 | $78,382 | $1,890,902 | $1,001,510 | 6.67 | $1,323 | 10.6% |
| 90 | Centre Wellington | Ont. | 19.2% | 45.8% | $933 | $933 | 2.3% | 119.9 | 3.0% | 0.4% | 1.3% | 798 | 179 | 130 | 208 | 106 | 29,321 | 5.7% | 5.1% | 5.6% | $87,841 | $53,492 | $676,293 | $529,788 | 5.12 | $993 | 11.5% |
| 91 | St. Thomas | Ont. | 19.5% | 40.6% | $1,150 | $1,085 | 0.6% | 114.8 | 2.4% | 0.9% | 0.9% | 874 | 159 | 133 | 230 | 128 | 40,127 | 2.5% | 5.9% | 5.6% | $73,065 | $41,184 | $251,468 | $242,200 | 3.15 | $871 | 13.6% |
| 92 | Châteauguay V | Que. | 17.9% | 43.8% | $179 | $179 | 1.3% | 86.7 | 2.0% | 0.3% | 6.7% | 785 | 163 | 119 | 218 | 117 | 51,356 | 6.4% | 7.0% | 6.2% | $65,026 | $41,497 | $284,224 | $264,124 | 3.37 | $775 | 11.9% |
| 93 | Loyalist | Ont. | 21.3% | 37.9% | $911 | $911 | 1.9% | 105.8 | 1.6% | 0.3% | 1.1% | 766 | 147 | 116 | 239 | 103 | 17,523 | 4.3% | 4.1% | 7.3% | $89,468 | $54,878 | $455,971 | $358,380 | 3.53 | $848 | 10.0% |
| 94 | Kingston | Ont. | 17.2% | 38.5% | $977 | $977 | 3.0% | 108.1 | 5.8% | 1.5% | 4.8% | 809 | 159 | 123 | 223 | 99 | 132,757 | 3.5% | 5.3% | 7.3% | $71,011 | $46,829 | $490,337 | $378,930 | 4.21 | $1,119 | 14.9% |
| 95 | Bécancour | Que. | 19.0% | 40.5% | $179 | $179 | 0.5% | 71.4 | 2.6% | 0.4% | 0.6% | 864 | 161 | 120 | 197 | 104 | 13,149 | 3.6% | 4.6% | 6.2% | $63,254 | $42,409 | $317,931 | $215,882 | 2.86 | $600 | 9.6% |
| 96 | Whitehorse | YT | 19.4% | 42.1% | $739 | $685 | 2.4% | 108.5 | 5.4% | 1.9% | 3.4% | 161 | 121 | 63 | 144 | 42 | 26,701 | 7.6% | 6.7% | 6.7% | $86,639 | $58,843 | $446,690 | $340,527 | 3.28 | $1,636 | 18.9% |
| 97 | Orangeville T | Ont. | 19.8% | 49.9% | $1,389 | $1,100 | 1.5% | 104.9 | 3.1% | 0.3% | 2.2% | 750 | 151 | 112 | 195 | 105 | 31,445 | 7.5% | 6.1% | 5.6% | $90,563 | $44,808 | $395,887 | $422,264 | 4.57 | $1,144 | 14.9% |
| 98 | Guelph | Ont. | 17.3% | 46.0% | $1,365 | $1,215 | 2.0% | 101.1 | 3.3% | 1.1% | 5.2% | 782 | 167 | 127 | 206 | 113 | 134,832 | 6.0% | 5.6% | 5.6% | $83,447 | $47,113 | $516,064 | $490,591 | 5.16 | $1,079 | 13.6% |
| 99 | Pickering CY | Ont. | 15.6% | 51.0% | $1,454 | $1,137 | 2.6% | 104.9 | 1.7% | 0.2% | 7.9% | 766 | 146 | 123 | 239 | 100 | 98,741 | 6.6% | 8.3% | 6.8% | $103,664 | $59,075 | $776,452 | $634,214 | 5.33 | $1,327 | 13.4% |
| 100 | Pointe-Claire | Que. | 19.3% | 49.3% | $164 | $164 | 2.0% | 106 | 2.2% | 0.6% | 11.0% | 785 | 163 | 119 | 218 | 117 | 32,896 | 5.1% | 6.4% | 11.0% | $80,370 | $50,557 | $691,250 | $495,468 | 4.8 | $1,123 | 13.1% |