[brightcove video_id="6023927820001″ account_id="6015698167001″ player_id="lYro6suIR"]
Vancouver's real estate market is messed up. It's really messed up. As a result it's attracted a lot of attention. From media reports, to provincial scrutiny, to self-regulatory board actions, Canada's most expensive real estate market is under the proverbial microscope. But what do we know for sure? Here's a round-up of eight factors that are helping to push prices through the stratosphere in Vancouver and the lower mainland.
You're 2 minutes away from getting the best mortgage rates in Canada
Answer a few quick questions to get a personalized rate quote*
You will be leaving MoneySense. Just close the tab to return.
No. 1: Foreign buyers
It's not very Canadian to discuss the impact of immigration, particularly if it's negative. But the truth is the Vancouver real estate market has felt the impact of foreign money—in particular, money from rich foreigners. Much of this money comes from mainland China. Also not a very Canadian thing to say. But it's true. How do we know? Because the phenomenon has been tracked, studied and recorded—and not just in Vancouver.
Data collected by David Ley shows how, over the last few decades, metro Vancouver has become similar to other Pacific Rim "gateway" cities, such as Hong Kong, Singapore, London and Sydney. Each of these gateway cities have rising housing costs that are fuelled by high immigration-driven population growth and foreign investors.
"In every one of these cities the market is being driven by something other than owner-occupiers. Not just new immigrants, but investors, including offshore investment," explains Ley. Through his analysis, Ley discovered that in the last 25 years, there's been an almost 1-to-1 correlation between Vancouver's rising real estate prices and the surge in international immigration and offshore investors to this West-coast city.
Ley isn't the only one tracking this trend. University of Waterloo geographer Markus Moos and Queen's University planner Andrejs Skaburskis back up Ley's findings. Both Moos and Skaburskis concede that Vancouver is an "exceptional" example of how "globalization" can affect a local housing market.
The biggest contributor to these rising housing prices is that these immigrants not only arrive with great wealth, but continue to earn high incomes outside of Canada. This accumulation and access to money and its investment in Vancouver property led to a "decoupling of housing from local labour market participation," wrote Moos and Skaburskis.
Even data released by the city of Vancouver backs up the assertions by these scholars. According to district data virtually nine out of 10 newcomers in the past 20 years were born outside the country—mostly in Asia. City data also shows that many of these new property owners are "circulatory migrants"—foreigners who invest in property in Canada while working offshore.
Some detractors of this data argue that rich foreigners only invest in luxury properties—purchases that don't impact neighbourhoods (and prices) where regular, middle-class Vancouverites choose to buy homes. But that's just not true.
Ley describes the impact as a "trickle-down effect," which occurs when rich immigrants and investors push up housing prices across the entire lower mainland real estate market. It's a phenomenon that Andy Yan, an urban planning researcher and adjunct professor at University of British Columbia (UBC), has been documenting for years. He turned his data and research into maps that document the growth of home prices in metro Vancouver. In the first map (below) there are virtually no properties east of Main Street listed for over $1 million.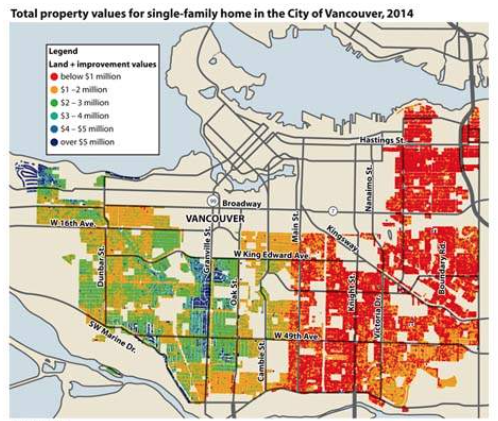 The second map (below) shows 2015 home prices in metro Vancouver. Notice how many of the homes east of Main Street are now priced at $1 million or more.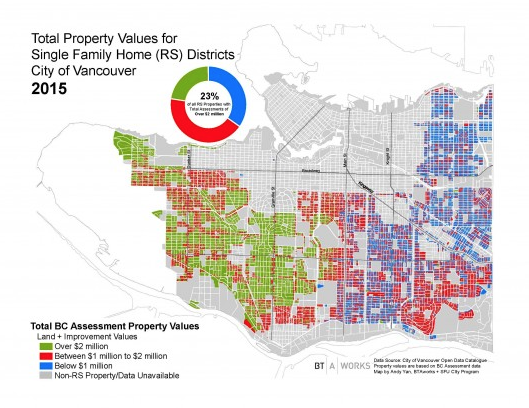 The final map (below) shows 2016 housing prices. Notice how the number of houses selling for over $1 million has increased dramatically. Now, the sea of red spreads past metro Vancouver and into the inner suburbs.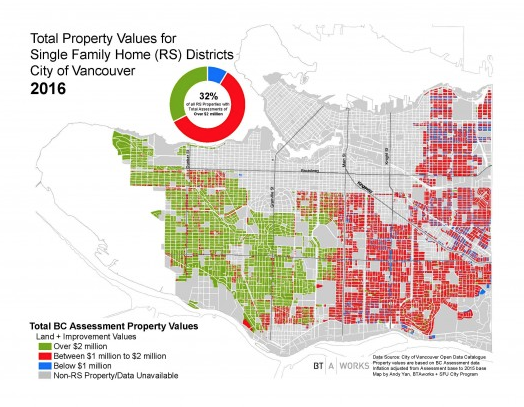 "It's not as if you can draw a clear partition. The property values in the west side influence the prices in the east side. Demand is just deflected, for example, from Kitsilano to Main Street and Commercial Drive," says Ley. Now, the problem extends well beyond the city limits and into the suburbs.
"Some investors are buying a few houses at the same time," states one exasperated reader. "Some of the deals are even arranged remotely from overseas. This will eventually mean that more and more people will have no choice but to look for jobs in other provinces."
Canada's best deals in real estate 2016 »
No. 2: Ineffective regulation
But foreign buyers aren't the only culprits in Vancouver's messy real estate market. Fast money, unscrupulous people, and a general malaise when it comes to defining and enforcing bad conduct has taken its toll on the city.
A recent Globe and Mail investigation found that Vancouver real estate agents who were disciplined for wrongdoing faced fines and suspensions that were nothing short of a joke when compared to the hefty commissions earned on real estate transactions. The Globe's report showed that of the more than 100 recent disciplinary proceedings, some confidential, the fines averaged out at $4,850. Compare this to the potential commission on a $1.78-million home—the average price paid in metro Vancouver in the first quarter of 2016—which works out to $22,500, and you can see why some agents simply consider these fines as the cost of doing business.
What's worse is the Globe and Mail investigation found that only a fraction of agents lost their licences over misconduct. Those who did receive a suspension were barred, on average, from practising for six weeks. In comparison, the Fraser Valley Real Estate Board—the private board in charge of lower mainland real estate, such as Langley and Abbotsford—is known for much stiffer penalties for realtors that breach ethics or regulations.
"Some people have done some really bad things and they just get a slap on the wrist," says Janet Mackenzie, a Vancouver regulatory affairs executive, who spoke to the Globe, late last year. "Having [agents] policing [agents] has shown to not be the best model."
Mackenzie actually found herself in the middle of the problem when her own real estate agent forged her signature during a condo deal a few years ago. Mackenzie lodged a complaint with the Real Estate Council of B.C. (RECBC), the self-regulating body for the province's real estate industry. She had to wait two years before RECBC made a ruling—part of it was public and part was private. Publicly, Mackenzie was told her agent was fined $1,250 and given a four month suspension. Privately, RECBC also imposed a $10,000 fine and banned the agent from using the Multiple Listings Service for a year. But it wasn't until the Globe's investigation that Mackenzie even learned of this subsequent penalty.
Then there was the recent case that involved New Coast Realty. The brokerage was home to 445 real estate agents and was run by 42-year-old Ze Yu Wu, a permanent resident who moved to Canada from China a year ago, and an unlicensed trainer who taught and encouraged his agents to low-ball and lie to potential sellers in order to earn bigger commissions re-selling the listed homes.
In a transcript from the Globe's investigation, Wu is heard saying:
"You must print out the lowest prices in the neighbourhood to show to the homeowner. It is very critical to print out low sale prices in the neighbourhood."
Shortly after the release of the Globe's investigative report, RECBC swooped in to issue licence conditions on New Coast Realty that included the appointment of a new RECBC-approved broker manager, hiring a trainer that was a licensed realtor and complying with conditions imposed on the firm. Thing is, Wu got off relatively scot-free. As an unlicensed trainer (who doesn't actually practice real estate sales) he is not bound to the regulations that are imposed on licensed real estate agents. At the heart of these regulations is the notion that a real estate agent must act in their clients' interests or risk disciplinary action. 
Despite the transgressions, New Coast Realty is still operating. And Wu is still making money—and will, as long as realtors pay their office fees and earn a commission.
Vancouver's top neighbourhoods »
No. 3: Re-emergence of shadow flipping
The big reason why Wu and others push for quick home sales is because they can then turn around and resell that property to another buyer—usually at a much higher price. The agent has now earned two commissions on one property, usually within weeks of the initial sale of the home. It's a process known as shadow flipping, although it's legally known as an assignment sale.
An assignment sale allows the current registered buyer of a property to sell their ownership in the property to another interested buyer, even before the first sale is finalized. The use of assignment sales is most common in the arena of new build condos. It's not uncommon for Canadian new build condo units to change ownership two, three, even four times before the condo building and its units are actually ready for occupation.
Here's the rub: In most provinces in Canada, the sales document does not automatically give a buyer the option to resell their rights to the property. In most provinces, an extra clause or an entirely separate contract must be completed by both the buyer and the initial seller. This helps keep all transactions and intentions totally transparent.
But this isn't the case if you're doing a real estate deal in B.C.'s lower mainland. In Vancouver, an assignment is part of the assumed package of rights that any seller passes onto the buyer. No other notification is needed, or given, as one West Vancouver couple learned when their recently sold home was re-listed and resold for more than $1 million more than their final sale price.
So much for transparency.
In the wake of the negative media headlines, RECBC opted to assign an advisory group to come up with deterrents for a list of questionable practices. Under current B.C. law, RECBC or other real estate boards, can fine a real estate agent a maximum of $10,000. To put this in perspective, in Alberta and Ontario the maximum fine is $25,000 for similar misconduct.
Still, the council's actions might be a little too late. B.C. Premier, Christy Clark, recently promised the potential of provincial regulations that would impose tougher penalties for those that try to skirt around current and future regulations. One reason why the province may have decided to act independently of the council is that this isn't the first time B.C.'s lower mainland has faced shadow flipping problems. In the mid-2000s, during a condo boom, assignment sales were so common that some developers put in clauses to forbid them. The rationale was that hot, frothy markets fuelled by money and speculation would drive up the price and could, potentially, create an unsustainable bubble. Not only that, but as early as May 2008, the provincial office of the superintendent of real estate released a consumer alert that warned of the risks associated with the assignment of contracts.
Read more from Romana King at Home Owner on Facebook »
No. 4: Everything is easier with technology
Another contributing factor is the ease with which technology has shortened the distance on what used to be a localized economic decision. These days, foreign investors don't even need to step foot into Canada to snap up some of the most exclusive real estate in B.C.'s lower mainland. Take, for example, the December 2015 sale of the $51.8-million Point Grey mansion (that takes up three building lots and overlooks the ocean). The buyer was Mailin Chen, a businessman from mainland China, and it's reported that he never even left his home in China to purchase his new Vancouver mansion. (Nor did he buy the home himself. His Vancouver-based company, Chunghwa Investment (Canada) Co. Ltd, did—a company that was incorporated in March 2010 and has an office on Howe Street in downtown Vancouver.)
While Chen's transaction was legal and transparent, there have been reports that some brokerages and websites aren't following the same narrow guidelines when it comes to access to listings. In mid-April of this year, Global News reported that a Chinese-language website, owned by a company in Shanghai, allegedly pulled information from the Canadian MLS system before the information was made public. As is standard practice throughout most provinces in Canada, all new sales listings are entered into MLS, but aren't made available to the public for 24 to 72 hours (depending on where you are in Canada). But making this information available to only a segment of the open market has raised concerns that foreign buyers, investing in Metro Vancouver's hot real estate market, are getting an unfair jump on new listings. Five days later, RECBC issues a notice stating that they're looking into the transgression not just on the Vanfun.com site, but also on other similar sites. 
Top 25 Vancouver neighbourhoods to buy in »
No. 5: Money laundering
Then there are the growing problems of money laundering, fraud and tax evasion. The Housing Action for Local Taxpayers, an advocacy group with an aim to hold politicians accountable for housing affordability, says that "houses have become opaque cash banks where funds from offshore can find nice safe places to hide—and there's no need to show a return on the investment as the primary objective is to hide the funds from overseas tax authorities."
Part of the problem is that over the past 12 months, dozens of B.C. real estate brokerages have been caught with "significant" or "very significant" deficiencies, explains The Globe and Mail. The discovery was made when the Financial Transactions and Reports Analysis Centre (FINTRAC), which enforces the federal anti-money-laundering laws, decided to step up scrutiny over worries that money, primarily from China, was being laundered through Vancouver real estate. "There were concerns being raised that those in the real estate sector were not fulfilling the obligations under the act," said FinTRAC spokesperson Darren Gibb. He added that: "The real estate sector is highly vulnerable to money laundering." As a result of their investigation, FinTRAC found that some real estate agents were neglecting to get proper ID from clients, such as drivers' licences or passports; failed to verify sources of money; and some brokerage firms simply didn't report suspicious or large cash transactions, an obligation under anti-money-laundering laws.
Dan Zitting, chief product officer for Vancouver "big data" analytics firm ACL, is an expert on detecting patterns of crime in vast pools of data. In recent Globe and Mail and Vancouver Sun interviews, he explained his fears of widespread fraud in B.C.'s property market. "Vancouver real estate is obviously at very high risk for being used as a transfer and holding vehicle for laundered money," said Zitting, adding that the results of FINTRAC's compliance review "really is quite scary, both for the stability of the housing market and the potential to support and propagate issues of organized crime."
The Canadian Real Estate Association (CREA), which leads industry training on anti-money-laundering compliance, retorted recently stating that though there were issues, the real problem lay with FINTRAC. CREA called the federal agency's training webinar "clearly insufficient." CREA also points out that to help realtors and brokerages, they invested "heavily" in hiring two staff and commissioning outside firms to help bring real estate agents up to speed. "It would be nice if FINTRAC would invest similar time and effort," said Randall McCauley, CREA's vice-president of government and public relations. Mr. McCauley calls it "ridiculous" to expect individual real estate agents to have the same infrastructure as banks or casinos to track clients.
McCauley also points out that the basic infrastructure of the regulations shows a complete "lack of understanding" of the industry. "A huge percentage of our members help individuals sell, then buy a home within days or weeks," McCauley said. He wonders: Why the increased scrutiny of any buyer who completes two transactions within five years?
No. 6: The bar is too low
Despite the problems, people keep pouring into the city and into the Vancouver real estate industry. There are now more than 12,400 agents in the Vancouver area—up 24% from five years ago. Some say that the growth in this profession, along with the increased errors and broken regulations, are due, in part, to the low bar of entry into the field of real estate. One Re/Max realtor stated, in a recent Globe and Mail article, that he wasn't surprised by all the errors and omissions (and commissions). "It's too easy to become a realtor in British Columbia, so the level of compliance is going to be a problem," says Keith Roy, a real estate agent who also sits on the professional-conduct committee of the Real Estate Board of Greater Vancouver (REBGV), the member-based association that represents licensed real estate agents in the area. "The No. 1 way to increase public protection is to have more than a 10-week online course to get your licence."
No. 7: Lack of unbiased info
Vancouver's growing housing dilemma has put the city on the top of unaffordable lists everywhere. Recently, Demographia ranked the West-coast city as the second most unaffordable city out of 325 around the world. The only city to beat Vancouver from claiming the top spot: Hong Kong. 
Part of the problem is that no one wants to appear to be killing the cash cow. Worse, is that reliable, unbiased information is hard to come by. In the last year, Ian Young, a reporter at the South China Morning Post highlighted how the Centre for Urban Economics and Real Estate, run by UBC business professor Tsur Somerville—the academic most often quoted in the media regarding Vancouver's housing issues—receives part of its funding from developers. Turns out so do some of the city's so-called urban think-tanks—the supposed thought-leaders on urban development. 
Yet, those with no personal or professional stake in the discussion—such as Yan, Elizabeth Murphy, a private-sector project manager, David Wachsmuth, a former UBC urban geographer, now an urban planning assistant professor at McGill, SFU's Andrey Pavlov and B.C's meticulous urban geographer, David Ley (author of Millionaire Migrants)—end up dominating headlines for the wrong reasons. When Ley released his findings last year on the impact of high immigration rates and foreign ownership have on real estate prices, Somerville and others tossed out labels of "racist" and "xenophobic."
No. 8: Vancouver wants to grow
So, why this push for more homeowners and a greater proportion of international investment money? Because the City of Vancouver wants to grow. City personnel suggest that an increase to market residential zoning needs to expand in order to accommodate the million or more people that will settle in the city by 2041. Problem is, this estimated growth is for the entire lower mainland, with only a small fraction establishing a home in the City of Vancouver.
Elizabeth Murphy, a private-sector project manager and former property development officer with the City of Vancouver's Housing and Properties Department and for BC Housing, believes that the city's rezoning and building plans are anything but transparent. She is convinced that the push for major builds, such as large condo towers, is motivated by those who will benefit financially. She sees the arguments that there is a lack of supply to be misleading and believes that the city is actually overbuilding by approximately 2,000 units every five years. The key, according to Murphy, is not more housing units, but better-suited housing units. She believes metro Vancouverites end up in a position of having to rent out units because the units built are expensive and only "serve to promote Vancouver as an investment commodity rather than a planned community."
Murphy is also concerned that this will have a long-lasting impact on current residents. "What most people don't understand is that all this growth doesn't make the city any money. On the contrary, the city has to subsidize all this growth. The development fees collected by the city only cover a small fraction, about 10%, of the actual costs of servicing the infrastructure for development and the population growth it brings. The massive development that has been completed over that last few decades has served to increase property taxes and the city's debt," she writes.
While some growth in any city is inevitable, Murphy and other critics are trying to open up the discussion about how and what to build. "There are many options as to how growth is implemented. There are choices to be made. A concrete jungle of energy-hog glass towers with ugly and expensive monster houses is not inevitable. We can do better."
Read more: How Vancouver's unaffordable real estate market could seriously impact the future of this city.

What does the * mean?
Affiliate (monetized) links can sometimes result in a payment to MoneySense (owned by Ratehub Inc.), which helps our website stay free to our users. If a link has an asterisk (*) or is labelled as "Featured," it is an affiliate link. If a link is labelled as "Sponsored," it is a paid placement, which may or may not have an affiliate link. Our editorial content will never be influenced by these links. We are committed to looking at all available products in the market. Where a product ranks in our article, and whether or not it's included in the first place, is never driven by compensation. For more details, read our MoneySense Monetization policy.