Today's the day. Donald Trump's inauguration day. The day Mr. Trump becomes the 45th President of the United States. It's also the perfect day to examine American interest in Canadian real estate property.
According to data released today by Royal LePage, a national real estate services provider, there's been a surge in the number of Americans researching Canadian real estate markets. In fact, American web traffic on royallepage.ca, the company's consumer real estate portal, has been highly correlated to recent U.S. political events. Turns out, U.S.-originated sessions have climbed 210.1% year-over-year the week after Donald Trump's victory was announced in November—and surged 329.0% the day following the U.S. Presidential election results were announced.
Read more: Impact of Trump's win on Canada's real estate »
Where in Canada do Americans want to move?
Ontario: The province led the country as the top-researched destination by Americans on royallepage.ca in the fourth quarter of 2016, with 41.4% of U.S. regional page views directed to the province.
The most desirable location in this province, according to 62.5% of real estate advisors, is the Greater Toronto Area, while just over two-thirds (67.2%) pointed to the GTA as the region in which Americans purchased the most property over the same period of time.
Looking ahead, 38.4% of survey respondents from Ontario expect U.S. inquiries into Canadian real estate to increase following today's Trump inauguration.
British Columbia: In the fourth quarter of 2016, B.C. accounted for 17.4% of U.S. regional page views, while also showing a 62.9% increase year-over-year. However, it was Victoria, not Vancouver and the Lower Mainland that garnered the most attention among B.C. cities from prospective U.S. home-buyers. According to 32.1% of Royal LePage realtors, Victoria is the preferred location, while 25% of Royal LePage realtors cited Greater Vancouver as the top region of interest among American home-buyers considering a real estate purchase in B.C.
Looking ahead to 2017, 43.6% of B.C. respondents anticipate American inquiries into Canadian real estate will increase after Donald Trump takes office.
Quebec: U.S. traffic to Royal LePage's Quebec listings accounted for 13.9% of the total website sessions logged across provinces in the fourth quarter of 2016, and showed a 17.6% increase in U.S. page views, year-over-year. Meanwhile, the survey found that 40.0% of Quebec respondents named the Greater Montreal Area as the main market in Quebec that Americans considered for a potential property purchase, although Mont-Tremblant and Quebec City were also favoured.
Going into 2017, 52.2% of Quebec Royal LePage realtors expect an increase in U.S. inquiries.
Read more: Best Deals in Real Estate 2016 »
Atlantic Provinces: Despite accounting for a smaller percentage of U.S. website traffic provincially (7.4% in Nova Scotia; 5.7% in New Brunswick; 2.3% in Prince Edward Island; and 2.1% in Newfoundland and Labrador), Atlantic Canada saw the highest percentage of sales inquiries from Americans since October 2016.
In fact, during the fourth quarter, Royal LePage's data showed a year-over-year increase in U.S. website sessions of 180.4%, 125.5%, 53.4% and 41.7% for New Brunswick, Nova Scotia, Prince Edward Island and Newfoundland and Labrador, respectively. The favourite spot is Halifax, with more than half of all inquiries and sales of property to U.S. citizens occurring in this city.
Moving forward, almost half (48.1%) of the Royal LePage realtors surveyed expect inquiries to increase after Trump assumes power.
Alberta: Provinces affected by recent economic downturns saw minimal interest from American buyers, with U.S website sessions for Alberta accounting for only 7.6% of traffic, while Manitoba got only 1.6% of U.S. website sessions and Saskatchewan only 0.5%.
Those that did show interest in the Prairie provinces preferred Calgary (54.6%), Winnipeg (50%), Edmonton (27.3%), Saskatoon (20.0%) and rural Saskatchewan (15.0%).
However, all Royal Lepage realtors working in this region were clear: They have not sold a home to an American since October 2016.
As a result, less than third of realtors in the Prairie provinces believe there will be increased interest from American buyers in the region once Trump takes office.
Read more: MoneySense Guide for new Canadians »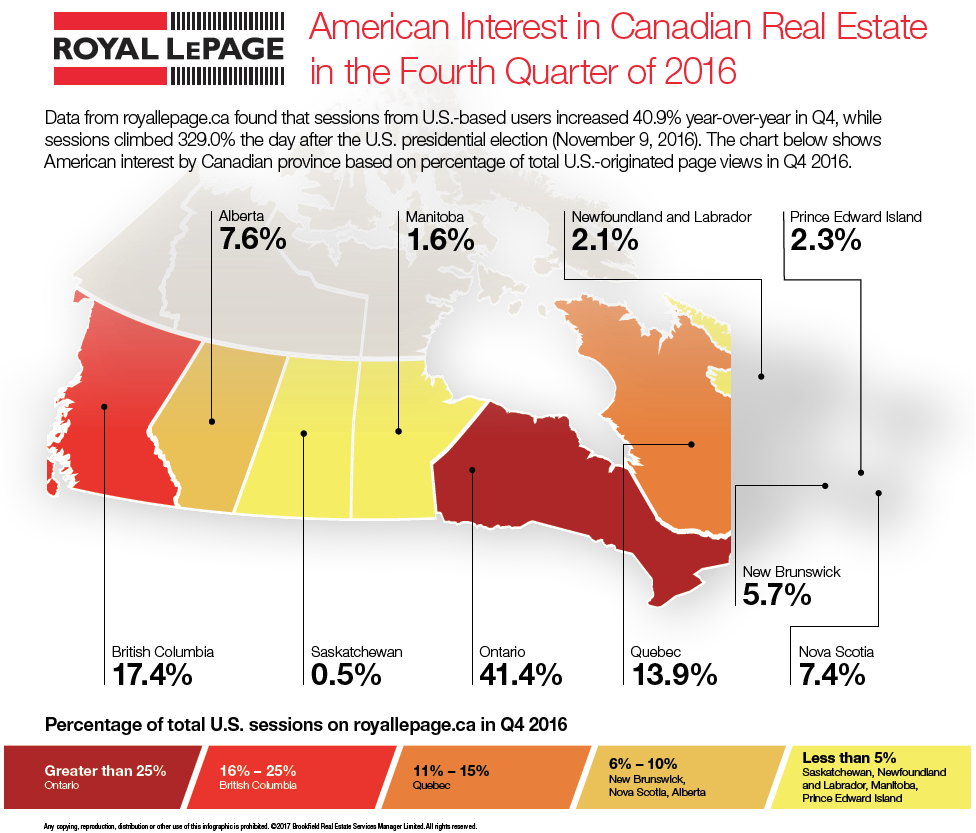 Phil Soper, president and and chief executive officer at Royal LePage wasn't surprised by the results. "Canada has always been a desirable destination for migrants," said Soper, in a released statement. "The United States was already a top source for immigration into Canada, and now in the period following the recent U.S. election, we are witnessing a material bump in American interest in Canadian real estate."
Soper added that U.S. interest in Canadian real estate isn't a new phenomenon. "From Whistler to Muskoka; to Tremblant and Nova Scotia's south shore, Americans have traditionally been the largest foreign cohort of recreational property purchasers in Canada. With our country's ever-growing global reputation as a financially sound, happy and culturally tolerant place to raise a family, it is not surprising that interest has moved from a place to play, to a potential place to live and work."
Will we feel the impact of increased U.S. interest?
"Given America's vast population, even a fractional increase in the number of households following through on this initial interest and successfully completing the demanding process of emigrating to Canada could drive a material increase in the number of home-buyers from south of the border," concluded Soper.
Combine the high value of the U.S. dollar to the increased quote of new Canadians, should the federal government increase the quota of new Canadians, and we may feel upward demand pressure on Canadian housing stock.
Read more: Best Places to Live 2016 »
Survey Methodology Royal LePage polled 1,226 real estate advisors across Canada between January 12-17, 2017. Each respondent was asked to complete a survey composed of questions regarding their region of expertise and observations and beliefs pertaining to U.S. interest in Canadian real estate since the 2016 Presidential Election.
Ask your property or real estate question here »
---
Read more from Romana King at Home Owner on Facebook »