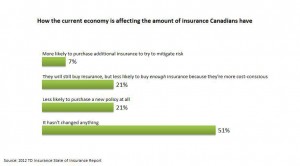 Roughly 42% of Canadians are less likely to purchase a new policy or buy enough insurance in an effort to save money while 21% of Canadians have cancelled or forgone insurance altogether in tough times, according to the latest TD Insurance State of Insurance Report. Below is a snapshot of the bank's findings (click the image to enlarge). We here at MoneySense believe you should buy just enough insurance to maintain your existing standard of living in the case of an unlikely event that would seriously strain your finances. Sounds simple enough but it's easier said than done. For more, read our Guide to Insurance.
Resale home prices in Canada hit a second consecutive all-time high in May though the annual price growth is starting to slow, according to the Teranet-National Bank Composite House Price Index. Overall, prices climbed 1.1% in the month.
By now it's old news that Facebook's IPO was a bit of a flop. The stock fell sharply in the weeks following, going as low as $25.52. But it's making a bit of a comeback in recent weeks.