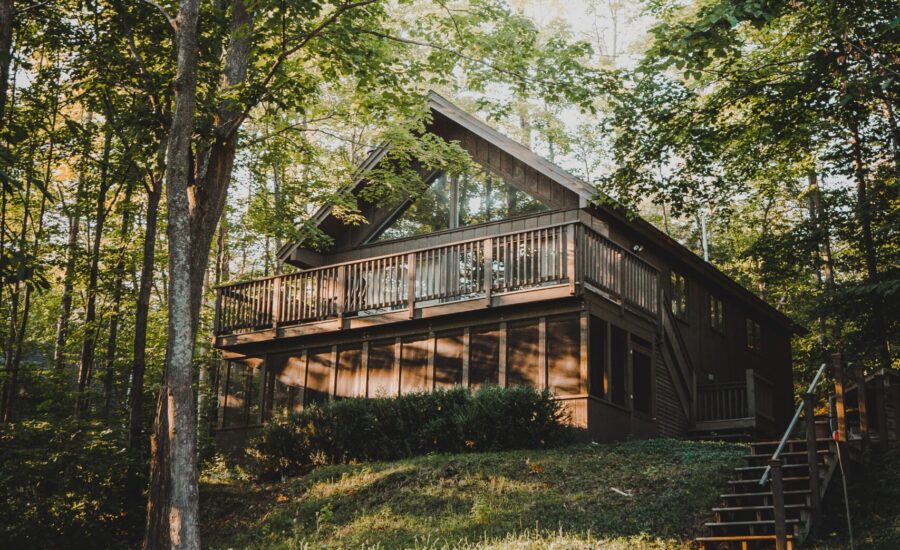 Air travel? Out. March Break? Likely a bust. Summer camp? Who knows. What are pandemic-weary Canadians to do for a getaway? For some, the answer has been to buy a vacation home. It's the ultimate in socially-distanced R&R, with the convenient option (when lockdown orders permit) to work from your second home.
You're 2 minutes away from getting the best mortgage rates in Canada
Answer a few quick questions to get a personalized rate quote*
You will be leaving MoneySense. Just close the tab to return.
"When the pandemic hit, we scrambled to find some rentals for the summer," Torontonian Bryan Blake recalls. The financial executive and his partner had been looking for a cottage they could escape to with their two kids, ages 9 and 11, but they hadn't expected to purchase one in time for the summer of 2020. 
"When we were at one of the rentals in Halliburton [about three hours northeast of Toronto], we saw a listing that looked perfect. We went to see it with our realtor and it was amazing. There were several offers, so we made a strong offer with a letter to the owner. Our offer was accepted on July 4th and we closed on July 24th. It happened so fast," he recalls.
With sales driven both by work-from-home employees searching for a primary residence in a bucolic location where their dollars go farther than they would in a big city, and vacation-home buyers snapping up off-grid cabins to luxury chalets, it's been busy out there in the woods. 
And increasingly expensive, too, according to the Canadian Real Estate Association's latest statistics. For the month of November, year-over-year price increases range from 5% to 25% in recreational property hotspots like BC's Okanagan and Fraser Valleys, and Ontario's Huron-Perth, Barrie, and Simcoe & District. 
"[Some] buyers who were shopping for vacation homes pre-COVID are still shopping for them," says Colton Rice, a Zoocasa real estate broker based out of Toronto and Fenelon Falls, a popular cottage town two hours outside of the big smoke. "Some fear they've missed their opportunity with the added competition from locals looking to trade, up or relocators who won't be returning to the office. The pressure is heating up, particularly for those who want waterfront views." 
Aspiring cottage buyers needn't panic, though. "Whatever your vision is for a vacation home, there's something out there—even if some properties might require a little TLC, elbow grease [or a longer drive]," says Rice.
Where to buy a vacation home in 2021
"My advice is to put the brakes on vacation homes outside of Canada for now. Think locally, think practically – most people aren't jumping on planes or jet-setting around the globe," Rice cautions.
The logistical challenges of international travel are amplified when it comes to navigating foreign real estate purchases. Are you willing to buy a home based on a virtual tour? Do you feel comfortable entrusting the legalities to a team you've never met in real life? Do you have enough cash to spend on your property's local and Canadian taxes? Especially if you plan to rent out your foreign property when you aren't using it, you could end up owing significant amounts of tax annually. The CRA will come calling, as well, when you decide to sell your vacation home. 
And if listing the property on a vacation rental platform was part of your funding strategy, finding renters may be a challenge while the pandemic rages on. Even with a couple of Coronavirus vaccines now being rolled out, many travel industry experts don't see a return to mass international travel until 2023.
With so many barriers to buying in foreign shores, prices have risen in many of Canada's recreational playgrounds but they are still within reach. "Compared to major urban centres, vacation homes remain affordable on a price per square foot basis," says Rice. During August 2020, the price per square foot in Vancouver, for instance, averaged $816, while in Kelowna, BC it was $280.
Blake and his partner were aware the pandemic had spurred price increases in Haliburton, Ont. when they recently purchased their cottage. They also knew they needed to be aggressive given the region's low property turnover, four-season appeal and multiple access routes from Toronto. "We offered over list price by 8-9% with no conditions, knowing that we were in a multiple offer situation," he says about their successful strategy. 
The good news for budget-wise buyers is that there's a strong demand for travel in our own backyard. According to a recent Expedia survey of 1,000 adults across Canada, 29% took a local road trip this year, with 29% planning one for the future. For Canadians seeking to offset the costs of purchasing and maintaining a vacation home, short-term rentals may be worth exploring, albeit cautiously. 
Rice says this year saw a bump in these rentals but notes that real estate is ultimately a long-term and strategic commitment. "It's important that buyers consider their full financial picture and make a decision based on their ability to afford carrying the property, in the absence of this income." In other words, consider VRBO fees as a bonus in case the short-term rental market is limited by future pandemic restrictions or local housing and zoning bylaws. And note, that extra rent money has to be declared as income which may push you into a more expensive tax bracket. 
Better yet, budget for what you can afford without the stress of renting or paying extra to the CRA. River frontage usually costs less than lakefront and no water frontage costs least of all. Buying closer to a town will cost you more than heading into the wilderness and fixer-uppers offer great value for DIYers ready to tackle their own home improvements. 
To help carry the cost of your new escape, you can also redirect your yearly vacation budget (which most Canadians have banked during the pandemic). Annual spending on an international getaway for a family of four costs on average $1,730 per person, not including flights. Once you factor in transportation, the final bill can tally up to and over $10,000. This welcome chunk of money can contribute to the cost of your mortgage, property taxes, maintenance and utilities for a vacation home. 
When it comes to selling your second property in the future, unfortunately there's no crystal balling in the COVID era. "The reality is that nobody knows the future of the market, or how market conditions will evolve, particularly given that the pandemic is largely unprecedented," says Rice. "In today's market, vacation homes that require travel by plane and that are not bolstered by local tourism demand will be hardest to sell. Otherwise, properties that are filling a travel gap for locals are likely to continue to remain popular." 
Want to invest in an emerging hotspot before it booms? Well, that's the Holy Grail of any real estate play. With that in mind, read on for the hot spots to watch.
Cross-Canada tipsheet: Where to find the best vacation-home values
A run on cottage-country destinations has sent prices surging, but there are still deals to be found on a dreamy second home. 
Kimberley, BC
Young families have been flocking to this four-season destination in the Kootenay Rockies, where a single-family detached home can be found for under $500,000, and condos for under $250,000.
Mont Tremblant, Quebec
This ski capital has plenty to do during the green season. Prestige properties in the Village jumped 37% year-over-year between 2018 and 2019, but it's possible to find homes in nearby Saint-Jovite at the $250,000 mark.
The Kawarthas, Ontario
"The Kawarthas offer a sprawling connection of lakes and rivers, giving you a unique opportunity to find your spot," says Zoocasa's Colton Rice. He recommends exploring Lindsay ("a 'big' small city feel,"), Bobcaygeon/Sturgeon Lake ("a ton of new construction, a great retirement community,") and Fenelon Falls/Cameron Lake ("growing with new businesses coming to the main strip,"). Single-family detached homes range from about $250,000 to $550,000.
RELATED STORIES:
What does the * mean?
If a link has an asterisk (*) at the end of it, that means it's an affiliate link and can sometimes result in a payment to MoneySense (owned by Ratehub Inc.) which helps our website stay free to our users. It's important to note that our editorial content will never be impacted by these links. We are committed to looking at all available products in the market, and where a product ranks in our article or whether or not it's included in the first place is never driven by compensation. For more details read our MoneySense Monetization policy.