•Property values in Canada's real estate hotbeds of Toronto and Vancouver are likely overvalued by as much as 15%, TD Economics said in a new report. Toronto's condo market is of particular concern as supply increases faster than projected demand, according to the bank. Here's a look at recent price movements in the two cities: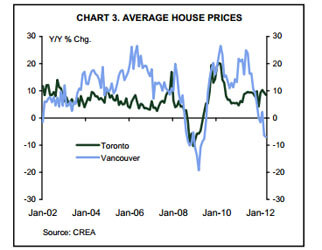 •Summer hiring intentions are the lowest they've been in two years and that's not good for students looking for work. The Manpower Employment Outlook Survey found 23% of employers surveyed plan to increase their payrolls during the July-September quarter, while 5% anticipate cutbacks.
•Employer-sponsored pension funds were worth more than $1.1 trillion at the end of December, a 3.4% increase for the quarter and up 4.6% on the year, StatsCan said Tuesday. That's compared to double-digit gains in each of the last two years. Funds were invested mostly in bonds, stocks as well as smaller amounts in mortgages, real estate and other assets.