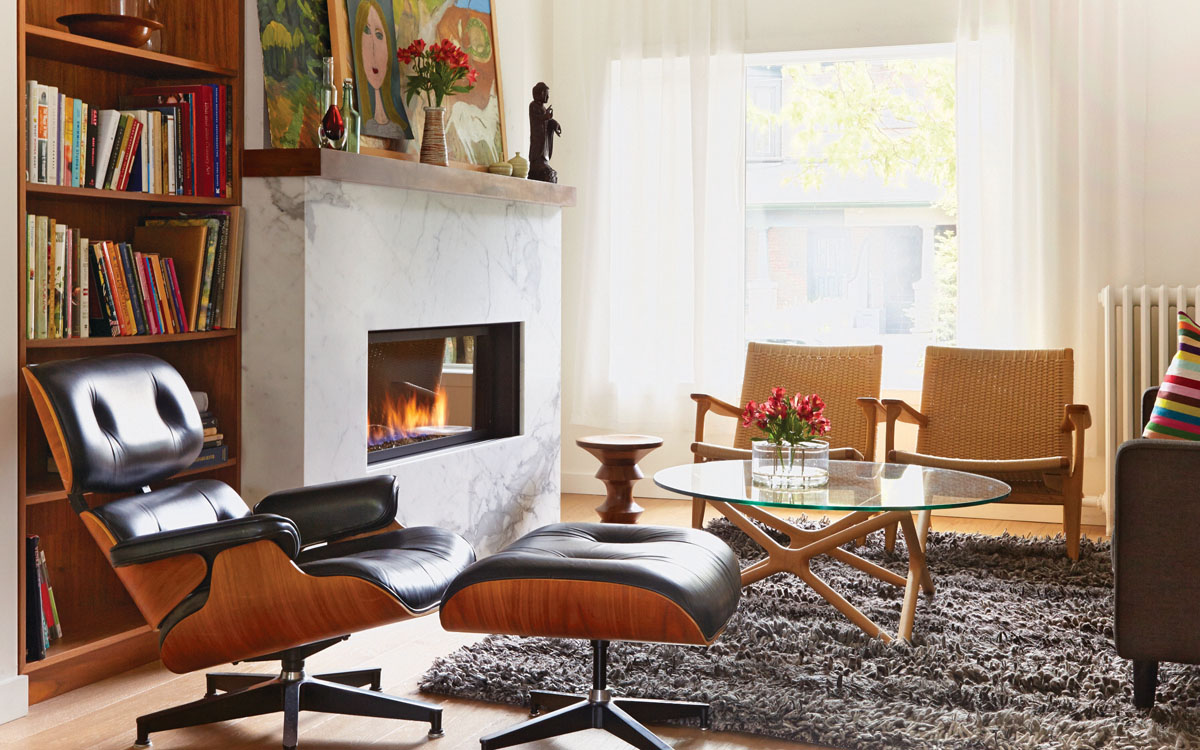 Want a shockingly inexpensive way to update your home and earn a 66% return on the investment? Swap out dated living room decor. New light switches, outlet covers, floor registers, drapes and accessories—at an average cost of less than $1,500, according to HGTV—really helps in a remodel. Remember: Details add dollars when it comes to upgrades.
Flooring
Nothing says dated more than a home without hardwood. But is it worth it to upgrade your floors? According to data collected by USA Today, 54% of home buyers would pay more for a home if it had hardwood. It's easy to clean and maintain, adds warmth to any room and can be refinished multiple times, which increases the overall life and value of the flooring. But not all hardwood is created equal. High-end planks offer hand-scraped or rare-wood species, but this can really push your budget up. Consider, instead, more common selections, such as red oak. Unfinished starts at $1.40/sq. ft. at lumber or flooring stores, while finished starts at $3.20/sq. ft. and goes up (add another $2 to $5/sq. ft. for installation).
To maximize the value of your new floor stay away from engineered hardwood. This product has been marketed as an easy DIY alternative, but because they are constructed from thin, glued-together layers of wood products, topped with a veneer of real wood, your newly installed engineered hardwood floor may not stand up to sanding and re-staining, which shortens the lifespan—and value—of the floor. Instead, those on a tight budget should consider repainting or refinishing old hardwood. Opt for a rich brown shade or a trendy gray stain for a more updated look or paint over really old hardwood with enamel paint.
Pro tip: Unfinished hardwood is cheaper and allows you to pick a stain that matches other facets in the house—just make sure the labour costs include this part of the job. Also, plan to stay out of the home for a few days to allow the stain to off-gas
Trim & Casings
"Update your crown mouldings if you want an immediate impact on the look and the resale value of your home," explains Vancouver-based general contractor, Mark Pervan. The key is to match the size of the moulding to the height of the room. For a standard eight-foot ceiling go with four-inch crown, says Pervan. Higher or cathedral ceilings should have larger mouldings and lower ceilings and should get no more than 3-inch crowns. Painted trim is always cheaper than stained trim, as stains require the use of premium hardwoods, rather than cheaper trim products, like MDF or pine mouldings. Regardless of what product you choose, expect to pay $2 to $6 per linear foot for installation.
Pro tip: Most people end up painting trim. If this is your plan and you don't live in a high-end home, save money by opting for MDF or pine. It's a cheaper material but it's much more forgiving and is a great painted option
[Splurge! ] Windows
If a wall of windows appeals to you then expect to pay at least $700 per linear foot, depending on your design and finishes. A five-door plus three-window retractable system will set you back $29,500
Top basement & garage upgrades »