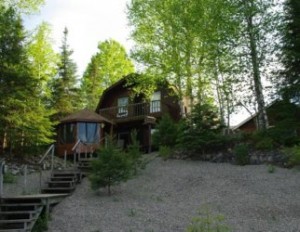 Location: From 20 minutes to two hours away from Thunder Bay by car | Price for a waterfront cottage: $75,000 to $400,000
This region of more than 20 lakes offers cottagers several options. You can look for a cottage on the northern shores of Lake Superior (the world's largest lake, but unfortunately too cold for swimming), or you can look for a property on one of the numerous inland lakes in the area, which have warmer waters and shallower bays.
Consider starting your search along the shores of Shebandowan Lake, Lac des Mille Lacs, or Whitefish Lake for some affordable bargains. A recent listing offered a five-acre lot containing two small cottages on the shores of Lac des Mille Lacs for only $190,000.
"It's a wilderness paradise out here," says Art Lannon, owner of Royal LePage Lannon Realty in Thunder Bay. "We're on the edge of daylight savings time and it may surprise first-time cottagers to know that we have daylight from 6 a.m. to 11 pm every day during the summer months." That's good news for cottage-goers who like to get the most out of their summer.
In general, the prices in the area are "mainly holding steady" right now, says Wil Salo, a broker/manager at Team 100 Realty in Thunder Bay, "although in some of the smaller communities, prices are down."