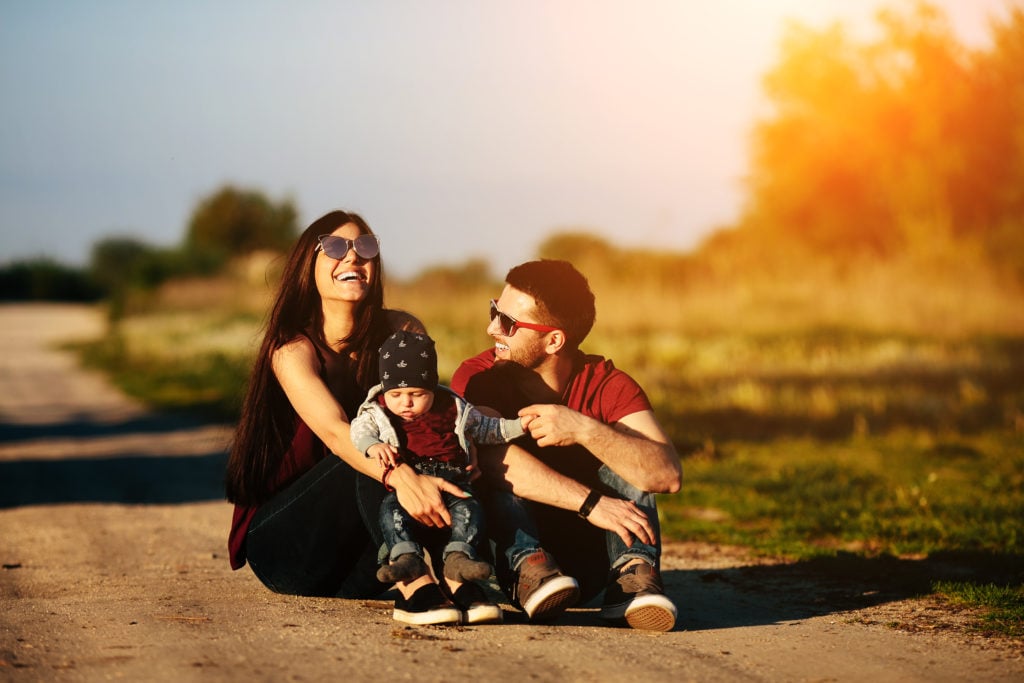 Our journey of a thousand miles began with one step: getting rid of our car. My wife, Jen, and I have been car-free since 2017 and, with a little planning, that life change has taken us a long way.
By switching jobs and changing her commute so she didn't need to drive to her office, Jen has easily gotten seven hours a week of her time back. That's almost a full day at work, or approximately $1,400 a month worth of her time. Add to that the monthly costs of owning and operating a vehicle—the car itself (Jen's was gifted to her, but many Canadians have a monthly lease or loan payment that easily tops $500), gas ($240), insurance ($125), maintenance ($150—Jen's car was an old car and had its problems)—that's another $515 a month we were saving.
We used to drive from our home in Toronto to visit Jen's family in Ottawa, but now, instead of slogging four-plus hours behind the wheel, we either fly ($250 each round-trip on average, and a couple of times we have booked our flights on sale for just over $200) or take the train ($80 each round-trip when we plan ahead, $150 on average and sometimes $200-plus around holidays), depending on the costs. One thing we are good at is planning our trips well in advance, so even for holidays like Easter, we often get our tickets for a decent price. Driving to Ottawa is certainly cheaper from a pure cost perspective ($100 round-trip in gas), but when you factor in your time, convenience and comfort, not to mention wear and tear on your already depreciating vehicle, I think you'll find driving quickly adds up.  
On a plane, we just get there so much faster. On the train, we can go to the washroom when we want, we had access to food if we are hungry, and we could sleep if we are tired. Jen usually read and napped, I took advantage of the wifi and usually caught up with work. Sometimes the train is delayed, but not by much, and because we're doing other things than drive, it matters less, anyway.
Aside from our trips within Ontario, we have managed to travel abroad several times as well, which we definitely wouldn't have been able to afford as often if we were still paying for a car. We've visited my family in Malta, and built in time to explore Amsterdam on our layover; we honeymooned in Kenya, where we enjoyed the luxury of a tour guide driving us around the dusty roads and through the nature reserves; we took short-haul flights through Greece, making our way from the north to the south, and ending our travel with four days sauntering through Santorini; and we even visited the United States a few times to take in the Manchester-Liverpool game in Michigan, to visit my brother and his wife in California, and to celebrate my father-in-law's 60th in Boston.
Friends and colleagues have asked us how we manage without a car, and truthfully, it's been pretty easy, even for a young couple who loves to socialize, make the most of living in the city, and get away on weekends to explore.
At the time we made the decision to get rid of our car, I worked downtown in a busy neighbourhood at King and Spadina, so my commute consisted of a streetcar ride south and then a brisk walk across King to the office—just over 20 minutes door-to-door. Jen's commute started at the subway station near our house; her office is a quick three stops east, followed by a one-block walk, for a total of 15 minutes.
For groceries, one of us would stop by the store on our way home and pick up whatever we need. When there was somewhere we had to go that wasn't within walking distance or accessible by transit, we rode a Lyft or Uber (we consult both apps each time and pick the cheapest fare). For other weekend trips, like going to Niagara Falls, Prince Edward County and visiting friends' cottages, we rented a car.
Life without wheels sure kept on moving for us. But then something changed on January 24, 2019, that could have driven us to reverse our decision: Our baby boy, Benjamin, was born.
Having a baby means more frequent visits to family, and something as simple as grocery shopping is now a juggling act—timing is everything, so we plan our grocery runs to coincide with Ben's naptime, about an hour after he eats. This decreases the chances of having a crying baby in the grocery store, which increases our chances of being able to get around quickly and pick up everything we need. When either of us shops alone with Ben it isn't possible to use a cart, so we stuff the groceries right into the stroller, only to take them back out at the cashier and reload them again after checkout. This also means we are limited to how many groceries we can carry at once, so we need to shop a little more regularly. For all these reasons, we favour local grocery stores that are within walking distance.
Benjamin is now just over three months old and he likes attention. He is going through a phase where if you aren't holding him, you need to be talking to him or at least looking at him—or he may remind you about it. Jen or I sometimes use the carrier for shorter trips, but for the most part we put him in his stroller. He fusses initially, but usually settles down once we start moving. And if he doesn't settle down, we can at least respond to him—something we couldn't easily manage if he were in his rear-facing infant seat. In his stroller, Benjamin usually falls asleep and stays asleep until we get home. In a car, his sleep would be interrupted each time we had to take him out or put him back in his car seat.   
That being said, for Christmas we bought both our parents a car-seat base, which fits our multi-purpose seat that also attaches to our stroller. We have a car-seat base ourselves that we use when we rent a vehicle for whatever reason, and those reasons have been few and far between. For the most part, we still just walk and take transit.
Now that we have a baby, the convenience of a plane or train certainly beats the automobile. Last month we took Benjamin on his first train trip to Ottawa to meet his extended family, and we were nervous about how he would act. It's one thing for him to be screaming at home with us, but there were other people that we were mindful of. Ben got fussy about an hour and a half into the trip, but it was because he was hungry and so Jen fed him (something she wouldn't have been able to do in a moving car!). Then he got fussy again a little later, but that was because he had a dirty diaper, so I took him to the washroom and changed him. Then, he started to get fussy once more, but he was tired, so I got comfortable and he slept on me. In a car, the trip would easily have taken an hour longer, if not more, with all the stops we would have had to make in order to respond to our baby's needs.
I am convinced that we still don't need a car, that we could survive without one, but that's easy for me to say—I don't like driving and I'm not the one lugging a child around with me during the day. It is entirely Jen's decision. We could afford one financially, but so far she has agreed to put the brakes on the idea.
If we end up having a second child, it may drive us to rethink our position on being carless, but for now, we are not only surviving, but thriving. Financially, we do not have to deal with car payments, insurance and gas. Mentally, we do not have to deal with traffic or looking for parking.
The money we have saved from not having a car has enabled us to travel better, not just within Canada, but abroad as well. It has freed us instead of limiting us. In fact, we've planned our next trip to Portugal at the end of September.
Getting rid of the car was our first step, and we have travelled more than a 1,000 miles already because of that decision. As long as life continues on this path, we have many more miles to travel—and we can just relax and enjoy the ride.
---
Compare the Best Savings Accounts in Canada* >
---
What does the * mean?
If a link has an asterisk (*) at the end of it, that means it's an affiliate link and can sometimes result in a payment to MoneySense (owned by Ratehub Inc.) which helps our website stay free to our users. It's important to note that our editorial content will never be impacted by these links. We are committed to looking at all available products in the market, and where a product ranks in our article or whether or not it's included in the first place is never driven by compensation. For more details read our MoneySense Monetization policy.