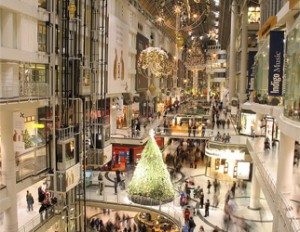 Black Friday—the day after American Thanksgiving and single busiest shopping day of the year in U.S.—may have finally become ubiquitous in Canada but don't expect the kind of bargain hunting hysteria seen south of the border.
Just 9% of Canadians are planning a Black Friday or Cyber Monday purchase this year, a recent survey for CIBC has found. (Cyber Monday, the Monday following the Black Friday, is known for its steep web-only discounts.)
Peter Mintsopoulos, a Scarborough, Ont. courier, is a seasoned Black Friday shopper and border-hopper. Last year, he and his wife saved $325 on baby stroller at Toy'R'Us in Columbus, OH. This year he's driving the family down again to visit relatives and to pick up a vacuum, and maybe a tablet computer.
"Prices are typically cheaper in the states compared to Canada but it's more so on that day. It's the biggest shopping day of the year," Mintsopoulos said.
He's done his research and says Black Friday deals in this country pale in comparison.
"They are trying to capitalize on the U.S. Black Friday but I find Canadian deals are better the two weeks before Christmas and Boxing Day. I don't find any real deals here on Black Friday. Maybe it's just starting now but it's never really been promoted like it is in the States, not even close."
Canadian retailers are very much aware of Black Friday but they also know it's a regular work day here.
In an effort accommodate work schedules, a number of Canadian shopping centres are extending their hours to attract early bird and night owl bargain hunters. Kildonan Place in Winnipeg for instance is opening at 7 a.m. while Bramalea City Centre in Brampton, Ont. will stay open until midnight.
Individual retailers are also offering Black Friday specials but don't expect the door crashers seen stateside.
A message on Best Buy Canada's Black Friday forum says, "As a general rule, Best Buy never matches any prices from across the border, but has, for the last few years, run a Black Friday sale of its own."
Despite the price gap, people like Mintsopoulos are in the minority.
In its annual holiday outlook, research and accounting firm Deloitte suggests cross-border shopping levels by Canadians may have peaked.
Roughly 30% of respondents to the survey plan to cross-border shop this season, it says and a full 40% of them they will continue to decrease their shopping trips to the U.S. as American retailers continue to open more Canadian locations.
There's only a "nominal" interest in cross-border shopping this year despite the government's move to quadruple personal duty exemptions for weekend travellers, according to Brent Houlden, Deloitte's Canadian retail practice leader.
If you, like Mintsopoulos, are planning to visit to the U.S. this weekend be sure to factor in the cost of gas, food and drink, accommodations, duties and exchange rates.
The loonie is roughly at par with the U.S. greenback but credit card companies don't always apply favourable conversion rates and your bank may apply an additional foreign transaction fee.
A typical bank foreign transaction fee is an additional 2.5% on top of the currency conversion rate. As of Monday, a USD$50 purchase on typical Canadian Visa card with a 2.5% bank fee will cost you CDN$51.55. A number of new rewards credit cards however are scrapping the fees. Additional fees can also apply to debit cards so read the fine print carefully on your bank's website.
Of course if cross-border shopping and mall crowds aren't your thing, you could always sit tight and wait for Cyber Monday deals instead.
Photo Gallery: How to shop Cyber Monday and not get caught