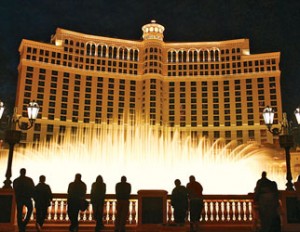 Twinkling like a neon mirage in Nevada's yucca-studded desert, Las Vegas was created as a naughty adult playground. But the sprawling, casino-packed metropolis isn't just about Sin City shenanigans: there's a full buffet of non-gambling action here, plus a cavalcade of freebie activities longer than a chorus line of lip-curling Elvis impersonators.
And with steep discounts aimed at belt-tightening Americans, there's never been a better time to cash in your Canadian chips for a fleece-free winter jaunt.
A little card counting is required to ensure you don't lose your shirt, though. At time of writing, one-stop mid-February Toronto flights were $435 return (taxes included) on Expedia.ca and Travelocity.ca, with pricier direct services also available. But rather than rolling the dice on a deal, consider a bargain package: Flight Centre was also offering Sunwing hops, including four-night hotel stays, from $504, at the beginning of February.
Booking your own sleepover, you'll find plenty of eye-popping deals—especially on weekdays. Aim for the mid-Strip area—the city's shimmering main thoroughfare—and connect to a variety of hotel Twitter and Facebook accounts for sale rates as low as $19 a night. Cross-reference with Hotels.ca and Travelworm.com to make sure you stay within your accommodation budget.
If you're more cost-conscious, consider the faded Circus Circus or the Riviera (both from $40). Step up with Luxor ($90) or the boutique Platinum Hotel ($90), where rooms include budget-stretching kitchens. And for a high-rolling suite try The Hotel ($170) or Encore ($440), but call first to strike a deal. Note: there's a 12% hotel tax, and some hotels charge a daily resort fee.
On arrival at McCarran International, splurge up to $20 for a Strip-bound cab or hop on a $7 Bell Trans shuttle bus—their booth is outside door nine at the airport. And while it's not worth renting a car to get around, it's also best to avoid the overpriced and limited monorail in favour of the Deuce double-deckers that trundle to downtown's Fremont Street area (two-hour pass $3/24-hour pass $7).
When it's time to eat, buffets are as ubiquitous as losing streaks, and lunches are the best value. Le Village Buffet at Paris Las Vegas ($15/$25) is justifiably popular. Seafood fans should hit the Bellagio ($20/$28). And if you haven't eaten for a month, try an all-access 24- or 48-hour buffet pass offered by some hotels ($30-$50). For a less face-stuffing approach, pop to the patio at Border Grill for margaritas and authentic Mexican nosh.
If you've blown your budget on the slots, you'll still be able to enjoy the rest of your Vegas stay. Freebie spectacles abound, including the stirring Bellagio fountain show; Mirage's kitschy volcano display; MGM Grand's two-cat lion enclosure; the Pinball Hall of Fame (where you can play 200+ games); and the 4,000-fish aquarium at Silverton. It's also worth paying $8.95 for the Imperial Palace's vintage auto collection, but check flyers and local publications for 2-for-1s to this and other attractions.
Consider a couple of good value tours, too. The $17 Bally's Backstage Tour peeks behind the curtains of the long-running Jubilee stage show, while $15 gets you a narrated wander around the Neon Museum, an outdoor "graveyard" of vintage Vegas signs. Also drop by the Atomic Testing Museum, illuminating the crater-making experimentation that shot mushroom clouds over the desert in the 1950s. Call ahead for info on the free bus tours to the old testing sites.
And before heading home, consider a show or three. Save on popular tickets—typically starting at $100—via official discounter Tix4tonight.com. But if you can't afford a Cirque or Céline extravaganza, check out the free Sirens of TI show at Treasure Island or tuck yourself into the lounge of Bill's Gamblin' Hall & Saloon for my favourite gratis show: a jumpsuit-wobbling one-hour singalong with Pete "Big Elvis" Vallee.
LAS VEGAS FOR LESS: Two sample budgets for two
7 days for $3,000
Return airfare (Toronto-Las Vegas, one stopover): $870 (United, via Expedia.ca)
Double-occupancy hotel room for 6 nights: $574 (Golden Nugget, via www.goldennugget.com)
Food & drink: $1,500
Transport: $42 (includes $14 for two 24-hour bus passes and $28 for four airport shuttle transfers)
7 days for $4,500
Return airfare (Toronto-Las Vegas): $1,428 (WestJet, via Expedia.ca)
Double-occupancy room for 6 nights: $875 (Platinum Hotel, via www.theplatinumhotel.com)
Food & drink: $1,900
Attractions & Transport: $102 (includes $28 for four 24-hour bus passes, $40 for two airport taxi transfers and$34 for two Bally's Backstage Tours)
Top value dining
Circus Buffet: (www.circuscircus.com)
Bellagio Buffet: (www.bellagio.com)
Border Grill: (www.bordergrill.com)
Top value sleepovers
Circus Circus: (www.circuscircus.com)
Riviera: (www.rivierahotel.com)
Luxor: (www.luxor.com)
Platinum Hotel: (www.theplatinumhotel.com)
Encore: (www.wynnlasvegas.com)
The Hotel: (www.mandalaybay.com/thehotel)