Starting today, all Canadian TV providers must offer low-price "skinny" basic cable packages, as mandated by the CRTC. Bare-bones packages must come with the option of topping up and enhancing with pick-and-pay channels.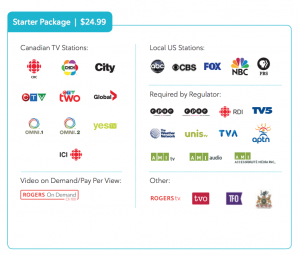 The Rogers basic package costs $25 and offers a basic suite of Canadian channels like City, CBC, CTV and Global, plus mandatory carriage channels like CPAC and a few major U.S. offerings including ABC and NBC. The package does not include any 24-hour news channels or specialty offerings for sports fans or movie buffs. Additional theme channel packs can be added to the standard package for anywhere between $3 to $18. Sports fans can snag the Sportsnet Plus or TSN Plus set of about eight channels for $18 each, while Canadian news junkies can pay $5 for CTV News, BNN and CP24.
4K vs. HD: Get more from your next TV »
Last week, Shaw introduced its $25 "Limited TV" package, offering about 38 channels. Shaw customers can add five more channels of your choosing to the package for an additional $15 per month. they will also offer theme packs: You can add a Sportsnet and TSN combo to its skinny basic programming for $14, or pay $8 for a collection of either. Movie and lifestyle channel packages cost $6 each.
Bell's "Starter" Fibe TV cable package starts at $24.95 and comes with 20 mandatory Canadian channels and no U.S. channels. You can pick individual channels to add to the package for $4 each.
Disclaimer: Rogers is a parent company of MoneySense 
This article was updated Mar. 1, 2016.