If you're planning a trip to a sunny destination, consider Los Cabos if you're not interested in a standard budget resort stay. Los Cabos really isn't a hidden gem anymore, but the city located on the southern end of Mexico's Baja California peninsula has more to offer than just sandy beaches, crystal clear waters and an excellent selection of resorts.
I recently had an opportunity to check out the adventurous side of Los Cabos and it didn't disappoint. The thrills that can be had vary from heart-pounding to surreal. If you're headed to Cabo, leave the resort and try at least one of these adventures.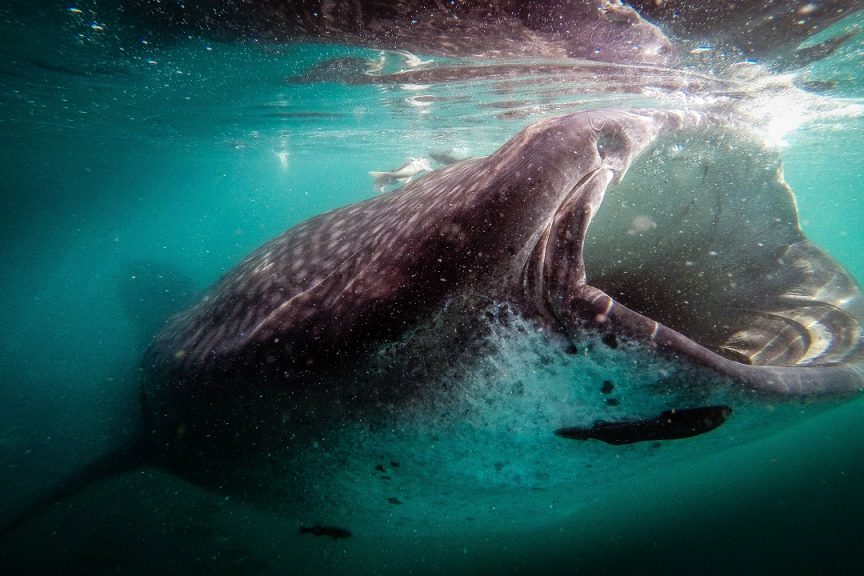 Swimming with whale sharks
Don't let the word "shark" scare you; whale sharks are the largest fish in the world and feed on plankton, not people. This experience is like no other and takes place in the Gulf of California just outside of La Paz which is a two hour drive from Los Cabos. Once you arrive, guides instruct you about the importance of respecting these animals in their natural habitat (whale sharks feed here from early winter until late spring). Some measures to take include no touching the animals and using environmentally safe sunscreen. At any given time, 150 whale sharks are feeding in the area, so it won't take long to find a few. Boats keep their distance, but once you're in the water, you'll be face-to-face with the gentle giants. Needless to say, this is an experience you won't soon forget.
Cost: Whale Shark Encounter costs US$199 for adults and US$129 for children via Cabo Adventures
Zip lining across a canyon
If you don't have a fear of heights, zip lining is the perfect activity. Wild Canyon has the longest zipline in Los Cabos where you'll pick up speeds of up to 65 km/h while flying across a line that runs 2,673 feet. Don't worry, before you make it to that final run, you'll build up your confidence on seven other lines (eight in total) during the experience. Safety is of the utmost importance with the steel cables supporting 16 tons of weight. Honestly, the most intimidating line is arguably the practice run since you're trying things for the first time. If you're going as a group, you can choose to go across some of the lines in tandem with up to four people. Remember, you'll be 300 feet off the ground so be sure to enjoy the views when you're zipping above the canyon.
Cost: Monster Ziplines costs US$110 via WildCanyon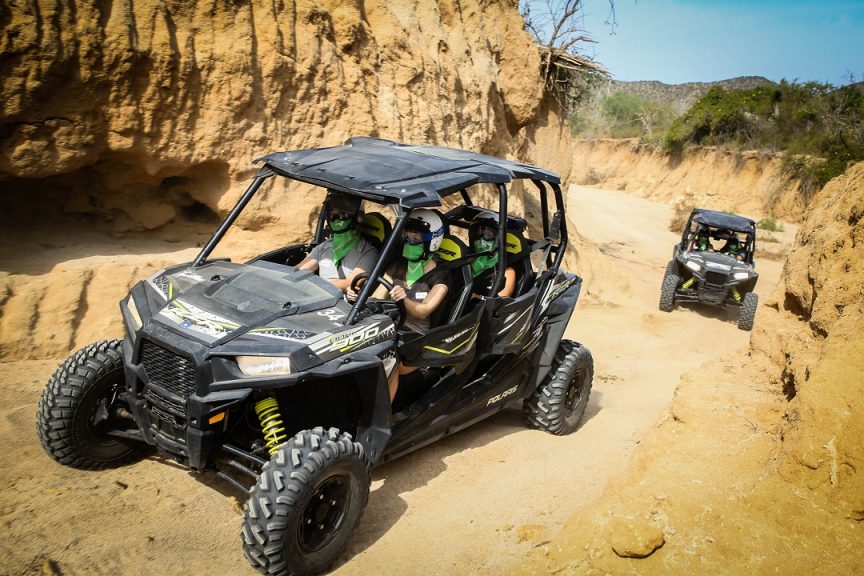 Off-roading in the outback
This outback adventure is guided, but there's plenty of room to pick up speeds up to 65 km/h. That may not sound very fast, but you'll be driving over canyon trails, mountains, and beaches in untouched areas of the Baja. As long as you have a driver's license, you can drive the Polaris UTV vehicles. The UTVs hold up to four people, but it's best to ask for your own so you can drive the entire time. Driving in pairs works too since you can switch drivers when you stop for a break. Safety equipment and a safety demonstration are provided before departure as well as snacks when you return.
Cost: Off-road adventure will cost you US$199 via Cabo Adventures
Snorkel & Sea Adventure
If you're looking for something a bit more budget friendly that will take you to Los Cabos' most famous site—the Arch of Cabos San Lucas—then book a snorkel & sea adventure. Besides the arch, this ocean expedition will take you to Lovers Beach which is only accessible by boat. Once you're in the water, you can choose to swim, paddle board, kayak, snorkel, or power snorkel while admiring the local landmarks and tropical sea life.
Cost: Snorkel & Sea Adventure will set you back US$85 via Cabo Adventures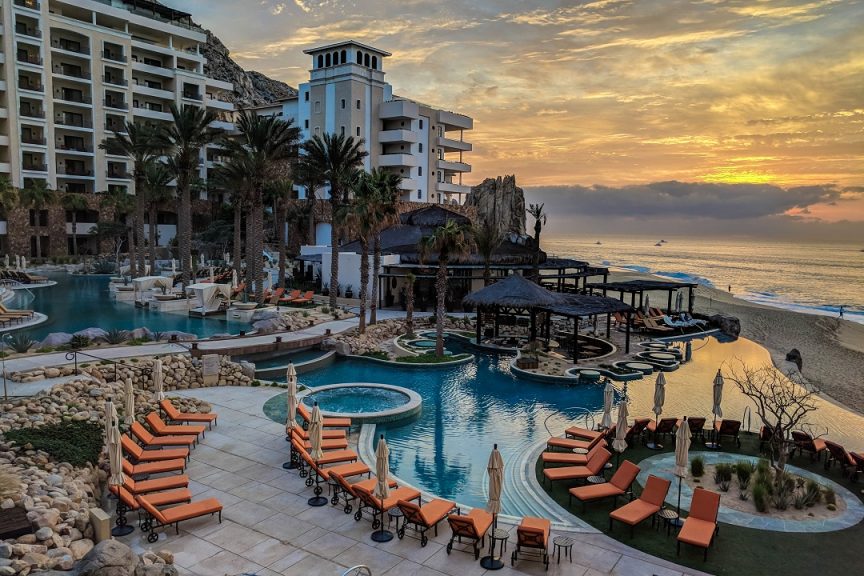 Trip logistics
How to get there: Direct seasonal flights are available from various Canadians cities via Air Canada Rouge, WestJet, and Sunwing. You can also reach San José del Cabo by taking a stopover through various U.S. cities. Direct flights range in price from CA$500 – $1200. If you're willing to take a stopover, prices drop to $400 – $800.
Where to stay: Los Cabos has two main hotel & resort areas offering accommodations at various price points. San José del Cabo is the older area with a downtown that's full of culture including many art galleries. Cabo San Lucas is newer and features great resorts including the Grand Solmar Land's End Resort & Spa, which is an oceanfront property that has eight pools (including a kiddy and multiple infinity pools), and four restaurants serving every cuisine possible. Rooms start at US$482 per night. For those on a budget, consider the Playa Grande Resort & Grand Spa where rooms start at US$200 per night.
Where to eat: Don Sanchez in San José del Cabo is run by Canadian Chef F. Tadd Chapman and serves locally sourced Mexican fusion food. The Belly and Suckers (pork and octopus) is like a piece of art on your plate and is a steal at US$13. The catch of day will set you back just $19 and features fresh seasonal vegetables to go with your perfectly cooked fish.
Barry Choi is a personal finance and budget travel expert at Moneywehave.com