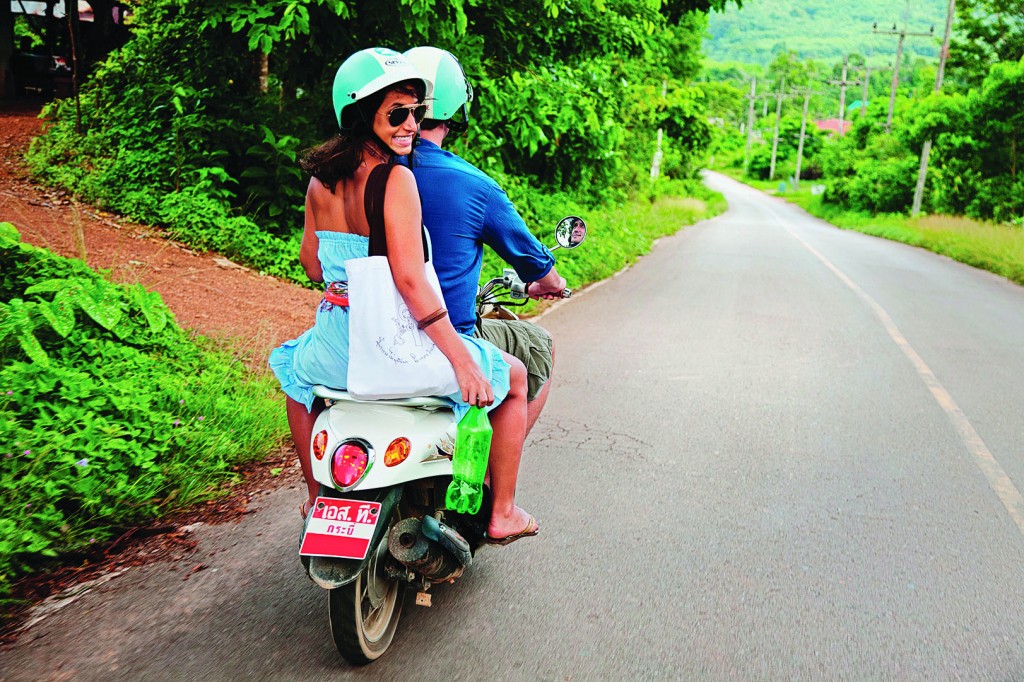 We were a group of nine, sitting on tiny stools to sip blue butterfly pea tea and eat spicy khoa soi noodles. We visited temples and floating markets, and shopped for cheap sarongs. But when we arrived at a homestay at a rural village in the northern rice fields, I knew I was in for a completely different experience.
A lot of discount tour operators are adding the option of staying with a family in their home while you're on vacation. It provides a uniquely authentic perspective on a place, as well as the rare opportunity to interact meaningfully with locals—even though it lacks the glamour of most hotel stays. I spent a night at a rustic homestay in rural China where I learned how to press fresh soybeans into milk, and slept 15 feet away from a giant pig—and loved every moment of my non-verbal communication with the family.
Even better: It's usually much cheaper than staying in a hotel. Homestays can typically be arranged either independently or by a tour company, and rural regions trying to increase their tourism numbers often promote them. "Homestays offer the rare opportunity to immerse yourself in the local culture by experiencing a family's way of life," says Christian Wolters, deputy general manager Canada for Intrepid Travel. "This is not simply a place to sleep but a means to try local foods, practice speaking the local language and enjoy a brief moment with a foreign family."
Intrepid is one of many companies offering similar services. Homestay.com, a Dublin-based site, allows guests to book a stay in a home with a local host present. The website has 15,000 options, ranging from a 16th-century house in Avignon to a colonial property in the heart of Havana. Responsibletravel.com offers homestays in Portugal from US$18 per night, as well as in Guatemala from US$150 per week (including meals, linens and Spanish classes).
Everyone agrees that a homestay is an affordable way to travel with rates much lower than hotels. But saving money is only part of the motivation. "It was cheaper than any nearby hotel," says Rachel Fremeth of her homestay in Christchurch, New Zealand. But even more importantly, "the owners made us feel like guests," she says. "They had activities planned for us, like visiting alpacas, sheep shearing, and a BBQ dinner." They even drove Rachel and her husband back and forth to the airport. "It was an experience—not just a place to sleep."
Claire Sweeney, online marketing manager for homestay.com, says the key is finding the right match between host and guest. There's a big difference between wanting to learn how most Cambodians live, and simply having someone on hand to provide tips about the best markets in Bordeaux. "While some people are seeking an immersive cultural experience, others might simply want good quality, affordable accommodation in the right location with a host they get along with," says Sweeney.
My Thailand stay was at the home of Mrs. Aoi, a matronly woman with a round face and easy smile, who met us at Sam Pa Khoi Market. We shopped for groceries and then hopped into a songtoew (a pickup truck converted into a double-bench taxi), and drove for an hour into the countryside east of Chiang Mai, past sticky rice fields and mushroom farms.
This was no luxury hotel: At Mrs. Aoi's home, our beds were simple mats on the floor under bright pink mosquito nets. But soon after arriving we gathered in the open-air kitchen, the rafters strung with colourful paper lanterns, to learn classic northern Thai dishes like gai tod (northern fried chicken) and khao tom mud (sticky rice with banana wrapped in a banana leaf). After dinner with a live musical accompaniment, we lit paper lanterns and sent them off into the sky.
A lot of tourism, sometimes by design, can lack authenticity. In Thailand, where so much is organized around the needs of tourists—from the cheap massages to the ubiquitous restaurants selling foreigner-friendly red and green curries—it can be difficult to get a sense of how the locals actually live. At Mrs. Aoi's home, we met her seven-year-old nephew, nicknamed "Marshmallow" for his pudgy cheeks, who performed a traditional Thai sword dance. We learned that a loudspeaker keeps the entire village apprised of births, deaths, social events and directives from the government. And on that previous visit to Chengdu, I learned that rural Chinese kids also teach their dogs how to shake a paw.
Homestays let you step outside the tourist bubble and become a guest, which is a different kind of privilege. And as I crawled under my mosquito net that night, full of fried chicken and fresh mountain air, it felt very nice to be home.