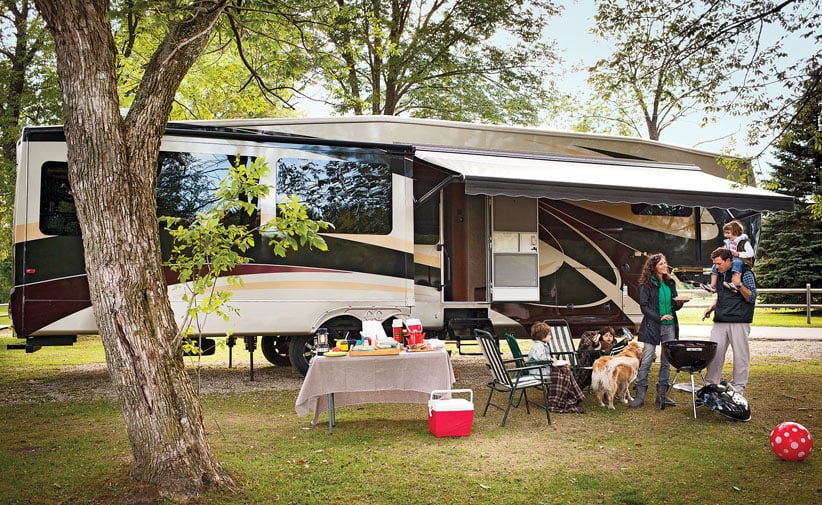 When Eileen and Jon Vidler announced they were selling their house and moving into a Recreational Vehicle full time, there were some who doubted their sanity. "My mother thought we were crazy and Eileen's parents had trouble understanding our decision," recalls Jon. But for young retirees Eileen, 54, and Jon, 61, leaving the comforts of home in Sarnia, Ont., for a life on the go made perfect sense. It wasn't long before others began to understand their wanderlust as well. "When we meet people at campgrounds we sometimes joke that we are homeless, but a lot of people out there are envious of our strength and courage to just go for what we want and let go of all our stuff," says Eileen.
More than a million Canadians have heeded the call of the open road by renting or purchasing an RV. Almost 70% are owned by people under 55 and 40% travel with children. It's a growing trend that young couples and retirees alike are embracing as affordable alternatives to cottages or extended hotel stays.
For Eileen and Jon, who chronicle their adventures at vidlerrvtravels.com, it's a way to see as much of North America as they possibly can. This year alone their meandering will take them from their Florida base to Texas, New Orleans and Nevada, among other stops. "We're checking a lot of stuff off our bucket list and we're meeting great people," says Eileen.
For some RV owners, a mobile hotel on wheels represents an inexpensive way to tour long distances without having to unpack and repack your bags at every stop. Not only that, but you can save money by cooking your own meals and you can even bring the family pets along. With an overnight stay at a full-service campground costing just $25 to $45, Go RVing Canada estimates it can be up to 78% cheaper to vacation with an RV versus a regular holiday, even when you factor in the ownership or rental costs.
For anyone thinking about adopting the RV lifestyle, it's best to take a slow and steady approach. "A pop-up camper that you can tow is a great way to start and for about $6,000 you can figure out if you want to get into the lifestyle or not," says Doug Kemp, sales manager at Owasco RV Centre in Whitby, Ont. Another popular option is renting a trailer or small motorhome to test the waters. If you have the ability to tow a small RV with your own vehicle, the rental cost can range from about $400 a week for a small pop-up trailer to $750 a week for a larger travel trailer. For the motorhome style of RV that you drive yourself, rental costs begin at about $600 a week in low season (late September to early June) and rises to $1,200 in the summer.
For those who decide to buy their own RV right away, Kemp says a common rookie mistake is to walk into an RV dealer and get mesmerized by the most glamourous model on display. "Talk to someone who RVs already and get some opinions or else it can be pretty overwhelming for a new buyer," he says.
The Vidlers agree. "People get fixated on all the bells and whistles like the granite counters and the 40-inch TV, but what you actually have to do is just sit in one for awhile and figure out where you are going to put all your stuff," says Eileen. Besides plenty of storage space, you'll want to make sure there is enough room for everyone to sleep. Bunk beds are great for kids but cramped for adults. And if the RV you're considering has only one adult bed that converts from your dining set, you have to ask yourself if you really want to be setting up and tearing down that bed every day.
On top of the price of the RV itself, there are a host of other costs to take into consideration. If you opt for a motorized RV, not only is the price tag much higher (most start around $60,000), but so are maintenance and insurance costs. Meanwhile, a travel trailer or the larger fifth-wheel models that sit partially in back of a truck may require further investment in a tow vehicle that you'll be stuck driving the rest of the year when you're not on holidays.
For any type of RV you also need to consider storage costs if you don't have space to park it on your own property. And then there are the maintenance costs. Jon and Eileen estimate they paid more than $3,600 for maintenance and repairs on their three-year-old trailer last year. Of course, a smaller pop-up tent trailer costs considerably less to maintain.
If you find you love RVing and want to make a bigger commitment, you can follow Jon and Eileen and cut costs by selling your home. The Vidlers, with their large trailer and heavy-duty pick-up truck, spent just under $28,000 travelling around the U.S. and Canada last year, plus the cost of food, clothing and entertainment. But for this couple, cost is a minor consideration. "If we were worried about spending the money, we could just sit back at home, but we wouldn't have this enjoyment, nor the memories we will bring with us when the time does come to park our rig and sit in our senior years," muses Eileen.