Ask Canadians for their train trip fantasies and you'll hear about the Orient Express, the Trans-Siberian Railway or Japan's super-sleek shinkansen bullet trains. North American long-haul routes—beloved of visitors from other parts of the world—barely make our bucket lists.
But that shouldn't be the case. Canada and the U.S. host some spectacular train trundles, snaking through grand landscapes like visual spa treatments and highlighting rail's superiority over ever-annoying airplane travel. If you're tempted to hop onboard in 2014, here's a rail buff's round-up of our continent's best train experiences—with the inside track on top routes and some money-saving tips for keeping your vacation budget on the rails.
First-up: Canada. North America's largest privately-owned passenger rail company, the Rocky Mountaineer, weaves through the saw-tooth landscapes of Alberta and B.C. at "Kodak speed"—a snail's-pace that has passengers permanently glued to the canyon-hugging windows. With five routes, the company's Deluxe Gold Leaf service (dining car meals, bi-level dome carriages and luxury hotel rooms—but there's no sleeping on these trains!) costs $5,000+ per couple for the four-day trip from Vancouver to Banff, Lake Louise or Calgary.
Travelling at the late-April start of the season reduces the top-class price by around $1,000. Save even more with the train's other classes: Red Leaf (chilled meals, airline-style seats and standard hotel rooms) is typically around half the Gold Leaf price. And the recently-introduced Silver Leaf is handily positioned between the two.
Fancy a Rocky Mountaineer taster for even less? The half-day $179 North Vancouver to Whistler route is also an option. For occasional deals on all routes, the company's online newsletter is also worth signing up for.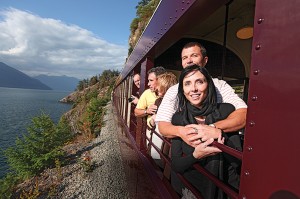 The Rocky Mountaineer isn't the only Canadian option, of course. VIA Rail has been luring train nuts like me for years—and I've developed my own track-tested top three from its 12,500-km network.
I love the waterfront-hugging Montreal-to-Halifax route (24 hours; from $164) and the lovely Jasper-to-Prince Rupert service (two days; from $113) that snakes alongside forested mountains to the Pacific—where you can also hop on a B.C. Ferries service through the spectacular Inside Passage.
But the VIA train everyone should take at least once is the flagship Canadian. The three-and-half-day Toronto-to-Vancouver run has a reputation for being pricey but there's no excuse for paying full fare. VIA offers permanent discounts up to 50% for children and seniors. Frequent price cuts are also offered through its @VIA_Rail Twitter feed and on its website. I recently found late-breaking deals such as a cabin for two on the Canadian for $1,644—70% below the seasonal norm. If you can't find a cabin bargain, I've also found berths—the curtained-off sleeper bunks with meals, shared washrooms and shower access—a cozy alternative for around $1,000 less per person than regular cabin fares.
If onboard sleeping doesn't appeal, VIA fares include a little-known free stopover option—you can also pay for additional stops. Even better is the Economy Canrail Pass. It includes seven one-way trips across the network in a 21-day period for $1,008—or a bargain $630 if you're travelling before May 31, 2014.
Passes are also popular south of the border, where Amtrak's USA Rail Pass options include a 15-day US$449 version. Also consider its well-priced regional alternative: the California Rail Pass costs a tempting US$159 for seven days of local travel.
But if you're looking for America's most breathtaking routes, Amtrak has some epic options. The 51-hour Chicago-to-San Francisco California Zephyr (from US$163) traverses the Rockies, the Sierra Nevadas and some iconic cityscapes. Alternatively, the 46-hour Chicago-to-Los Angeles Southwest Chief (from US$169) takes you over the Mississippi and through snaggle-peaked desert terrain. Book ahead for lower ticket prices or check Amtrak's website for enticing late-breaking Smart Fares.
Finally, if you want to take in both countries on your travels, consider two cool cross-border Amtrak options. The laid-back eight-hour Vancouver-to-Portland Cascades service starts at just US$47, while the 11-hour Montreal-to-New York Adirondack is only US$67. Both take you into the heart of their destination cities—something that flying will never do.