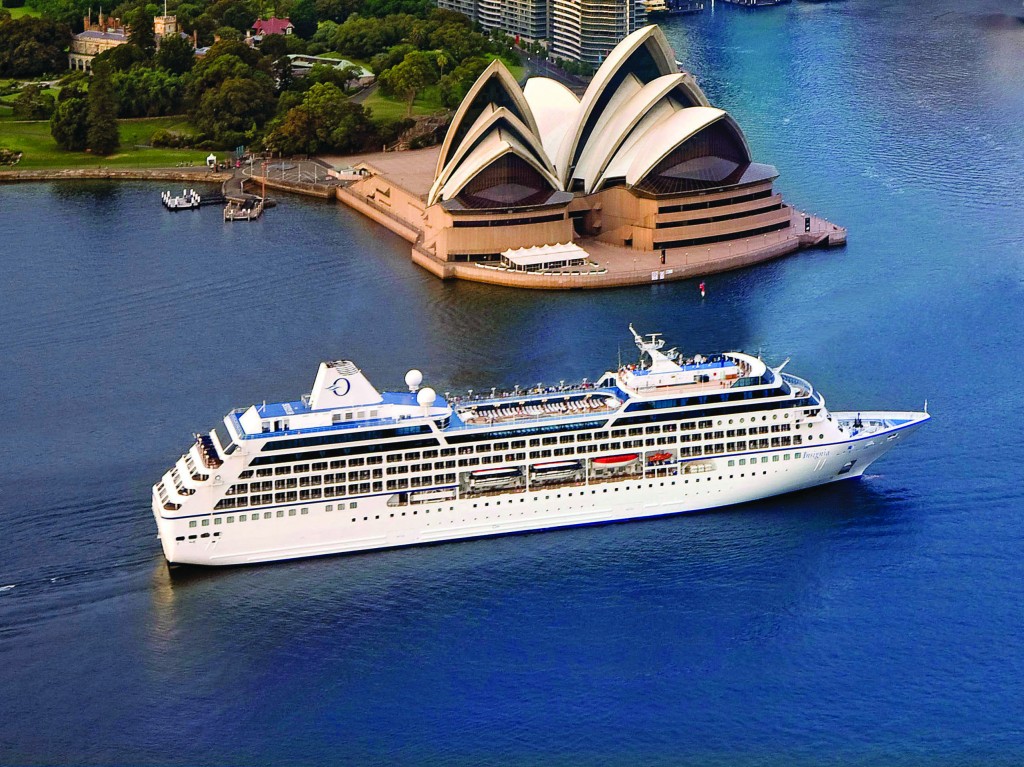 When passengers begin stretching their sea legs onboard the 684-guest Oceania Cruises' Insignia, departing from Miami on January 10, they'll be toasting two salty milestones: it's the company's first-ever round-the-world voyage and—at a porthole-popping 180 days—it's also one of the longest cruises on the market. But the 44-country, 90-port odyssey—with exotic stops ranging from Tobago to South Africa and from China to New Zealand—isn't a one-off. Almost sold out, a repeat sailing in July has already been added. World cruises—formerly the preserve of trunk-lugging Victorian aristocrats—are back. And with more operators clambering to meet demand, a wider array of itineraries are available while more competitive pricing has allowed the world cruise to anchor itself on the bucket lists of mainstream travellers.
If you're tempted to plunge in for a trip-of-a-lifetime, how can you ensure you spend your budget wisely? Let's start with the iceberg in the room: cost. "Full world cruises start as low as $15,000 per person in an inside stateroom on a larger ship. Standard starting prices are from $20,000 to $40,000," says B.C.-based Aaron Saunders, editor of cruise travel website From the Deck Chair (fromthedeckchair.com)."Think of these cruises as an investment. Most will set you back as much as a small car, but when you add in the costs of being onboard a ship for months, a similar tour of the world with flights, dining and hotels to pay for would be prohibitively expensive."
Like fares, durations also vary greatly. Typically, world cruises are between 90 and 120 days but not all are Phileas Fogg-style loops. The Oceania voyage delivers you back to Miami, but other routes are simply extended A-to-Z jaunts between several continents. This suits some passengers—especially those who have a string of specific destinations in mind. But remember that the destinations are just part of the experience: it's the multi-month bonding over a grand, port-studded adventure that attracts many travellers to take a full world cruise, and it's what sets these vacations apart from standard ocean-going holidays.
Texas-based Mary McKee has been a convert since embarking on her first 108-day sailing in 2008. Hopping four more world cruises since then—she's live-blogged some of them at www.marymckee.wordpress.com—she's a fan of Crystal Cruises.
Loving the camaraderie of sharing an epic trip with fellow passengers over many weeks, she says boredom is rarely an issue. "I'm busy visiting the many ports. But there are also more activities and events on a world cruise," she says, mentioning bridge contests, guest lectures and top-notch entertainers. Along with researching shore excursions from home and exercising onboard to prevent that buffet belly, the bottom line for McKee is that world cruises are "the best and easiest way to see many fascinating countries from the comfort of a beautiful ship." It's an attraction that Carolyn Spencer Brown, editor-in-chief at Cruise Critic (www.cruisecritic.com), has heard before. "The appeal of world cruising is the opportunity to cross the globe in a way that's comfortable, with no packing, and minimal transportation needs," she says.
But do your homework. "Look at the itineraries and dates that work for you," says Spencer Brown. "Then start searching for fares—preferably with the help of a good travel agent."
For Saunders, it's this research that can make or break your trip. "Visit the cruise line's website and talk to travel agents for their advice," he says, adding there are lots of practicalities that need to be tackled far in advance, from visas to immunizations.
Saunders also stresses that how you sail is even more important than where. "The ship rather than the destinations is vital: after all, it will be your home for several months. Do you like a big ship or a small ship? Are you okay with an inside stateroom with no window—or will a suite be worth the extra expense? After that, the places you travel to are just the icing on the cake."
A veteran of dozens of cruises, does he have any tips for great round-the-world options? "Silversea does a fantastic cruise onboard the 382-guest Silver Whisper: it's all-inclusive, spans 115 days and has some neat adventures ashore—in 2016, they're inviting passengers to a masked ball in Venice and a lunch at the Taj Mahal," he says, adding that fans of bigger ships should also consider Cunard's Queen Mary 2 and its 120-day, 26-country jaunt, departing in 2016.
Of course, sticker shock can be a stumbling block when it comes to finally booking. But you need to take a big-picture view of your vacation budget. "Look at per diems rather than total costs," says Spencer Brown. "In general, a very good deal would be priced at $150 per day and up, but in most cases travellers will pay between $250 and $400 per person per day—which can still make them a surprisingly affordable way to travel."