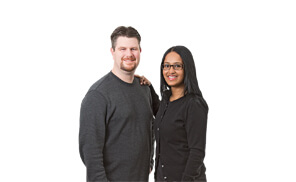 The Problem
Lisa, 32, and David, 38, are conservative investors, as indicated by their combined $115,000 RRSP portfolio: a mix of about 63% fixed income to 37% equities. However, they're concerned they may be too risk averse in terms of meeting their retirement income goal of $80,000 annually pre-tax in today's dollars. In part, what's holding them back is getting answers from their financial planner. In fact, they describe him as "an administrative order-taker." The Skellys wonder whether it's finally time to take the bull by the horns and manage their own portfolio.
The Solution
After reviewing their finances, TD Waterhouse investment adviser David Predovich determined that the couple's sizeable income will ensure they'll meet their retirement goal without having to take on more investment risk. Lisa is an executive in the lighting industry, while David is a maintenance coordinator. They also own rental properties.
That's not to say, however, they shouldn't consider looking for a new financial planner to better meet their needs. Or they could try managing their own portfolio, provided they're ready for it. Beginning do-it-yourself investors should steer clear of picking individual stocks and focus instead on ETFs for the equity portion of their portfolio, advises Predovich. In the fixed-income portion of the Skellys' RRSP, Predovich suggests they forgo investing in bonds, which have had a dismal performance recently and will likely continue to if interest rates climb. Instead, he suggests a laddered GIC approach in which the Skellys would purchase several GICs with different maturity dates to minimize future interest-rate risk.