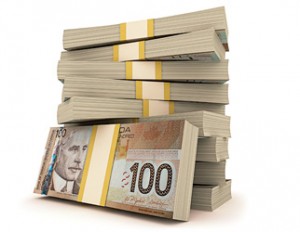 Canada's billionaires have extra reason to be happy this year. Eighty-six of the country's 100 richest people grew their net worth this year. Canadian Business has the scoop on the top 20 richest Canadians, the richest people by city and the biggest gainers and losers.
It became slightly more affordable to own a home last quarter thanks to a slight drop in prices and rise in income, RBC said Thursday. According to the bank's index, homeowners would have to spend 42% of pre-tax income to maintain the average detached bungalow, down 1%.
More than 40% of Canadian parents are worried that their children will not be able to afford a post-secondary education, according to a BMO Financial Group study. It's not surprising since a four-year university degree currently costs upwards of $60,000 when you factor in tuition, room and board and books. That sum could rise to more than $140,000 for a child born this year, the bank says. One way to get a head-start is with a Registered Education Savings Plan (RESP). Contributing just $500 a year, plus the government top up of $500 per year, could result in more than $20,000 in savings by the time a child enters college or university. To get started, your baby will need a Social Insurance Number. Also, keep in mind RESPs can house mutual funds, ETFs and GICs. For more, read The old college try: How to maximize RESPs.