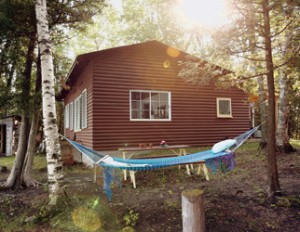 Some 68% of Canadian cottage owners don't have a mortgage on their vacation property, according to a new Investors Group survey. Of the remaining, four-in-10 said their outstanding cottage mortgage is less than half the size of that on their home. These cottages aren't just nice places to get away, they're investment properties, Investors Group says. Leisure properties can pad your nest egg but only if  the property taxes, maintenance and travel expenses are manageable. Consider letting your cottage do double-duty by renting it out when it's not in use. Heading up for the long weekend? Check out these frugal summer entertaining tips first.
The dreaded back-to-school shopping season has officially started and it's early, Ernst & Young said Tuesday. Apparently the sales began in early July in the U.S. triggering similar sales north of the border. If you've gotta shop, be sure to get the most bang for your buck. Buying crayons? Don't spend more than 25 cents, says Money Saving Mom blogger Crystal Paine. Here's 5 money-saving back-to-school shopping tips from the expert herself.
Looks like penny is sticking around longer than we thought. The Royal Canadian Mint, which stopped producing the coins in May, was originally expected to start taking the penny out of circulation by this fall but Finance Minister Jim Flaherty promised Tuesday that the copper coins won't disappear until  Feb. 4 2013, after the holidays shopping season.
In investment news, the anaemic global economy and European debt fears are making their presence felt here in the form of lacklustre pension returns, according to RBC Investor Services. Canadian pension plans gave back some of their first quarter returns in Q2 with Canadian defined benefit (DB) pensions within the RBC universe fell 1.1% in the period, compared to gains of 4.5% in Q1. Canadian equities were the worst performing asset class as the S&P/TSX Composite plummeted  5.7%.
According to InsurEye, 84% of consumers say online reviews are a factor in their buying decisions. The most researched buys are travel, electronics and household products. Too few Canadians put as much research into insurance, according to the independent website. See why in their infographic below. To read more about how to choose the right coverage for you, read the MoneySense Guide to Insurance.