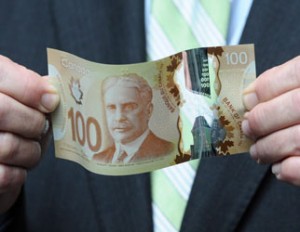 Canada's new plastic bills are making international headlines after numerous reports of the bank notes melting. Time listed cases where the polymer currency had fused together including one case where three $100 bills warped to the size of a Coke bottle after a wallet had been left on a toaster oven. In an email to the Los Angeles Times, the Bank of Canada said the bills are made to withstand temperatures of 140 degrees C.
Meanwhile, Canada's central bank had bigger fish to fry Tuesday. The BoC left its benchmark interest rate unchanged at 1% citing the need maintain current levels of monetary stimulus. The bank does expect the Canadian economy to gradually ramp up over the next 18 months with growth for 2012 pegged at 2.1%. By the end of 2013 the domestic economy should reach "full capacity" at 2.3% despite headwinds from Europe, the U.S., low commodity prices and an easing housing market. A new study from Canadian Institute of Chartered Accountants suggests that many Canadians are vulnerable to interest rate or mortgage hikes.  Nearly half of respondents said they'd have a hard time keeping up with debt payments if rates were to rise.  Among them, 29% would encounter serious problems making payments if rates were to rise by 2% or less.
Is the age of discounts coming to an end? (Say it ain't so!) Preet Banerjee muses about the future of sales after a recent study in The Journal of Marketing found that "buy one, get one free" promotions are more enticing to shoppers than a 50% discount on a single item.