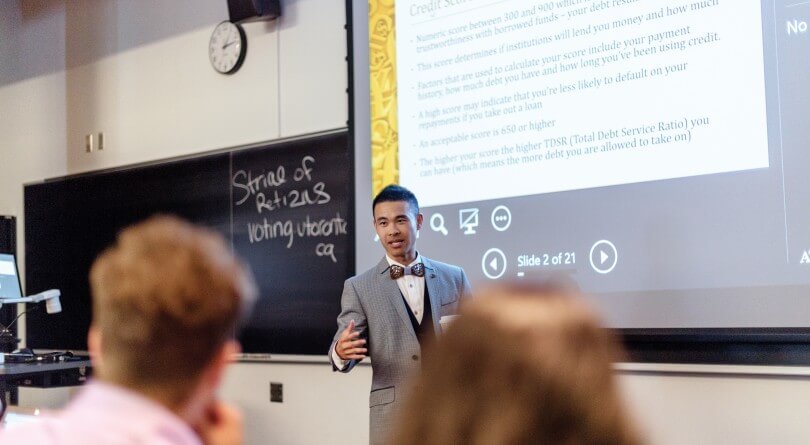 Financial whiz Mitchell Huynh wasn't always so money savvy. Not so long ago, he was a reckless freshman like almost everyone else. "I remember signing up for as many free credit cards as I possibly could, just for the free T-shirts and water bottles," says Huynh, a financial-planner-turned-professor who cringes at this confession. "My friends and I used to call it the 'free money card,' because we'd just spend the money and then forget about it."
Don't do what he did, says Huynh. Even better, take his class at the University of Toronto's Mississauga campus: Introduction to Personal Finance, a new 11-week course open not just to business and finance majors but every other undergraduate student, too. Since its launch last year, enrolment has tripled. To accommodate demand, three cohorts are now available for 300 eager students, 95 per cent of them coming from non-business backgrounds. Few are particularly financially literate, regardless of major. "I was surprised at the lack of base knowledge," admits Huynh.
A 2017 PricewaterhouseCoopers study found that millennials are generally better educated and more skilled than their parents were at the same age, but only 24 per cent have basic financial literacy (meaning an understanding of assets, expenses and income). Just eight per cent have high financial literacy, including a grasp of taxes, mortgages and investing. "We take these students all the way from the basics—like the differences in bank accounts, how to maintain your credit score, different investment products—all the way to alternative loans and real estate and starting a business," he says.
RELATED: How to budget money as a new student
"Before this course, I always imagined myself in a regular nine-to-five, climbing up the corporate ladder," says Josh D'Lima, a fourth-year business student and one of Huynh's first students. "But when I thought about my goals, I saw that that wasn't going to be enough. I wasn't about to settle for half of what I wanted, so I had to make it happen." After Huynh's class, D'Lima bought two rental properties that pay for themselves and generate more money than an entry-level job.
D'Lima's lofty ambitions aren't rare in his generation. "Millennials and those even younger really want things right now. They don't want to wait until they retire at 65 or 70 to enjoy life," says Huynh. "They're coming up with new and creative ways to get the lifestyle they want much earlier, but it takes a lot of research. I think that's when they realize there's a gap in their knowledge."
There is now frequent discussion of mandatory money courses in high schools (or earlier), but even university-level courses are often lacking. "The business program is very theory-based and not so much based on real life," says D'Lima.
By necessity, more and more alternative learning opportunities are presenting themselves at Canadian schools. At the University of Waterloo, students are invited to apply for a position in two extracurricular clubs, the Student Investment Fund and the Student Venture Fund. Both offer hands-on training in portfolio and venture investment, with real money—beneath the watchful eyes of industry experts. An anonymous external donor provided $250,000 to the university in 2012, and profits are rolled back into the fund.