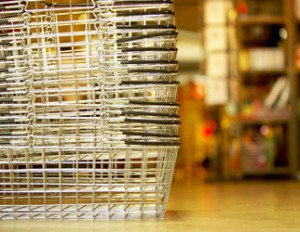 I love my local dollar store. If I need a gift bag, tissue paper, beach toys, or a million other things I don't want to spend lotsnlotsa money on, I head there to see if they have something to my liking.
What you can find depends on where you live and your dollar store's inventory. Some carry clothes and shoes. Some carry live plants (in season). And if you're looking for disposable stuff like plates, bowls and plastic cutlery for a birthday party or shower, the dollar store is the fist place to go.
Part of the appeal of the dollar store experience is their simple pricing. If you know there's nothing more expensive than a couple of bucks, you don't have to worry about stuff like price-watching. Dollarama knows this. This once-small Quebec-based chain has become a billion-dollar empire … one dollar at a time.
Dollar Giant is another biggie brand dollar store in Canada, along with Buck or Two and Everything for a Dollar. And now U.S. Dollar Tree stores are coming to Canada, having just acquired Dollar Giant, so we can expect to see the dollar store experience improve as these niche retailers fight for your dollars.
If you think that because a product is in a dollar store there must be something wrong with it, give your head a shake. Product isn't old or stale or sub-standard. They wouldn't sell many boxes of candy or cookies if consumers were unhappy when they got home, would they? Dollar store buyers work hard to get the best deals and sometimes they nab some pretty amazing stuff.
Dollar stores are the perfect place to "build your own basket" if you're creating a hostess gift or stuffing a stocking. Keep your eyes open and you can stock your gift closet with the small extras that nobody would ever think had come from a dollar store.