Up until two months ago, Sheila and Raj Devi were living a dream life. Sheila, 39, made $300,000 annually in salary, bonus and company shares from her job as head of public relations for a large liquor company while her husband Raj, 45, made $75,000 as an IT specialist for a small software company in Burlington, Ont. The couple have a paid off house in Oakville, Ont., valued at $850,000, and a net worth of $2.26 million. Then last December Sheila lost her job. Her lavish pay and gold-plated benefits plan covered everything from child care to home visits from personal trainers. "Losing my job was a shock and I'm panicking, especially because we have three kids under age 8," says Sheila, who had worked at the liquor company for more than a decade. "Trying to unravel my life from it is difficult. We'll have to make changes and that's not going to be easy."
Although it may sound glamorous, the truth is Sheila's former job involved 11-hour days that included a two-hour commute. (We've changed their names and some details to protect their privacy.) When her severance package runs out in a year's time, she'd like to look for a consulting job so she can be home for dinner more often. But those kinds of jobs only pay $125,000 a year, she says, adding that there's little hope of Raj earning more. "He has been with the same company for 20 years and isn't going anywhere."

The Devis have run the numbers and with Sheila's projected salary drop the couple will be more than $59,000 in the hole in 2016 if they don't change their ways. Right now, they're spending about $172,000 on an annual basis. "We have a lot of expenses built into our budget that allowed me to do my job," say Sheila. "And for the last two years, we haven't been able to save a penny. That bothers us."
The couple has two key long-term goals that they're concerned about: saving enough in RESPs to pay for a university education for their three kids, and retiring when Raj turns 60 with $85,000 a year in net income for the rest of their lives. "Those are our priorities," says Raj. As it is, the Devis say they probably won't be able to save anything for the next 15 years. "We need to make the most of our investments," says Sheila. "We need a plan now."
Their biggest expense—the $33,000 a year they pay for a family nanny, plus Montessori school tuition for their twin three-year-old sons James and Jack—will soon be cut by about two-thirds. "With the kids going to regular junior kindergarten at the local public school in the fall, we'll only need the nanny part-time at a cost of $12,000 annually," says Raj. "She's been with us for eight years, and we'll need her for a couple more to help with James and Jack before and after school once Sheila returns to work."
But that only accounts for $21,000 of the $59,000 they need to trim from their budget just to break even. They realize there's a lot more sacrifice to come and the list of areas they need to cut back is proving challenging: $20,000 on groceries ("We've always used a grocery service because with Sheila's job we never had time to shop"); $10,640 for personal trainers ("They come to the house and put us through our paces"); $12,000 on clothes and haircuts ("Mostly for the kids"); $6,000 on gifts ("We have a large extended family"); $10,000 for an annual family vacation ("Having the kids visit Sheila's family back home in Poland is important to us"); as well as $5,000 for miscellaneous expenses ("Mostly unaccounted-for cash withdrawals from ATM machines").
There's some irony to the fact that two former bean counters should find themselves facing such number-crunching challenges. Sheila and Raj, who both grew up in Oakville, graduated from McMaster University with accounting degrees. Afterward, Raj started working at a small software company while Sheila went on to complete a Masters degree. In 2002, she got a job in the public relations department at the liquor company she was just laid off from. "I loved the people and the work was always challenging," says Sheila. "And over the years I worked my way up to head of the department."
In 2003, the couple married and bought their home in Oakville (worth $850,000 today), and three children soon followed. In those early years, the Devis were very disciplined. They concentrated on paying down their $250,000 mortgage, which they did in six years, and invested any surplus cash in RRSPs—"mainly for the tax breaks," says Raj, who prefers real estate investing. Besides their $850,000 principal residence, the Devis own one-sixth of a strip mall (their share is valued at $200,000) as well as a nearby investment property worth $300,000. "I like tangible assets while Sheila prefers mutual funds," says Raj. "We do a little of both."
The couple's other assets aren't shabby at all. They include $274,000 in a savings account, $211,240 in RRSPs and $68,244 in TFSAs. "We also have $53,000 or so in an RESP but we haven't contributed anything to it in two years," says Sheila. "That worries me." Something else that troubles her is the way the couple's RRSP and TFSA money is set up. It's invested solely in equity mutual funds, which carry a 3% fee or MER. "The fees are high, and being 100% in equities seems high too," says Sheila, noting that she wants to rethink the approach that she and Raj have been taking.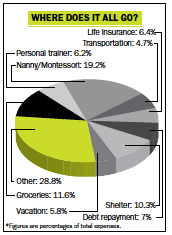 The couple also needs to make some decisions regarding what to do about the $161,961 in company shares that Sheila owns. The shares trade on the New York Stock Exchange and with the U.S. dollar so high against the loonie, Sheila feels it may be a good time to sell. She has no RRSP contribution room while Raj has about $118,000 available—but they're at loggerheads over whether it's better to purchase more real estate with that potential windfall.
Then there's Sheila's defined-benefit pension plan. She can either take the $318,427 commuted value of the pension or she can begin receiving her pension at age 65 with monthly payments of $3,847 for life. "We may be better off investing that money ourselves but just aren't sure," says Sheila. Finally, the couple also wants advice on their life insurance. They pay $11,000 annually in premiums—$8,000 for a $300,000 whole life policy with a last-to-die provision and $1,300 for a $1.3-million term life policy for Sheila. A 10-year term life policy for Raj, a smoker, would cost $1,500 a year. "I had great benefits from my employer that we'll have to replace," says Sheila. "Raj's company doesn't offer a benefits plan."
Whatever sacrifices the Devis need to make, the couple says they are up to the challenge of doing more with less. "I'm goal-oriented and want to set an example for the kids," says Sheila. "Showing them how to meet financial goals is the best lesson we can teach them."
What the experts say
Raj and Sheila Devi have been lucky. Sheila's $300,000 in annual pay has allowed them to build assets of $2.26 million. "When incomes go up, expenses go up as well," says Ayana Forward, a Certified Financial Planner with Ryan Lamontagne in Ottawa. "But when incomes go down, expenses have to be cut and that's difficult." Heather Franklin, a fee-only adviser in Toronto wants the Devis to act now. "They have to go on a spending diet," says Franklin. "Having $85,000 a year in net income in retirement starting at age 60 is a tall order. To achieve that, the Devis can't keep dipping into their investments to cover their budget shortfall." Here's what they can do.
Pay off debt
The Devis should take $59,800 from their savings account now and pay off their RRSP loan, line of credit and $25,000 car payment due in March.
Cut expenses
The Devis need to cut $60,000 from their expenses. Franklin offers some suggestions. "Groceries should be cut by $5,000 annually while clothes, furniture, haircuts, gifts, restaurants, personal trainers, kids' activities and other miscellaneous costs should all be cut in half, saving them $26,000. Cutting the $300,000 whole life policy (at a cost of $8,000 annually) and replacing it with a $500,000 term life policy for Raj (at a cost of $1,500 annually) will save them $6,500. Paying off their line of credit and RRSP Home Buyers' Plans will net them another $3,760 from debt repayment costs, bringing the total savings from their cuts to $41,260." With the nanny expense cut by $21,000 in early 2016, their budget will be balanced.
Top up the RESP
The Devis should take $15,000 from their $274,000 cash savings account and put it into their children's RESPs. "I don't know what they're waiting for," says Franklin. "The 20% federal grant is free money for the kids." The experts also advise the Devis to make a full contribution to the kids RESPs every year going forward. "Once the full $33,000 is no longer necessary for nanny expenses, the money will be there to do so," says Franklin.
Keep the pension
The $318,427 in Sheila's defined benefit pension plan should be left intact. "She gets inflation protection and a great monthly payout starting at age 65," says Forward. "It will be the cornerstone of their retirement plan." As well, Forward wants Raj to put $118,000 from the savings account into his RRSP, spreading the contribution over three years to get the most tax benefit.
Unload the real estate
Right now, the Devis have 60% of their net worth in real estate. "That's too high," says Franklin, adding the couple should keep only their principal residence and sell the other two properties. "Their investment returns will be better," says Franklin. "And if Raj wants to invest in real estate, he can take 10% of their investment portfolio and put it into Real Estate Investment Trusts (REITs)," says Franklin. "That would be the compromise."
Sell Sheila's company shares
Selling the U.S. company stock now takes advantage of U.S. currency gains. When Sheila sells, she'll have to pay capital gains tax as well as the 15% foreign dividend withholding tax. "She should consult a tax expert since it may be worthwhile to spread the gains over two years," says Forward.
Simplify their investments
The Devis can achieve good results with their money with very little effort by selling all their high-fee mutual funds, both in their RRSPs and TFSAs, and replacing them with one good mutual fund such as the Mawer Balanced Fund that carries a decent MER of 1%. "They can put any cash now sitting on the sidelines into the fund too, as well as any future TFSA and RRSP contributions," says Franklin. "This is an easy way to invest. And because of Sheila's great company pension, they can hold up to 80% equities in their portfolio. That way, they'll average annual returns of about 5% net annually over several years." If the Devis do all this, both Franklin and Forward agree that Raj and Sheila will be able to retire when Raj turns 60. When money from their investments is coupled with CPP, OAS and Sheila's pension plan in their mid-60s, the Devis will have no problem earning $85,000 net annually for life."