SKIP AHEAD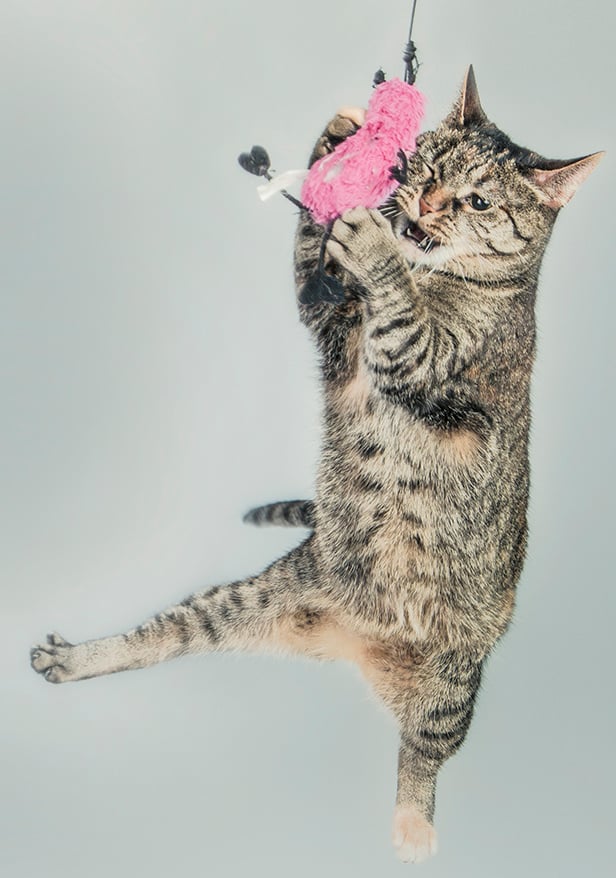 I had a wonderful time talking about the couch potato, and its spicy hot potato variant, at the recent MoneySense Roadmap to Riches event. While I was putting my slides together for the talk, I was struck by the performance of Canadian bonds since the early 1980s because they gave stocks a run for their money.
Before diving into the bond market, I'd like to start by examining the performance of an aggressive form of the global couch potato portfolio. Its portfolio is split equally between Canadian bonds, Canadian Stocks, U.S. Stocks, and International stocks. The growth of the global couch potato portfolio, before fees, is shown in the following graph.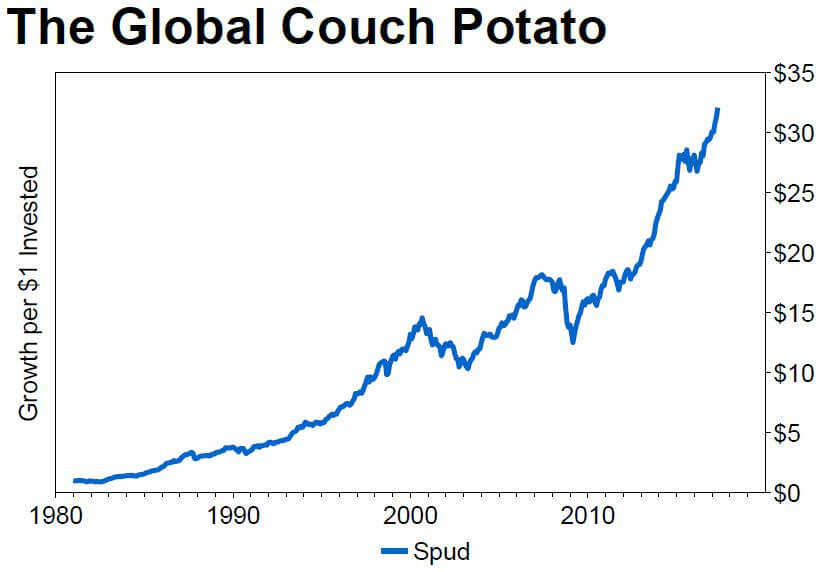 (The indexes used were the S&P/TSX Composite, S&P 500, MSCI EAFE, and the Canada universe bond index. The portfolio was rebalanced monthly for the ease of calculation, but rebalancing annually doesn't make a huge difference.)
Sign up for our free investing newsletter »
Overall, the gains were pretty good. The portfolio enjoyed a compound annual growth rate of 10.0% from the start of 1981 through to April 30, 2017. But it struggled for years to pull ahead of a portfolio that had invested all of its money in bonds. The following graph shows the return pattern of both the couch potato portfolio and the bond index portfolio.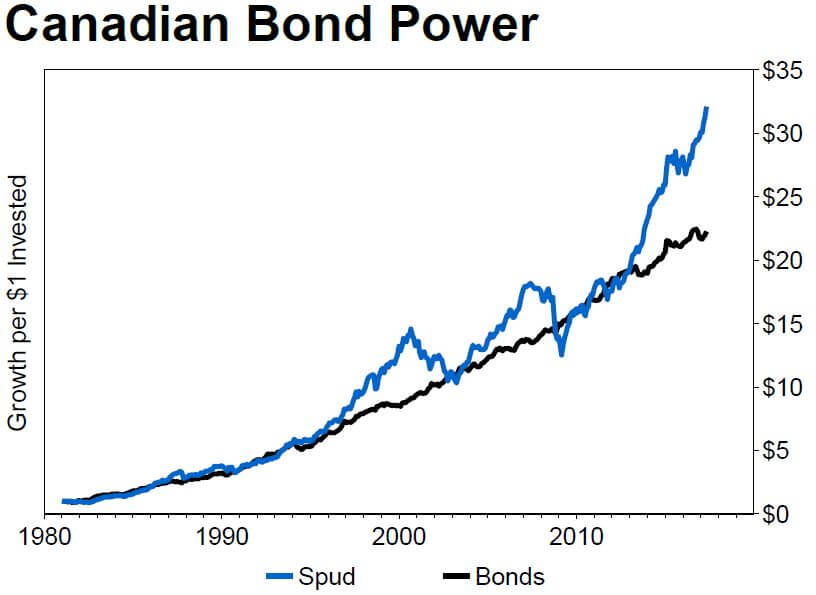 The bond portfolio eventually trailed the couch potato portfolio with an overall compound annual growth rate of 8.9%. But bonds were ahead a few years ago and they might leap ahead again during a bear market.
However, there are a few important things to keep in mind before rushing off to pile into bonds.
First, bonds are generally taxed more onerously than stocks in taxable accounts. While every tax situation is different, generally speaking bond income is taxed at the full marginal rate whereas capital gains, and dividends, from Canadian stocks are taxed at about half that level. The difference can really add up over time.
Sign up for our free investing newsletter »
Second, interest rates in the early 1980s were sky high—or at least they approached 20%. The pressure was on to pay off a mortgage quickly in those days. But, over the years, rates have fallen into low-single digit territory. For instance, the yield on 10-year government of Canada bonds has been hovering around 1.5%. The yield decline powered the bond bull market.
Problem is, bond investors aren't likely to see much of a boost from falling rates from this point forward. While they might get a little boost, it seems more likely that rates will stabilize or move higher from here.
Unfortunately, a yield increase would result in headwinds for bonds rather than tailwinds. As a result, investors shouldn't expect too much from a typical bond portfolio. Perhaps returns of a couple of a per cent rather than the historical rate near 9%. They should adjust their plans accordingly.
 The Climbing CATS
The Climbing CATS strategy is based on a momentum plus value combination. It starts with reasonably-sized Canadian firms and then focuses in on value stocks. Call them Cheap And Thrifty Stocks, or CATS, if you will. But it also looks for firms with strong relative momentum that have Climbed higher in recent times. Both value and momentum have worked well in the past.
More specifically, when it comes to size we start with a list of about 200 of the largest stocks that trade on the TSX. We then narrow down the search to stocks that have low-to-moderate price-to-earnings ratios. Finally, we pick stocks that have fared the best over the last 12 months.
The current list of Climbing CATS is shown in the table below. It represents a starting point for those who want to put some money to work and is best suited for more aggressive and experienced investors. Investors should aim to hold the CATS for a year.
| Name | Price | P/E | Dividend Yield | Total Return |
| --- | --- | --- | --- | --- |
| Tembec (TMB) | $4.12 | 11.44 | 0.00% | 240.50% |
| Air Canada (AC) | $17.35 | 6.67 | 0.00% | 83.60% |
| Cascades (CAS) | $16.83 | 7.38 | 0.95% | 77.70% |
| Interfor (IFP) | $18.01 | 14.88 | 0.00% | 58.40% |
| West Fraser Timber (WFT) | $59.94 | 12.49 | 0.47% | 54.15% |
| Transcontinental (TCL.A) | $25.79 | 10.37 | 3.10% | 52.26% |
| Canfor (CFP) | $19.25 | 13.37 | 0.00% | 45.94% |
| Norbord (OSB) | $39.40 | 12.34 | 3.05% | 45.11% |
| Celestica (CLS) | $17.99 | 14.78 | 0.00% | 38.49% |
| Chorus Aviation (CHR) | $7.47 | 11.38 | 6.43% | 35.31% |
Source: Bloomberg as of June 22, 2017
Notes
Price: Closing price per share
P/E: Price to Earnings Ratio
Total Return: The total return generated by the stock over the last year
Dividend Yield: Expected-Annual-Dividend divided by Price, expressed as a percentage
As always, do your own due diligence before buying any stock, including those featured here. Make sure its situation hasn't changed in some important way, read the latest press releases and regulatory filings and take special care with stocks that trade infrequently. Remember, stocks can be risky. So, be careful out there. (Norm may own shares of some, or all, of the stocks mentioned here.)
Now watch Norm Rothery discuss the biggest mistakes investors make:
[bc_video video_id="6023947299001″ account_id="6015698167001″ player_id="lYro6suIR"]
MORE ABOUT VALUE':