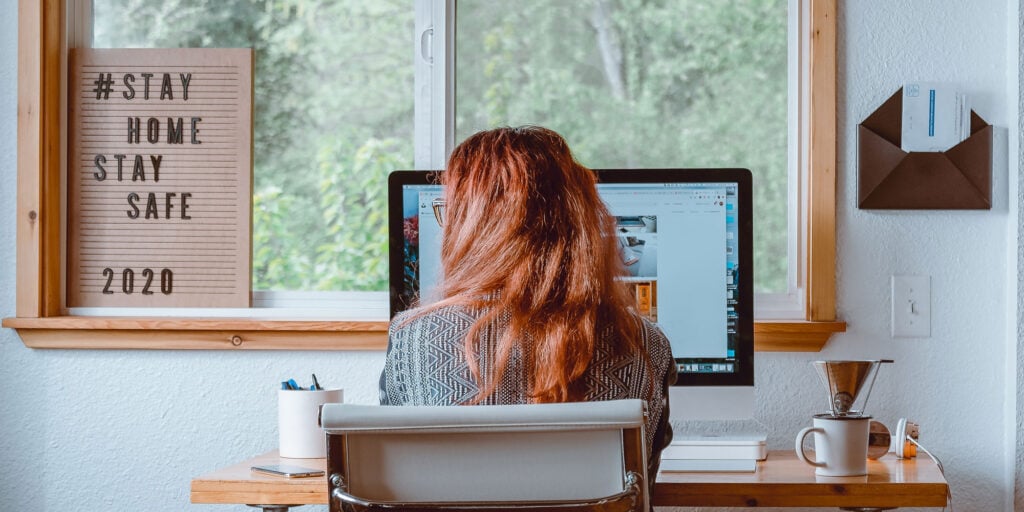 You furnished a functional home office, you've got face masks ready by the door for when you need to run an errand, and you bought sanitizer (so many bottles of sanitizer). You've done your part to stay home and help flatten the coronavirus curve. The question now is: Can you write off working from home during the pandemic and any of these things you bought because of COVID on your taxes? 
We hate to tell you this, but right now, the answer is no. Before we dive into what can't be written off, let's address the self-employed people (including myself) reading this piece.
If you're self-employed
"Nothing has changed, nothing has been announced," says Jennifer Gorman, the social care manager at Intuit, who answers tax-related questions on the company's social media channels. (She's also a tax expert with 30 years' experience.) 
If you're self-employed, continue with your regular tax processes until you hear otherwise from the Canada Revenue Agency (CRA). 
If you're a salaried employee with a T2200—or you want to ask for it
If you're a salaried employee, you've probably heard about the T2200. It's the form your employer fills out that tells the CRA what aspects of your job are mandatory and for which you have incurred expenses when you work from home, says Gorman. Salespersons who travel a lot with their own personal vehicles are generally provided with the T2200; but who else qualifies? 
"I'm a good example of a T2200," she explains. "I've always worked from home for this company, so every year they send me a copy of the T2200 that says I was required to use the internet because I work from home. I only get to claim the work-from-home expenses." Not sure if you have access to a T2200 or if you would even qualify? Ask your employer and/or your HR department. 
COVID-related claims for your home office
Let's look at what expenses may or may not be deducted on your 2020 income taxes, whether you have a T2200 or not. 
Masks
Sorry, no. That fabulous Canadian-made mask that shows your love of the Raptors, or your "commitment to sparkle motion" is not deductible—unless you're working in a field that requires it, says Gorman. If your T2200 permits it, you're good to go. For the rest of us, until the CRA says otherwise, it's a no. 
Home office furniture
No. Office chairs, a new desk or a new monitor for your computer are considered capital expenses that cannot be automatically deducted by employees. However, according to the Government of Canada, you can deduct the cost of supplies you've paid for if you meet all of the following criteria: 
Under your contract of employment, you had to provide and pay for the supplies.

You used the supplies directly in your work.

Your employer has not repaid and will not repay you for these expenses.

You keep with your records a copy of

the T2200 form, Declaration of Conditions of Employment

, which has been completed and signed by your employer.
Check with your boss or HR team to see if your company is offering to cover a percentage of the cost or will fill out the T2200 form.  
UPDATE: This year, CRA is allowing employers to reimburse employees for up to $500 worth of expenses, including home office furniture, tax-free and without having to get a signed form T2200. As with T2200 requests, check with your boss or human resources to confirm your employer is participating. (Companies are allowed to reimburse; they aren't required to.) In addition, the federal government announced Nov. 30 that individuals can claim $400 in home expenses on their 2020 income tax return. "[R]ather than adding up all your expenses, and dividing by how many square feet, and how many days or months you're working from home, [the government will] let you write off $400," Jamie Golombek, who is the managing director of tax and estate planning with CIBC, told Advisor's Edge. "You don't have to keep any receipts; there's no detailed tracking required."
Workspace expenses
It depends. These expenses include rent, home insurance (but only if you work on commission; salaried employees cannot deduct insurance), electricity/hydro, cleaning materials, etc. that you pay for as part of maintaining your home. To deduct a portion, the property needs to be the place where you principally work or is used solely to earn income from your employment. If you meet the requirements, you can deduct a portion of those expenses, if your employer permits and provides you with a T2200. 
Property taxes
This is a no unless you work on commission, in which case you can deduct a reasonable amount from the total costs with your T2200. 
Internet
No, you can't deduct the monthly service fees, even if your company fills out a T2200.
Phones
The Government of Canada says you could deduct a portion of your basic cell phone service plan with a T2200, if certain conditions are met: 
The plan must be reasonable. That means you can defend the plan if asked by the CRA, says Alexandra Macqueen, a Certified Financial Planner. "You can't write off a large portion of a very expensive all-in-one plan, and you must be able to show…how the phone was used 'for your employment,' rather than for personal reasons." 

You can "substantiate the cellular minutes or data consumed directly in the performance of your employment duties (as well as the cost of the minutes or data)," Macqueen adds. That means you will be asked to produce documentation that you used most of the plan for work

The plan's cost has been divided between personal and employment use on a reasonable basis. 
Upcoming tax announcements: Will any of this change?
Gorman says the income tax rules about working from home could change when the federal government returns in the fall, but right now nothing major has been changed in the tax code. 
On September 11, 2020, the CRA held a consultation via the Canadian Chamber of Commerce to get feedback on the short T2200 form. As of now the T2200 form will be needed as part of your tax filings, but there is discussion about using the T4 form instead. 
In the meantime, retain all your documentation for anything you've purchased or used including all your receipts and statements, just in case changes are made to the tax code in regards to COVID-19. Bookmark and check the Canada Revenue Agency website for announcements.
More on income tax: