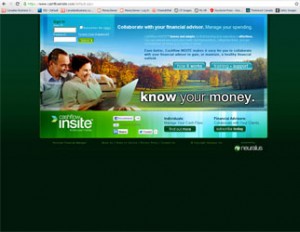 Were you spooked by all the legal hoopla surrounding mint.com earlier this year? Are you looking for another way to track how you're using your money? If you didn't hear the details it goes something like this:
Since your agreements with bank and credit card companies prohibit you from sharing your financial information with ANYONE, if you put your passwords into mint.com and you're subsequently a victim of fraud, you're screwed. The fact that you willingly shared your passwords means you won't have a leg to stand on.
Enter cashflowinsite.com. No, it isn't free. It'll cost you $45 a month, but there's no worry about legally opening yourself up to fraud exposure either. (Small price, I'd say.) Instead of giving the service your user name and password, you must log into your bank and download your transactions. From there the site employs artificial intelligence to recognize patterns and suggest assignment to appropriate cash flow categories. Since the system learns and adapts to your input, putting in your information gets easier and easier so you have to spend less time on upkeep.
If you've been struggling to find the money to up your savings, this system might be just the ticket for analyzing where your money is going and finding the holes to plug your cash flow. Hey, it happens to the best of us: dinners out once every couple of weeks turn into weekly affairs; the odd shopping expedition turns into a new sumthin' sumthin' for every social occasion; the kids keep tapping our wallets and in no time the money we would have saved has gone into their pockets.
Plugging your numbers in to see where the money is really going often brings huge ah-ha moments. Over and over after I've done a spending analysis I've heard, "I had no idea!" Here's a way to see exactly where your money's going, so you can find what you need to save.